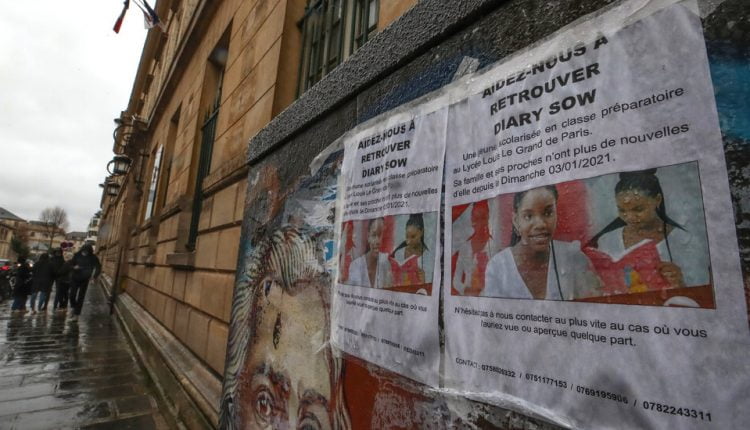 Angst in Senegal After Its 'Finest Pupil' Goes Lacking in Paris
PARIS – When Diary Sow was named Senegal's best student after taking first place in national high school competitions in 2018 and 2019, much of the country fell in love with the young woman, a brilliant student with a humble background and exemplary work ethic honored in Science and literature.
Ms. Sow received a merit scholarship from the Senegalese authorities, enrolled in one of the most prestigious schools in France in Paris and even published her own novel. Well-wishers in Senegal saw them as made for greatness.
When Ms. Sow, now 20, was reported missing this month, there was a lot of concern in Senegal and France, where prosecutors have opened an investigation. The Senegalese diaspora in France has also taken action, hoping to find them.
"It symbolizes hope," said Fatou Bintou Sanoho, board member of the Federation of Senegalese Students and Interns in France.
"For an emerging country, the education of young girls is very important," said Ms. Sanoho, adding that Ms. Sow is a standard bearer for all Senegalese girls. "She was perfect for the role."
Ms. Sow studied at the Lycée Louis-le-Grand in the Latin Quarter in Paris in a grueling curriculum that prepares students for highly competitive exams that open the doors to France's best schools of business, science and engineering.
It seemed to be thriving. Emile Bakhoum, an official in charge of Senegalese student union in France, said Ms. Sow never reported any specific problems with his department.
In August, Ms. Sow shared on Facebook a picture of a book by President Macky Sall of Senegal that the President himself had signed for her. "For Diary Sow, a rising star who is the pride of an entire nation," Sall wrote.
But on January 4th, after the end of the winter vacation, Ms. Sow did not appear in class. A few days later she was still missing.
On Thursday, her school alerted the Senegalese authorities in Paris, who filed a report with the police. Ms. Sow was last reported in a student residence in the 13th arrondissement of Paris where, according to the Senegalese consulate, she had a small studio apartment, although it was not clear if anyone had actually seen her or if her badge had been used there.
Senegalese authorities said there was no evidence of a crime and no hospitals reported that they had admitted Ms. Sow, but they also warned that the investigation had only just begun.
Ms. Sow is originally from Mbour, a town about 35 miles south of Dakar, where a steady stream of local and foreign journalists visited her family on Tuesday in a calm and tense atmosphere.
Family members turned down most press interviews, but an uncle who refused to give his name to protect family privacy said they last spoke to Ms. Sow on Jan. 2.
Ms. Sow was admitted to a selective high school in Diourbel, western Senegal, and won a science award in 2017. In 2018 and 2019 she was named Senegal's "Best Student" after taking first place in the Concours General, a national competition with scientific and literary challenges.
A picture of Ms. Sow posing with her novel is now featured prominently on the Senegalese consulate's website. "The diary is thin, 172 cm tall and has dark brown eyes," the note says. "Help us to find it by sharing it. We count on you! "
Over the weekend, around 200 members of the Senegalese community distributed leaflets on the streets of Paris and sang, "Let's look for Diary Sow together!" Others put posters with their pictures on the walls of their school.
A campaign is also running with the hashtag #RetrouvonsDiarySow or Let's Find Diary Sow to publicize the disappearance of Ms. Sow.
In Senegal, the disappearance caught the country's attention and hit the headlines. Mandione Laye Kebe, a photographer who runs a widespread Twitter account in Senegal, was one of many who mobilized online with the hashtag #RetrouvonsDiarySow.
"I can't imagine the suffering of your family," he said. "You live very far away. They have no idea what's going on and they don't know what to do or who to talk to. It is very difficult."
Aida Alami reported from Dakar, Senegal and Mady Camara from Mbour, Senegal.