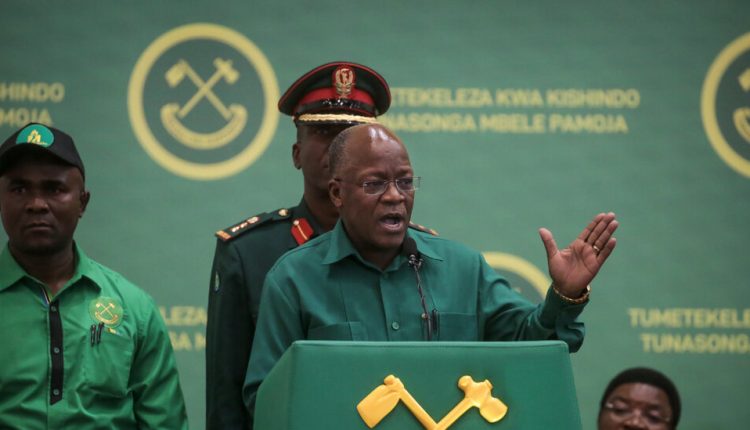 As Tanzania's President Wins a Second Time period, Opposition Requires Protests
CAIRO – After a pivotal poll marked by violence, opposition arrests and allegations of manipulation, the Tanzanian electoral commission announced late Friday that President John Magufuli had won a second term of five years – a move that prompted the opposition to call for peaceful protests on Saturday and Saturday urge the international community to reject the result.
Election observers from home and abroad said Wednesday's vote was held under censorship of political speech, which undermined the poll's credibility and led to widespread fraud and irregularities.
However, based on the country's constitution, no court has the power to investigate the vote once the electoral commission declares a candidate to be president. In light of this, the opposition said their only option was to take to the streets to call for the elections to be repeated.
"If we accept this reality, we will send the country into a one-party system, as Magufuli wants," said Zitto Kabwe, chairman of the opposition Alliance for Change and Transparency, or ACT Wazalendo, on Twitter.
Tanzania, a nation of around 58 million people, was once considered the epitome of stability and growing democracy in East Africa. But in the past five years under Magufuli, the country's fifth president, it turned around when he curtailed political and civil liberties and curtailed the press and human rights organizations.
The victory gives Mr Magufuli a platform to pursue his plans for ambitious mega-infrastructure projects, including the revitalization of the national airline, the construction of railroad lines and the construction of a much-criticized hydroelectric power station. Magufuli, 61, a former chemist and schoolteacher who also held several cabinet positions, became known as a "bulldozer" for running a road building program and anti-corruption tactics. Mr Magufuli has declared the country "coronavirus free" and criticized the use of masks or social distancing practices.
The chairman of the National Electoral Commission said that Mr Magufuli received over 12.5 million of the 14 million valid votes. His main opponent, Tundu Lissu of the Chadema party, received 1.9 million votes, while Bernard Membe, a former foreign minister representing ACT Wazalendo, received just over 81,000 votes, according to the commission.
The ruling Chama Cha Mapinduzi party, or Party of the Revolution, which has dominated Tanzanian politics since the nation's independence in 1961, also won a majority of parliamentary seats in the country's over 260 constituencies.
Before the final figures were announced, the opposition had already rejected the results.
Mr Lissu, who was shot 16 times in an assassination attempt in 2017 and had recently returned home, on Thursday urged the international community to reject the numbers. He said his electoral officers had been denied access to voting booths and they had been harassed and beaten by security officers.
"What happened yesterday was not a choice," Mr Lissu told reporters. "It was in no way a choice, whether in accordance with Tanzanian or international law."
The electoral commission has denied allegations of tampering with and filling in ballot papers, calling them unsubstantiated allegations.
ACT Wazalendo party said five of its leaders in Zanzibar, including its chairman, Seif Sharif Hamad, were arrested on Thursday and some were badly beaten. Police reportedly killed 10 people and injured 50 others before and during the elections in Zanzibar, and the party documented numerous cases of its agents being denied access to polling stations, as well as cases of pre-filled ballot papers and multiple votes.
Tibor Nagy Jr., the deputy secretary of the US State Department's Bureau of African Affairs, said on Twitter he was "concerned about reports of systematic interference in the democratic process," and a US State Department spokeswoman said the United States would "Responsible persons" who are responsible for the "use of force against unarmed civilians".
"It was tragic to see Tanzania, once a promising democracy, slide into autocracy under the leadership of John Magufuli," United States representative Eliot L. Engel, chairman of the House Committee on Foreign Affairs, said in a statement .
Tanzania Elections Watch, an independent group of civil society leaders from eastern and southern Africa, accused the country's security forces of creating a "climate of fear and intimidation" before and during the elections.
The elections were also marked by social media restrictions, with widespread disruption on platforms like WhatsApp and Twitter across the country. The authorities also ordered telecommunications companies to suspend bulk voice and short message services.
Peter Micek, general counsel of Digital Rights Group Access Now, said technicians from the Tanzanian Telecommunications Authority installed equipment that they could use to throttle entire networks, block websites and interfere with traffic so that videos or photos cannot be transmitted.
"It looks like the regulator has rushed to use the technology for this week's election and aftermath," Micek said in an email. Internet service providers, he said, "knew the installation was coming for a few months, but were only informed of the upcoming installation last week and had little say in it."