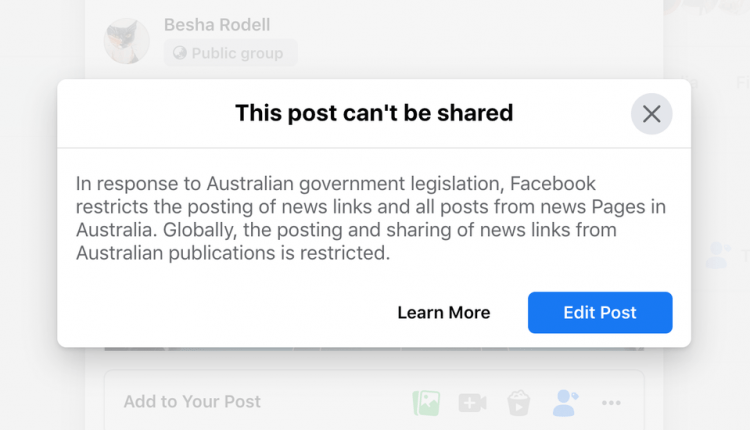 Australia Reacts to a Fb With out Information
The Australia Letter is a weekly newsletter from our Australian office. Sign up to receive it by email.
If you're reading this, it's not because someone you know posted it on Facebook. Although most Australia Letter readers access it through their inbox, quite a few people find our weekly shows thanks to friends who share on Facebook. Some people click through the links on the New York Times Australia Facebook page. But not anymore.
As of yesterday, Facebook no longer allows Australian users to view or publish messages on the platform. This applies to local and international media organizations, including the New York Times. Australian media organizations are also not allowed to broadcast content to users outside of Australia – all in response to a proposed Australian law requiring technology companies to pay publishers for items displayed on their platforms.
It's no secret that most media companies (including the New York Times) get a significant portion of their web traffic through Facebook. In essence, Facebook calls the bluff of Australian law and the media outlets that are pushing for it – they say you actually need us more than we need you.
For many users, however, this also changes the way Facebook works significantly. Gone are the days when Facebook was just a place to meet distant relatives and track old lovers – like many other people, I rely on it (and other social media platforms, especially Twitter) for media companies to do it I follow can deliver breaking news and to see what articles friends share.
Our office manager Damien Cave wrote yesterday about the reactions from Australians, as well as the fact that many non-news sites – government agencies, nonprofits – were trapped (while conspiracy sites with links to false news were not affected).
On the NYT Australia Facebook page, I asked for reactions from readers who could no longer post or find messages on the site. There were hundreds of comments within a few hours. The dismay was pretty universal (with the occasional comment, "I have all the messaging apps, it doesn't affect me"), but opinions differed as to where to blame.
"It shows how much power social media companies have and what concerns there are if not verified," wrote Hanna Carson. "Lots of people applauded when Trump was banned from Twitter and other social media – and I understand the feeling – but that action effectively silenced him. How many Australians will choose to actively search for news on other platforms – or go to a news site to get it direct? These are the actions I would expect from a totalitarian government, not a private company. "
Many others blamed the greed of Australian news companies and the politicians who support them.
"We are the victims of an Australian government acting as the lap dog for the Murdoch media, which in turn has companies like The Guardian behind them, all of which reach out to squeeze the big technos over the federal government," wrote Brian Blackwell. "It's the consumer who gets done."
Alison Mooney more or less agreed: "This stinks of our government acting on Murdoch's behalf and how much the Australian leaders are really out of touch," she wrote. "As if Facebook would agree to this, imagine the precedent it would set worldwide!"
Also, since Australians are Australians and find humor in any conflict, there were also some readers specifically concerned about The Betoota Advocate, Australia's popular satirical newspaper that many of you will like to know, has its page alive in the Facebook universe .
Gabriella Coslovich, however, provided perhaps the most useful gem of insight with a very simple reminder: "We all made it before Facebook."
How do you view Facebook's decision to ban news in Australia? And have your social media habits changed – if so, how? Let us know at [email protected]
Here are this week's stories:
… And over to you
Last week we asked you what you thought of Australia's decision to host the Australian Open. Here are some of the readers' responses:
I think it's * crazy * to quarantine athletes and their teams in hotels in our most populated cities. They should be housed in decent quarantine neighborhoods in the countryside, or at least in trailer park accommodations in low-density locations and in communities that really need money. In addition, the athletes in the countryside in these environments would have access to nature for their training – and would stay far, far away from our densest population centers during the 14-day quarantine period.
– Joanne Jaworowski
I live in Melbourne. I thought the decision to host the Australian Open was a mistake and I am not alone. I've taken part in the Open a lot in the past few years, but not this year. Many Australians are stuck abroad and cannot return. Here in Australia, where we've been able to live relatively normally lately, we feel like sitting ducks for these new variants of Covid. Our state governments were responsible for keeping the virus under control. Their actions were against Scott Morrison, who would have opened things without state interference and even now lags far behind other countries in introducing vaccines. Holding the Open in the middle of a very dangerous pandemic was dangerous and unnecessary.
– Anne Arnott
Enjoy the Australian letter? Register here or forward to a friend.
Start your day with your local morning briefing and join our Facebook group to learn and discuss more about Australia.