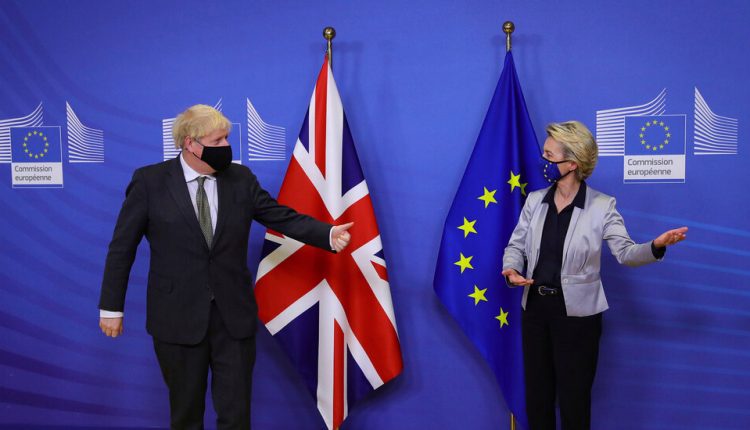 Brexit Commerce Talks Strategy Essential Deadline. Once more.
Mr Johnson and Ms von der Leyen were due to speak again at lunchtime on Sunday to take stock of the negotiations and make a decision on how to proceed.
Europe's two most powerful leaders, Chancellor Angela Merkel of Germany and President Emmanuel Macron of France, both refused to contact Mr Johnson directly, effectively denying him the opportunity to exploit divisions between the 27 members of the European Union.
With the probability of default escalating, London and Brussels have carried out a mixture of pointer and emergency planning. Mr Johnson met with Michael Gove, the UK minister responsible for preparing a no-deal Brexit. Plans include the use of Navy patrol vessels to stop foreign ships attempting to enter the Exclusive Economic Zone, which extends 200 miles from the UK coast.
The prospect of a military confrontation between British and French ships on the high seas aroused alarms and fierce criticism in Britain, even from members of the Conservative Party establishment.
"This is no longer Elizabethan time. This is the global UK, "Tobias Ellwood, Chair of the Defense Committee in the House of Commons, told the BBC. "We have to raise the bar much higher." Failure to reach a trade deal, Ellwood said, "would be a backward step, a failure of statecraft."
Chris Patten, former Conservative Party leader and Hong Kong Governor from 1992 to 1997, accused Mr Johnson of being on a "runaway train of the British State of Emergency". The Prime Minister is "not a conservative" who feels obliged to alliances, institutions or the rule of law, but an "English nationalist".
Analysts said they haven't given up hope of a last-minute deal. Mr Johnson and his advisors would still prefer a deal, as would the leaders of the European Union. Sunday was the last of several deadlines set by both sides. The talks could easily extend beyond that until New Year's Eve.
Still, the UK's strategy of waiting until the end of the negotiation phase and then pushing for bigger concessions seems to have failed. The French-led European negotiators were determined on the issue of fisheries rights as well as another controversial area: state aid to industry and competition rules.
Mr Johnson has referred to the UK campaign as an assertion of his sovereignty after leaving the European Union. However, the diplomats pointed out that European officials had a similarly strong principle: defending the integrity of the internal market from a new competitor on their doorstep.
"What Britain has never understood is that the European Union is a political project," said Kim Darroch, who served as Britain's permanent representative to the European Union and later as ambassador to Washington. "You will make decisions based on political, not economic, considerations."