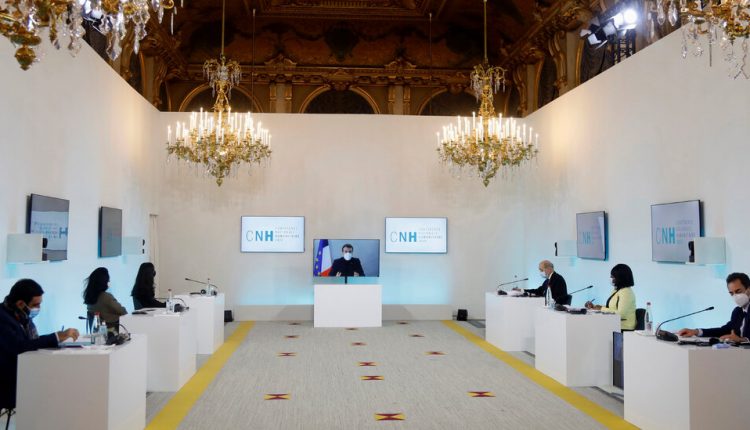 Emmanuel Macron's Physician Calls His Situation Steady
When French President Emmanuel Macron entered his third day in isolation after being infected with the coronavirus, his doctor said on Saturday that he was in "stable health" compared to Friday.
"He's still showing the same symptoms of Covid-19 disease (fatigue, cough, pain) that don't stop him from doing his duties," said Dr. Jean-Christophe Perrochon in a statement, adding that regular clinical examinations "proved reassuring."
On Friday, one day after the positive results of his coronavirus test were announced, Mr. Macron posted a self-made video in which he promised to "report daily on the development of the disease" – an event and a commitment that marked a new beginning France's tradition of secrecy about the health of its presidents.
Although it is still unclear how Mr Macron got infected with the virus, French Health Minister Olivier Véran said on Thursday that he was likely not infected in the President's Élysée Palace but "possibly at a European Council in four or five days ago Brussels". during dinner with other heads of state.
The Slovak Prime Minister Igor Matovic is said to have tested positive for the virus on Friday. Mr Matovic attended the same European Council last week.
Regarding the general situation in France, where the number of new daily cases has risen again recently, Mr Macron warned on Friday: "We must be vigilant as the virus is gaining strength again."
France ended a lockdown a few days ago to tackle the second wave of the coronavirus pandemic. But the country is already grappling with a surge in infections.
"The evolution of the pandemic is worrying," said Jérome Salomon, a senior official with the French Ministry of Health, adding that the upcoming Christmas break could be a "high risk time".
The number of new daily Covid-19 cases, which fell below 10,000 at the end of November due to lockdown restrictions, has increased again, reaching an average of 13,000 cases per day over the past seven days.
In other news from across Europe:
HungaryAccording to Reuters, the government is extending a moratorium on repayment of household and business loans through July and halving a local business tax levied by municipalities from Jan. 1 to support jobs during the pandemic. Opposition leaders said the tax cut would jeopardize public services and allow Prime Minister Vikto Orban's nationalist government to put political pressure on cities.
The northeast of Aragón became the fourth region in Spain Announcing tightening of lockdown restrictions ahead of the Christmas party to contain a recent surge in Covid-19 cases. On Saturday, regional director Javier Lambán ordered residents to stay in their provinces during the Christmas holidays, reversing an earlier decision to lift the travel ban on December 21.

The government of SwedenThe company issued several new recommendations on Friday, including the use of face masks. The company has adopted relatively few coronavirus restrictions and is grappling with a serious surge in infections. "We have to do more now because the medical system is tense," said Prime Minister Stefan Lofven. The new recommendations include a limit of four people per table in restaurants, cafes and bars and a ban on selling alcohol after 8 p.m. Shops, shopping centers and gyms are asked to further limit the number of people in their premises. All non-essential state, municipal and regional jobs will be closed through January 24th.

Italy will restrict travel between regions on holidays and weekends and restrict people to their cities of residence from December 21 to January 6, The Associated Press reported. There are exceptions on four days of the week when unneeded shops are open and people are only allowed to visit with two people from other households per day.
Raphael Minder and Christina Anderson contributed to the coverage.