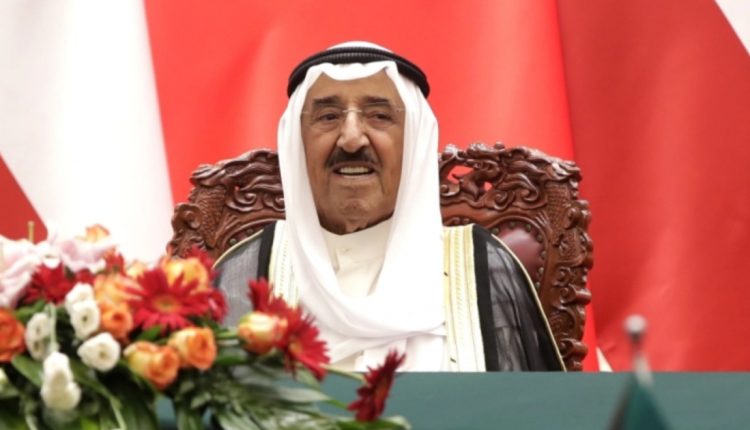 Legacy of Kuwait's Emir Sheikh Sabah: Farewell 'Mr Repair-It' | Center East
United Nations – When the world's leaders stand on the marble pedestal during the annual United Nations General Assembly (UNGA), they often utter a great deal of doom and darkness.
Not so with Sheikh Sabah al-Ahmad al-Jaber al-Sabah. When he stepped into the global limelight as foreign minister of a newly independent Kuwait in October 1963, he raved with more passion and optimism than your average diplomat.
He said "real hopeful signs of lasting peace on earth are on the horizon" and called for the "banish colonialism, racial discrimination, religious intolerance" while ending war, poverty and hunger.
It never let up. Sheikh Sabah, who died Tuesday at the age of 91 after a string of medical setbacks, will be remembered as a staunch optimist in a volatile region who spent a 70-year career putting out fires both domestically and abroad.
"Sheikh Sabah was known internationally as an arbitrator," Gregory Gause, director of global affairs at Texas A&M University and former researcher at American University in Kuwait, told Al Jazeera.
"He often took the lead in trying to mediate between the other Gulf monarchies when they had gaiters, including the boycott of Qatar by Saudi Arabia, the United Arab Emirates and Bahrain. His gentle style was more effective at filling gaps in the world of diplomacy than in Kuwait's domestic politics. "
"Positive neutrality"
Sheikh Sabah was born in June 1929 in Kuwait as a British protectorate as the son of the Emir Sheikh Ahmad al-Jaber al-Sabah.
He attended school in Kuwait and later worked in several government posts. After Kuwait gained independence in 1961, he began a four-decade term as foreign minister that covered the second half of the emirate's so-called "golden era".
Kuwait began developing its oil wealth earlier than some of its neighbors and was known for its rapidly increasing standard of living, good universities, entertaining theaters, a relatively free press, and one of the liveliest parliaments in the region.
According to Clemens Chay, a scholar on Kuwait and Gulf politics at the National University of Singapore, Sheikh Sabah was "one of the architects" of Kuwaiti's young foreign policy and led a course of "positive neutrality".
Sheikh Sabah "preferred not to take sides" between the United States and the Soviet Union in a world overshadowed by the Cold War, Chay told Al Jazeera.
"Instead, he used Kuwait's economic influence and wealth of resources to make friends and gain recognition for the country on the world stage."
In the early 1970s, regional power Iran revived its territorial claims on Bahrain, which was preparing for independence from Britain. Sheikh Sabah helped set up a UN poll that paved the island's path to self-government, Chay said.
During the tank war of the 1980s – an outbreak of the Iran-Iraq conflict in which merchant ships were attacked – Sheikh Sabah managed to do deals with the Americans and the Soviets to ensure the protection of vulnerable ships in the Gulf, Chay added.
The Saudi Arabian King Salman bin Abdulaziz Al Saud (right) holds the hands of the Emir of Kuwait Sabah al-Ahmad al-Jaber al-Sabah in Jeddah (Saudi Arabia) in June 2017 [Bandar Algaloud/Courtesy of Saudi Royal Court via Reuters]Against the backdrop of the Iran-Iraq war, Sheikh Sabah played a key role in the formation of the Gulf Cooperation Council (GCC) in 1981 – a bloc of six booming hydrocarbon-rich Arab states that was supposed to strengthen the clout of its members.
After Iraqi leader Saddam Hussein's armed forces invaded Kuwait in August 1990, Sheikh Sabah played a key role in Kuwait's government-in-exile in Saudi Arabia, using contacts at the United Nations and overseas to "raise support for Kuwait's cause" said Chay.
Sheikh Sabah spoke of what he called an "excruciating experience" that his homeland was occupied by Iraqi forces. In the years that followed, he demanded compensation and the return of prisoners, hostages and the remains of the dead Kuwaitis.
"Exemplary Humanitarian"
Sheikh Sabah became an emir in January 2006 after a power struggle within the ruling family of Kuwait. During his tenure, Kuwait was haunted by royal struggles, blockades and crises in an unruly political system.
He often stepped in to dissolve parliament and reorganize the cabinets. The country of three million people faced unprecedented public disagreement during the 2011 Arab Spring protests, when young Kuwaiti activists and others railed against corruption.
There were profits too. In May 2009, four women won seats in the parliamentary elections in Kuwait for the first time.
Sheikh Sabah won the United Nations Award for "Exemplary Humanitarian Leadership" in 2014 for its relief work and for hosting large donor meetings. The then General Secretary Ban Ki-moon praised his "outstanding generosity towards needy Syrians and Iraqis".
He returned to the diplomatic rift in 2017, when the Gulf Cooperation Council was on the verge of disintegration, when Saudi Arabia, the United Arab Emirates and others severed ties with Doha and imposed a blockade on Qatar amicably with Iran.
Sheikh Sabah repeatedly tried to broker an end to the crisis, shuttled around the region and visited US President Donald Trump in the White House – but one resolution proved elusive. For many, the generation of Sheikh Sabah had been replaced by younger, bolder and riskier rulers.
Sheikh Sabah stuck to his script in public appearances, sporting the poker face of a diplomat under his trademark mustache and glasses. The widowed father of four was known for fishing in southern Oman and shopping in New York.
He had a pacemaker inserted in 2000 and suffered a number of health setbacks in later years. He was hospitalized in July 2020 and some of his duties were entrusted to his half-brother and designated successor, Crown Prince Sheikh Nawaf al-Ahmed al-Sabah.
Kristin Smith Diwan, an expert on Kuwait at Washington's Arab Gulf States Institute, a think tank, said Sheikh Sabah was "diplomatic, pragmatic and solution-oriented" in the face of the turmoil at home and abroad.
"His rule was marked by a tactical balance of competing forces both within the ruling family and within society. He has been quite successful in maintaining that balance, but perhaps at the expense of great ambitions for the country, "Diwan told Al Jazeera.
"His ability to lead Kuwait through turbulent regional divisions, particularly sectarian conflicts and fierce rivalries between Gulf neighbors, earned him respect at home."