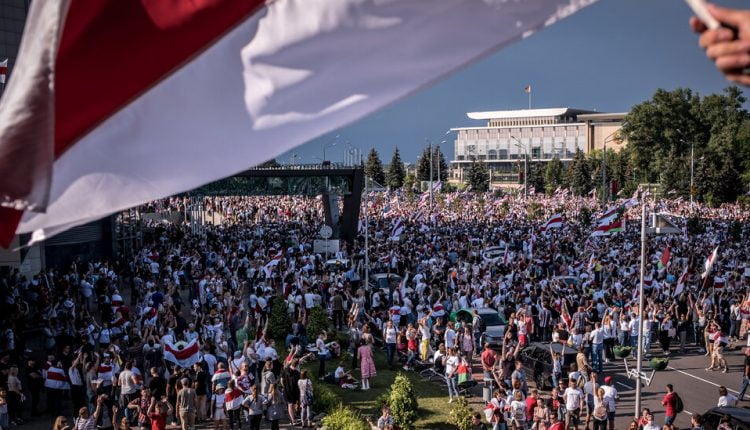 Lukashenko Jails 2 Journalists in Belarus for Protecting Protests
MOSCOW – In a ruling reflecting the broader crackdown on dissent by President Aleksandr G. Lukashenko of Belarus, a court on Thursday sentenced two young journalists to two years in prison for reporting on a demonstration against his rule.
A district court in the capital Minsk ruled that journalists Catarina Andreeva, 27, and Darja Chulcova, 23, caused riots by video-streaming a protest rally for Polish television broadcaster Belsat.
The court said that this way the journalists attracted more people to the rally, created more work for law enforcement and obstructed public transport.
The journalists said they were doing their job to educate the public.
"Every day I risked my life and health to do my job," Ms. Andreeva said in court on Wednesday. In the end, she said, she could take comfort in knowing that her "conscience is clean".
Thursday's conviction was the final episode in a campaign to silence all forms of opposition to Mr Lukashenko, who has ruled Belarus for over 26 years.
And after months of sustained repression, Mr Lukashenko seems confident that he has weathered the greatest threat to his power in decades.
"We kept our country intact," said Lukashenko in a speech at a meeting with allies last week. "For now."
He spoke for more than four hours in a packed auditorium – only a few in the crowd appeared to be wearing masks to protect themselves against the spread of the coronavirus – and said the "blitzkrieg" launched by Western states against Belarus had failed.
The meeting, attended by more than 2,500 pro-Lukashenko bureaucrats and activists from across the country, was carefully choreographed to claim that the wave of protests was an external attack that was successfully defeated.
Mr Lukashenko's iron hold in power appeared to be waning in August following a presidential election widely viewed as rigged to secure his victory.
Demonstrations calling for his overthrow attracted hundreds of thousands and blacked out rallies organized by the government in his defense. In a tractor factory, workers who were always considered to be the main constituency of Mr. Lukashenko booed him.
At this time, Mr. Lukashenko was looking increasingly disoriented and sought help from President Vladimir V. Putin of Russia, his authoritarian ally. The Kremlin threw him a lifeline by offering a loan and sending a group of propaganda specialists to Belarus.
With the support of Putin, the Belarusian leader did not have to seek approval from the West. He was free to go as far as he could to ensure that protests were suppressed.
He unleashed action against the protests with a brutality that has not been seen in Europe for decades.
The police indiscriminately used tear gas and rubber bullets against peaceful protests. Hundreds were tortured in police stations and detention centers. At least four people were killed. In total, according to Viasna, a human rights group, more than 1,800 criminal cases have been initiated against activists. More than 33,000 were arrested by law enforcement agencies after the presidential election, the group said.
In retrospect, Moscow's help seemed key to enabling Mr Lukashenko to weather the biggest wave of protests during his rule, said Yauheni Preiherman, director of the Minsk Dialogue Council on Foreign Relations, a think tank.
After months of determined citizen action, the repression took its toll and the protests slowly lost momentum. At the same time, the increasingly encouraged president unleashed the full strength of his robust security apparatus to take revenge on a movement that brought his rule to the brink of collapse.
On Wednesday a court in Minsk began hearing the case against Viktor Babariko, Mr Lukashenko's most popular political opponent.
Mr Babariko, who ran a Russian state bank in Minsk, was seen as a serious threat to Mr Lukashenko because of his popularity and connection to Moscow. He was arrested in June for corruption and now faces up to 15 years in prison.
On Tuesday, police also raided 90 offices and homes of the few remaining civil society organizations in Belarus, including Viasna, a prominent human rights group, a non-governmental journalists' union and an independent union.
Other people have been sentenced to administrative arrests for hanging the traditional white and red flags of the opposition on the walls of their own homes.
Activists who raised money to help protesters pay their fines have been accused of funding rioting. In early February, the police arrested two members of a prominent Minsk NGO that helps people with disabilities. You are now being prosecuted.
Artyom Shraibman, the founder of Sense-Analytics, a consulting firm and research group in Minsk, called the ongoing crackdown "counterrevolution" and said that Belarus "has not seen such repression since the Stalinist times".