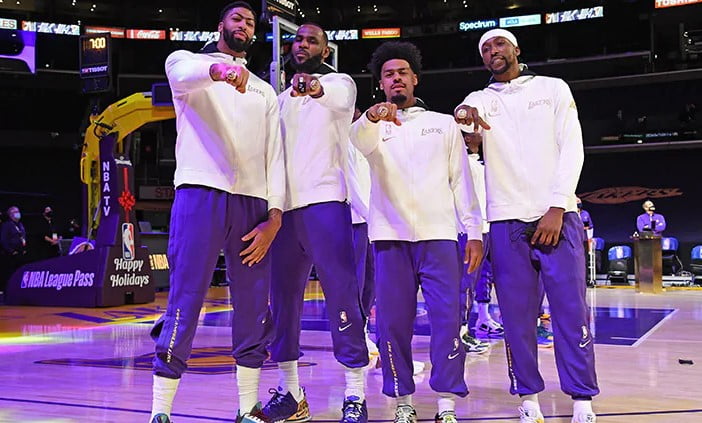 NBA Champions Los Angeles Lakers Obtain Championship Rings That Pays Tribute to Kobe Bryant
The National Basketball Association (NBA) has opened to business for the 2020-2021 season. On Tuesday, December 22nd, the current NBA champions, the Los Angeles Lakers, competed in the first game of the season for both teams against the Los Angeles Clippers. At the start of this game, the Lakers players each received their championship rings.
The rings also included an homage to Los Angeles legend Kobe Bryant, who was killed in a helicopter crash earlier this year.
According to the Los Angeles Lakers, "every member of the 2020 Championship Lakers team will receive a ring with more carats of diamonds than any other ring in NBA history." The championship rings each have a total of 804 stones and 15.50 carats of white and yellow diamonds. Another 0.95 carat contains Lakers purple amethyst stones. The ring also contains 16.45 carat stones and approx. 180 grams of a characteristic batch of 14 carat yellow gold.
As a tribute to Bryant, each ring has a number that has a mamba snake behind it, and a detachable top shows all of the Los Angeles Lakers' jerseys, with an emphasis on the two retired Kobe Bryant jerseys.
This is what Jason Arasoben, also known as Jason of Beverly Hills, the jeweler who designed the rings, told ESPN. "
"We created a removable top that was used to expose the rafters in the Staples Center [jerseys of] All Laker sizes retired, with a special focus on Kobe's # 8 and # 24 jersey, and a snakeskin texture background.
"This ring surpasses last year's NBA championship ring as the most valuable NBA championship ring in history, with the highest diamond carat weight than any other ring in history," said Arasoben. "I mean, this ring, we really wanted to make a statement. It's been 10 years since the Lakers won. We wanted to come out and really make a statement and really reward these players for their good work. "