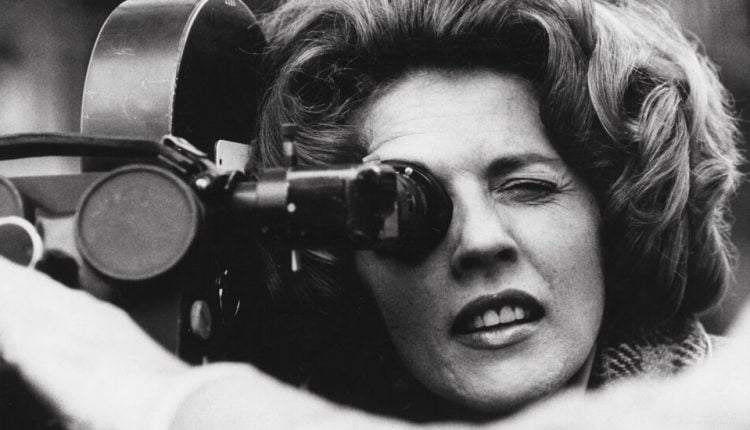 Nelly Kaplan, Whose Movies Explored Feminine Power, Dies at 89
Nelly Kaplan, whose funny, satirical French films about female empowerment and revenge made her an unmistakable voice in a time dominated by men, died on November 12th in Geneva. She was 89 years old.
The Société des Réalisateurs de Films, the French filmmakers' association, announced its death on its website. French news outlets quoted a relative and said the cause was Covid-19.
Ms. Kaplan, born in Argentina, came to Paris in her early twenties and became both a filmmaker and romantic partner of Abel Gance, the French director known for the innovative silent film "Napoleon" (1927). In 1969 she was celebrated with her first feature film "A Very Curious Girl". (The French title was "La Fiancée du Pirate" or "The Pirate's Fiancee".)
It featured Bernadette Lafont, an actress already known from the New Wave films of Claude Chabrol and others, as Marie, a young servant who is followed by men in her village until she turns the tables by she charges sexual favors and duct tape – Record the encounters and ultimately expose the city dwellers' hypocrisy.
"While 'A Very Curious Girl' stays most of its time, it stays amazingly fresh after 50 years," wrote film critic J. Hoberman in The Times at the time. "Marie's triumph is not just a victory for her gender and class, but, given the explicitly xenophobic nature of the smug patriarchal order that turns her on its head, a victory for outsiders and outcasts of all kinds."
Ms. Kaplan made only a few feature films after that, and none achieved the recognition that made her debut. Film critic Joan Dupont, who did a rare interview with her for Film Quarterly in 2018, said Ms. Kaplan was some sort of outcast in the French film world who struggled with funding for her films, struggled with censors, and in general not be hugged by the film institute.
"She never had a retrospective at the Cinémathèque," said Ms. Dupont via email, referring to the venerable French cinema organization. "That stung, but Nelly would never be smaller than Nelly: she voiced her opinion, held onto her guns – she never won a popularity contest. A beauty and a brain, festive and generous, ambitious and open, she didn't have time for subtleties and didn't mind not being loved. "
Ms. Kaplan was temporarily identified as part of France's New Wave due to casting actors who were known for New Wave films, but Ms. Dupont said this was a mischaracterization.
"Nelly rode her own wave," she said.
Nelly Kaplan was born in Buenos Aires on April 11, 1931, into a Jewish intellectual family. She studied economics at the University of Buenos Aires, but as she said in an interview with Ms. Dupont, "I was seen as a rebel, whatever that means." Her father, she said, said to her, "Change or go," and so she went and boarded a ship to Paris with $ 50 in her pocket.
She arrived there in January 1953 and couldn't speak French. She bought a radio with part of her money. "I heard it non-stop," she told Another Gaze in 2016. It helped her learn French.
She also had an introductory letter to the Cinémathèque Francaise of the Cinemateca Argentina in Buenos Aires, where she had been regularly. That brought her to a meeting with Henri Langlois, the co-founder of the French organization. Mr. Gance, more than 40 years older than Mrs. Kaplan, discovered her at a Cinémathèque event and asked Mr. Langlois for an introduction.
She became a valued colleague of Mr. Gance as well as a lover and muse and was among other things co-writer and assistant director of the 1960 Gance film "The Battle of Austerlitz".
"I was AD and did all the dirty work," she said to Ms. Dupont, remembering her work on "Austerlitz". "But," she added, "I'm grateful that he threw me in the water. Now nothing scares me; There is always a solution. "
Ms. Kaplan started making her own documentaries. When Pablo Picasso was the subject of a major exhibition at the Grand Palais in Paris in 1966, she received permission to film and exhibit the works on arrival. The footage resulted in a nearly an hour long documentary, "The Picasso Look," which got her some attention. She rented a theater to show Picasso himself, and he was apparently grateful. When "A Very Curious Girl" came out a few years later, he returned the compliment and called the film "insolence raised to the status of art".
Ms. Kaplan's later films included "Néa" (1976, also called "A Young Emmanuelle" and based on an Emmanuelle Arsan novel), about a young girl who writes an erotic novel and seduces the much older man who publishes it ; and "Velvet Paws" (1986), a television film about women taking revenge on a bigamist. In 1984 she made a documentary about Mr. Gance, who died in 1981, and his film "Napoleon".
She also wrote novels and short stories, often surrealist, as well as magazine articles and screenplays for television films. She and her long-time partner Claude Makovski, producer of many of her films, lived in France and Switzerland. He died in August at the age of 84.
Ms. Kaplan's films have been labeled feminist at times, but she didn't embrace the label for herself and didn't care about what she referred to as the groupthink of 1970s feminism and its activism through petitions.
"I don't like people telling me to sign things," she said to Ms. Dupont. "I like to live on a branch in the jungle. Feminism doesn't interest me. I am not a misogynist, but there is a hatred of men in feminism and I cannot accept that. "
That is, she was all for women's empowerment. In a 2016 interview with Another Gaze, Ms. Kaplan had some simple advice for women.
"You mustn't listen to idiots who tell you that women were created to support men and things like that," she said. "If you believe in yourself, no matter what, you will go to places, get places. And if someone tells you to give up, you have to chase them away with a pickaxe. "