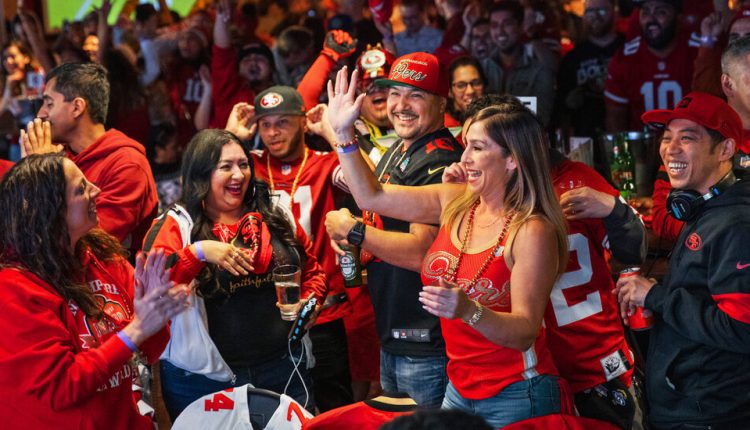 Superspreader Sunday? – The New York Occasions
Would you like to receive The Morning by email? Here is the registration.
Good Morning. Previous holidays have sparked virus outbreaks, and another major holiday is coming this weekend.
Coronavirus cases in the US have increased after almost every major holiday in the past year, including Memorial Day, Labor Day, Thanksgiving, and Christmas. This weekend brings another important holiday, even if it's not an official one: the Super Bowl Sunday. And there is cause for concern that this will turn into Superspreader Sunday.
Surveys show that a significant number of people plan to attend parties. Two separate surveys – one from Seton Hall University and one from the National Retail Federation – found that nearly 30 percent of adults said they attended a gathering at someone's home or watched the game in a restaurant or bar.
If anything, this weekend can be more dangerous than most holidays. Super Bowl parties usually take place indoors and can affect more households than a holiday meal. This year's game also takes place when contagious new variants of the virus begin to spread.
There are precedents for sporting events that lead to outbreaks. Los Angeles health officials believe gatherings that saw playoff games last fall with the Lakers (who won the NBA title) and Dodgers (who won the World Series) accelerated the rise of the virus in southern California.
"A lot of packed fans flocked to the outdoor patios," the Los Angeles Times said last week, noting that exposed people "sang, chant, or shout" at the gatherings. The same story quotes Barbara Ferrer, the Los Angeles County's public health director: "Don't organize a party at home. Don't go to a Super Bowl party. "
The next few weeks feel especially important. Cases have fallen sharply and the pace of vaccination – although still incredibly slow – is picking up. We have reached a possible tipping point where Covid-19 deaths may decline and never return to their previous highs.
However, the variants carry a great risk. Behavior that was at low risk a few months ago may no longer exist. Behavior that was already risky, like attending an indoor party, can be even more so.
"We have to double up," Dr. Rebecca Wurtz of the University of Minnesota School of Public Health. "This is our chance to turn the corner and we really have to take it."
(My colleague Tara Parker-Pope has extensive advice on what is safe.)
The latest vaccine news
I have heard from many readers who would like this newsletter to keep paying attention to vaccine news. So here we go: there have been more encouraging developments.
AstraZeneca and Oxford University released data showing that none of the 12,408 people who received a vaccine died from symptoms of Covid or were hospitalized with them. This is in line with previous results for this vaccine, as well as initial results for four other vaccines – from Johnson & Johnson, Moderna, Novavax and Pfizer.

The researchers found that the AstraZeneca vaccine also slowed transmission of the virus, underscoring the importance of mass vaccination as a way out of the pandemic.

A peer-reviewed study published in The Lancet, a UK medical journal, found that Russia's vaccine, known as Sputnik V, also offers complete protection against serious Covid diseases. Dr. Angela Rasmussen of Georgetown University called it "great news" and added, "We need more vaccines around the world." (See also: Joshua Yaffa of New York and Andrew Kramer of The Times, both Moscow-based, wrote about why they received the Sputnik vaccine.)

One important caveat: the vaccines do not protect themselves immediately. It often takes at least a couple of weeks.

The UK government said a variant of the virus first seen there had the potential to make vaccines less effective. But that's less alarming than it sounds. Currently the concern is hypothetical: no data show that the vaccines are ineffective on the UK variant. Even if they're less effective, other evidence suggests that modest vaccination coverage is almost always enough to downgrade Covid to normal flu.

"When I've been talking to reporters lately, they expect me to be very worried about variants of Covid. But it's not me, "wrote Dr. Ellie Murray of the Boston University School of Public Health on Twitter. "Why? Because we know how Covid is controlled." She is more concerned about "the lack of action" to encourage social distancing, encourage mask wear and speed up vaccination, she added.
THE LATEST NEWS
The Biden Administration
The Senate voted on a partisan procedural step that would allow the Democrats to avoid a filibuster in President Biden's coronavirus aid package and pass it with an even majority.

Biden signed three immigration executive orders, including one to reunite immigrant families separated from the Trump administration. Immigration officials and advocates warned the changes would not happen immediately.

The Biden government announced new efforts to speed up vaccinations, including delivering doses to retail pharmacies.
Capitol Riot Fallout
A Russian court sentenced Aleksei Navalny, the loudest critic of President Vladimir Putin, to more than two years in prison on politicized charges.

New York prosecutors are investigating Steve Bannon weeks after Trump pardoned him. Bannon could be accused of defrauding donors at the border wall.

Two FBI agents were killed and three others injured in a shootout in South Florida. They investigated violent crimes against children.

Jeff Bezos resigns as CEO of Amazon and becomes Executive Chairman. Andy Jassy, ​​who heads Amazon's cloud computing division, will succeed him.

GameStop's share price is 81 percent down 81 percent from last week's high, quickly wiping out many investors' fortunes.
Tomorrow reads
One morning listen: Tighter border controls have driven migrants to the seaside in dangerous attempts to reach California. Listen to the Times Magazine narrated report.
From the opinion: "To my own amazement, I'm fixated on Brady," Times Opinion columnist Frank Bruni writes in the Super Bowl. Here's why.
Lived life: Tom Moore, a British Army veteran nicknamed "Captain Tom" became a symbol of determination at the start of the pandemic as he raised $ 45 million for hospitals by running laps in his garden. He died at the age of 100 after being recently hospitalized with Covid.
ART AND IDEAS
A great team in Brooklyn
The Brooklyn Nets, long struggling to escape the shadows of the nearby Knicks, have put together a line-up so talented it resembles a musical supergroup – basketball's answer to the three tenors, the Traveling Wilburys or Them Crooked Vultures.
Last month, the Nets made a blockbuster trade to win James Harden, the NBA's top scorer. He joined a team that already had two stars in Kevin Durant and Kyrie Irving. The combo, Times basketball writer Marc Stein told us, was "the most ambitious collection of offensive talent in NBA history."
Two years ago, Harden averaged over 36 points per game. only Michael Jordan and Wilt Chamberlain surpassed that. Durant was the highest scoring player in the NBA four times – a number that only Jordan and Chamberlain have surpassed. Irving is a six-time All-Star who won a championship in Cleveland.
However, your success is not guaranteed. The Nets gave up a lot on trading in Harden, including some of their best defenders. "Defense and depth will play a role at some point," noted Marc. "You can't just find your way to a championship in the NBA"
"But," he added, "the networks have never been more important in New York."
PLAY, WATCH, EAT
What to cook
The pangram from yesterday's Spelling Bee was intangible. Today's puzzle is up – or you can play online.
Here's today's mini crossword and a clue: light green (four letters).
Thank you for spending part of your morning with The Times. Until tomorrow. – David
PS A hidden haiku from the Times review of a new Mike Nichols biography of the book's many celebrity cameos: "Everyone who was / was someone is here / fumes the glass."
You can find today's print homepage here.
Today's episode of "The Daily" is about a mother who tracked down her daughter's kidnappers. In The Argument, Ross Douthat and Michelle Goldberg talk about what they've learned over the past two years from arguing with each other.
Lalena Fisher, Claire Moses, Ian Prasad Philbrick, Tom Wright-Piersanti and Sanam Yar contributed to The Morning. You can reach the team at [email protected]
Sign up here to receive this newsletter in your inbox.