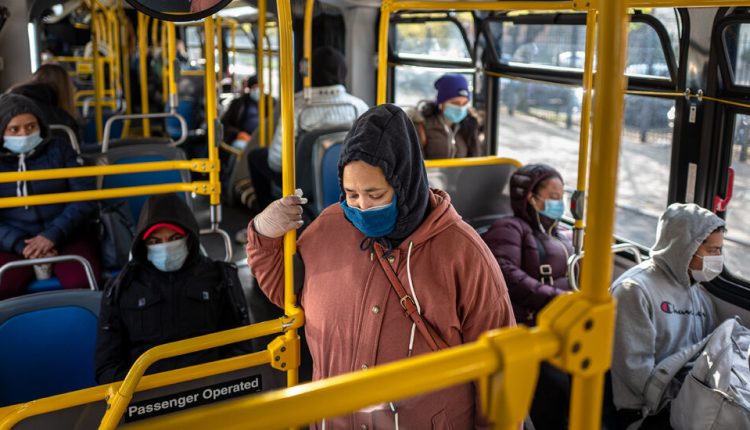 The C.D.C. Points Masks Mandate for Home Journey
The Centers for Disease Control and Prevention has issued an order requiring travelers to the United States to wear masks as part of a new initiative to contain the coronavirus outbreak.
According to the 11-page order issued on Friday, travelers entering and traveling across the country are required to wear face-covers at all transportation hubs, which the CDC says includes any "airport, bus terminal, marina, seaport or other port". Subway station, terminal, train station, or US port of entry. "
The language of the order largely obliges the transit companies to enforce the rule.
"Transport companies must do their best to ensure that everyone on the transport company wears a mask when getting on and off and for the duration of the trip," the document says.
A similar order was proposed during the Trump administration, but the White House coronavirus task force, led by Vice President Mike Pence, blocked the effort.
The new mandate, which has exceeded 26 million cases in the country, is intended to reinforce the Biden administration's ambitious goal of getting the recent surge under control and accelerating the distribution of vaccines in the United States.
"The requirement of masks on our transport systems protects the Americans and gives us the confidence that we can travel safely again even during this pandemic," said the order, which was given by Dr. Martin Cetron, Director of CDC's Global Migration and Quarantine Division. "The requirement of masks will therefore help us control this pandemic and reopen the American economy."
A footnote in the order states that the Center reserves the right to enforce the order "through criminal penalties". However, an agency spokesman said the order was largely based on voluntary action to enforce the mandate.
"CDC strongly encourages and anticipates widespread voluntary compliance and assistance from other federal agencies in enforcing this order to the extent permitted by law," he said. "CDC is supported in the implementation by other federal partners including DHS and DOT," with reference to the Department of Homeland Security and the Department of Transportation.
The establishment of a national masking mandate for travelers has been welcomed by public health officials as a necessary step in addressing the patchwork of local regulations that have at times allowed travelers to move freely without covering their faces, despite ample data showing that wearing masks is key this is to prevent the virus from spreading.
"They have needed this kind of coordinated response for a long time," said Dr. Melissa J. Perry, Professor of Environmental Protection and Occupational Safety at George Washington University. "So, uniform, down the line, anyone, anywhere who has to wear masks will get us to the end of the pandemic faster."