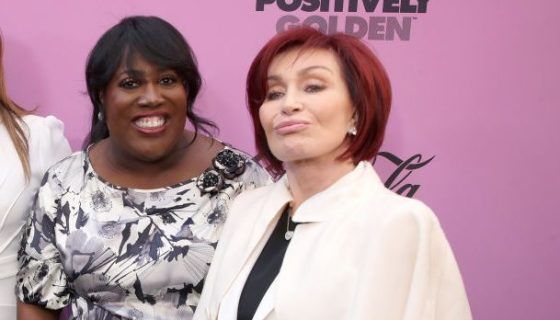 'The Discuss' Hiatus Prolonged As CBS Investigates Alleged Racism From Sharon Osbourne
CBS has found it needs more time to investigate the racism leveled against Sharon Osbourne, co-host of The Talk, after engaging in a heated discussion with Sheryl Underwood while she was the British journalist and TV -Piers Morgan personality defended. She was then accused of racist rhetoric and comments from some talk show staff that sparked the investigation.
According to PageSix, The Talk was initially interrupted after Osbourne defended Morgan, who stormed off the set after saying he didn't believe Meghan Markle's complaints about racism against the royal family. Osbourne was then accused of racism by several colleagues who worked with her. The show was scheduled to return on March 22nd, but the break has been extended once more.
"Everyone is pending and wants this to be over," a source said. "There is still no clear understanding of the result. You need to look carefully at all of these things. There are a lot of new leaders out there and they don't want to repeat the days of Les Moonves when things were often ignored and let go. They are investigating all allegations. "
New York Magazine / HuffPost staff Yashar Ali gave a breakdown of the situation that led to the recent delay on his Twitter account.
1. Exclusive: Sharon Osbourne, co-host of the CBS daily show "The Talk", referred to then co-host Julie Chen, a Chinese American, often as "Wonton" and "Slanty Eyes" multiple sources. https://t.co/6A4DrRnSVx
– Yashar Ali @ (@yashar) March 16, 2021
2. After Osbourne's former colleague Holly Robinson told Peete that Osbourne labeled her a "ghetto" and released her from "The Talk," Osbourne had her lawyers send a cease and desist letter saying if she didn't delete the following tweet, she would be sued
https://t.co/yxDdy7SDyZ
– Yashar Ali @ (@yashar) March 16, 2021
3. In response to an extensive list of details in my story, Sharon Osbourne's publicist Howard Bragman sent me this statement.
My story: https://t.co/rQTAuHj2bj pic.twitter.com/s20vHnfZnF
– Yashar Ali @ (@yashar) March 16, 2021
4. After @hollyrpeete said last week that Sharon Osbourne referred to it as a "ghetto", Osbourne not only denied it, but denied ever using the word except to refer to Nazi ghettos.
But in 2011 @LeahRemini referred to her as a "ghetto" because of the way she speaks. pic.twitter.com/EfScyegqso
– Yashar Ali @ (@yashar) March 16, 2021
5. NEWS
After my story was published, CBS sent me this updated statement announcing that the hiatus from "The Talk" will be extended until next Tuesday.
Before that, "The Talk" should return tomorrow.
My story: https://t.co/rQTAuHj2bj pic.twitter.com/EoE5pKkqSV
– Yashar Ali @ (@yashar) March 16, 2021
6. In her first interview since my story, published this morning, Sharon Osbourne compares her co-host, Sheryl Underwood, and quietly asks her for a tweet with her co-host @ElaineWelteroth, who is asked why whites use the n-word can't say.
My story: https://t.co/jmkos23Qa9 pic.twitter.com/MVbjJthFrA
– Yashar Ali @ (@yashar) March 17, 2021
7. ET host @KevinFrazier comes under fire for giving Sharon Osbourne a softball interview in which she largely deflected the blame and then suggested that Holly Robinson Peete and Sheryl Underwood, two of the black women who insisted on her Targeted to join her for a summit on racism. pic.twitter.com/5Vx8e4561o
– Yashar Ali @ (@yashar) March 17, 2021
8. NEWS
A source familiar with the matter tells me that CBS is extending the hiatus on "The Talk" for the third time.
This break will last until next week.
This happens while CBS is doing an "internal review". https://t.co/jmkos23Qa9
– Yashar Ali @ (@yashar) March 20, 2021