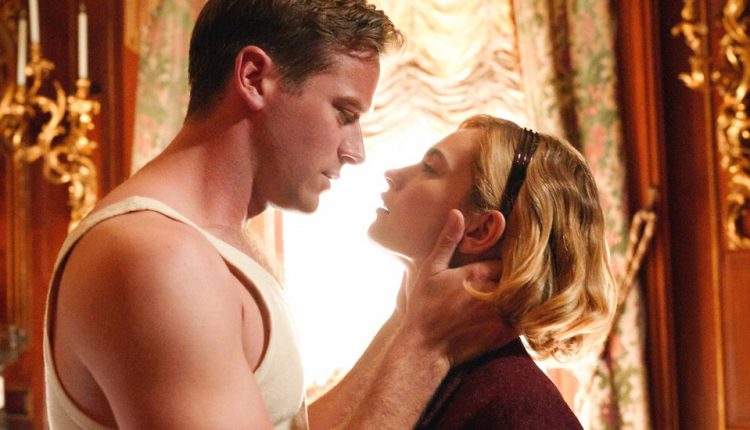 The Finest Films and TV Exhibits New to Netflix, Amazon and Stan in Australia in October
Every month streaming services in Australia add a number of new films and TV shows to their library. Here are our tips for October.
OCTOBER 2ND
"Dick Johnson is dead"
When documentary filmmaker Kristen Johnson discovered that her father Dick was mentally and physically in bad shape, she suggested an idea: what if they worked together to prepare for his death by filming a series of simulated deaths? The unique documentary "Dick Johnson Is Dead" combines these strange and sometimes beautiful scenes – which include a funeral and some guesswork about life after death – with wonderful shots of a lovable old man and his infatuated daughter spending their final years together . This is a special film that turns an impending loss into a cause for reflection and joy.
'Song Exploder'
Based on the popular podcast of the same name, "Song Exploder" invites well-known musicians to analyze their own works and divide the songs track by track and line by line. The first season of four episodes includes Alicia Keys' "3 Hour Drive", Ty Dolla $ ign's "LA", REM's "Losing My Religion" and "Wait for It" from the Broadway hit "Hamilton". Every half-hour episode, host Hrishikesh Hirway talks to the artists about the choices they have made and tries to clear up the mystery of creation by asking for a practical explanation of how music is made.
9TH OCTOBER
"The 40 year old version"
The dramedy "The 40-Year-Old Version" by author and director Radha Blank, which was a hit at the Sundance Film Festival earlier this year, also plays Blank as a struggling New York playwright who reinvents herself as a rapper who focuses on the Getting older rhymes. Shot in beautiful black and white, this film is funny and wise about the compromises some artists have to make to hear their voices and the creative opportunities available to those willing to risk failure and embarrassment.
"The Haunting of Bly Manor"
"The Haunting of Bly Manor" is the sequel to the writer, producer and director Mike Flanagan of his previous Netflix horror series "The Haunting of Hill House". Where the previous show adapted and updated a novel by Shirley Jackson, this new season is loosely based on the Henry James novel "The Turn of the Screw" about a governess who sees ghosts. Some of Flanagan's cast members are returning (including Henry Thomas, Oliver Jackson-Cohen, and Kate Siegel), but the characters and plot are entirely new. What will not change: Flanagan's order to disrupt quiet moods.
OCTOBER, 16TH
"The Trial of Chicago 7"
Television and film writer-producer Aaron Sorkin – the man behind "The West Wing" and "A Few Good Men" – returns to the director's chair for "The Trial of the Chicago 7", a look back at the legal aftermath of the tumult National Democratic Convention of 1968. Sacha Baron Cohen plays counterculture hero Abbie Hoffman and leads a cast that includes actors such as Michael Keaton, Frank Langella, Joseph Gordon-Levitt, Eddie Redmayne and Mark Rylance. Sorkin's usual fast-paced dialogue and willingness to dive headlong into controversial material goes well with this still resonant story of dissidents forced to respond in court for civil disobedience.
OCTOBER 21
"Rebecca"
Daphne du Maurier's Gothic novel "Rebecca" from 1938 has already been turned into a classic film: the atmospheric and creepy Alfred Hitchcock version from 1940, which marked the director's transition to Hollywood. Now another prominent British filmmaker is studying du Maurier's book. Ben Wheatley, known for the edgy cult films "Kill List" and "High-Rise", is staging a stylish new version of "Rebecca" that emphasizes the glamor of the location: the Manderley seafront property, on which an emotionally distant aristocrat ( played) played by Armie Hammer) deposits his naive young bride (Lily James) and lets her deal with his disapproving housekeeper (Kristin Scott Thomas) and the unsettling mystery of what really happened to his late first wife.
23RD OCTOBER
'Over the moon'
In the animated adventure "Over the Moon", Cathy Ang is the voice of Fei Fei, a handy teenager who builds a rocket ship and flies to the moon. There she tries to impress the charismatic goddess Chang'e (Phillipa Soo) by embarking on a quest involving a handful of crazy moon creatures. Written by the late Audrey Wells and directed by veteran Disney animator Glen Keane – directed by another Disney alum, John Kahrs – this is a colorful, energetic, and emotional film about a child and an adult who both deal with personal heartache in their own odd deal ways.
"The Queen's Gambit"
For his latest Netflix miniseries, writer and director Scott Frank, who previously created the Western Godless, adapted "The Queen's Gambit", a 1983 novel by Walter Tevis, author of "The Hustler" and "The Man Who" Fallen to earth. "Anya Taylor-Joy plays Beth Harmon, a high-ranking chess master who has withdrawn from a miserable childhood thanks to her unique skills but struggles with addiction and self-doubt as an adult. The book is popular and Frank and Taylor-Joy are talented enough to give it the sensitive and lively TV version it deserves.
Also arriving: "New Girl" seasons 1-7 (October 1st), "Oktoberfest: Beer & Blood" (October 1st), "Emily in Paris" (October 2nd), "Vampires vs. the Bronx" (October 2nd) , "David Attenborough": A Life on Our Planet "(October 4th)," Hubie Halloween "(October 7th)," To the Lake "(October 7th)," Deaf U "(October 9th)," Kipo and the Age of Wonder Animals ", Season 3 (October 12)," Babysitter's Guide to Monster Hunting "(October 14)," Social Distance "(October 15)," Great Army "(October 16)," La Révolution "(October 16)," Somebody Must Die "(October 16)," Unsolved Riddles "Volume 2 (October 19)," My Next Guest Needs No Introduction With David Letterman "Season 3 (October 21) , "Kadaver" (October 22), "Barbarians" (October 23), "Sarah Cooper: All is well" (October 27), "Holiday" (October 28), "Nobody sleeps in the woods tonight" (28th of October).
OCTOBER 1
'Code 404' Season 1
In the sitcom "Code 404", Daniel Mays plays a London detective who is murdered during an undercover operation and then brought back to life as an experimental cyborg. The charmingly indescribable Stephen Graham plays the hero's former partner, not so sure whether he wants to help his old pal solve the mystery of his own death. Although this offbeat crime series was artfully planned and acted with real conviction, it's livelier – and funnier – than the typical cops-and-killers fare.
4TH OF OCTOBER
"The Good Lord Bird" Season 1
Based on James McBride's 2013 National Book Award-winning historical novel, the miniseries "The Good Lord Bird" stars Ethan Hawke as the radical abolitionist John Brown who led a violent anti-slavery demonstration in 1859 that sparked the American Civil War. Hawke also co-created this series, which blends deadpan comedy with white knuckle action – backed by a stellar cast that includes Daveed Diggs, Wyatt Russell, Rafael Casal and Joshua Caleb Johnson – to make the distant past feel more immediate.
"The Comedy Store" Season 1
In the 1970s and 1980s, The Comedy Store nightclub in West Hollywood became the launch pad for stand-up comics that dominated American pop culture for decades, including David Letterman, Jay Leno, Robin Williams, Jim Carrey and Roseanne Barr, Sam Kinison, Jimmie Walker, Jerry Seinfeld and more. The documentary series "The Comedy Store" looks back on the club's fascinating history and looks at how some of the most memorable comedy routines of all time were maintained in a place where rivalries, arguments and drugs are what goes on behind the scenes went, often found what was happening in front of the house exciting.
OCTOBER, 16TH
"Brave New World" Season 1
Based on Aldous Huxley's seminal 1932 dystopian novel, the science fiction series Brave New World offers a portrayal of a decadent adult-only future, with the ruling class spending idle hours drugged and orgies. Alden Ehrenreich plays John, an unusually clever "savage" lower class who becomes a novelty for the elites, even if he asks how they live. And while the source material is now almost 90 years old, this show's portrayal of how social revolutions can take hold is strikingly relevant in 2020.
Also arriving: "Harlots" Seasons 1-3 (October 1), "Miscarriage Misunderstandings (MUM)" (October 1), "Where's Wally?" Season 1 (October 2), "Bran New Dae" (October 7), "Miranda" Seasons 1-3 (October 7), "Cold Feet" Seasons 1-9 (October 8), "The Flash" Season 6 (October) 9), "The Spanish Princess" Season 1 – Part 2 (October 11), "Mr. Robot" Seasons 1-3 (October 12), "Mr. Selfridge" Seasons 1-4 (14 October) October), "Unforgotten" Season 3 (October 19), "Valor" Season 1 (October 22), "Informer 3838" Season 1 (October 27), "The Bay" Season 1 (October 28), "Condor" Season 2 (October 31st).
OCTOBER 6
"Welcome to the Blumhouse"
Although the innovative production company Blumhouse is best known for hit horror films like "Paranormal Activity" and "Insidious", the new "Welcome to the Blumhouse" film series has a slightly broader scope and encompasses the company's long history of different types of films too support genre pictures and indie dramas. The first two films in the series, which debut on October 6th, are "The Lie" (an engaging story about parents protecting their possibly murderous child) and "Black Box" (about an amnesia that quacks turn to putting his past together). A week later, "Evil Eye" (based on a radio play about an Indian woman who fears that her daughter's fiancé is the reincarnation of a terrible person) and "Nocturne" (about a pianist who goes to extremes for her more talented) Surpass sister). .
OCTOBER, 16TH
"What the constitution means to me"
In Heidi Schreck's Tony-nominated Broadway play "What the Constitution Means to Me" she appears on stage as herself. She embodies both the 15-year-old, who used to win prize money by making speeches heralding the grandeur of the U.S. Constitution, and the adult whose life experiences have led her to be more critical of what the document does and what not. Before the show started last year, director Marielle Heller filmed the production and captured Schreck's funny and provocative investigation into how schoolchildren are too often encouraged to limit themselves to a one-dimensional kind of patriotism.
30TH OF OCTOBER
'Truth Seeker'
Frequent contributors Nick Frost and Simon Pegg are collaborating again on Truth Seekers, a horror comedy about a paranormal investigator who uncovered a possible end-of-the-world conspiracy. The couple co-created the series with James Serafinowicz and Nat Saunders, and Frost also plays the hero Gus, an intense loner who works as a cable fitter on the ghost hunt. Pegg plays a smaller role than Gus' mysterious boss. While the duo don't spend much time together on screen, this show is still a must-see for fans of "Spaced" and "Shaun of the Dead".
Also arriving: "Mirzapur" (October 23), "The Challenge: ETA" (October 30).