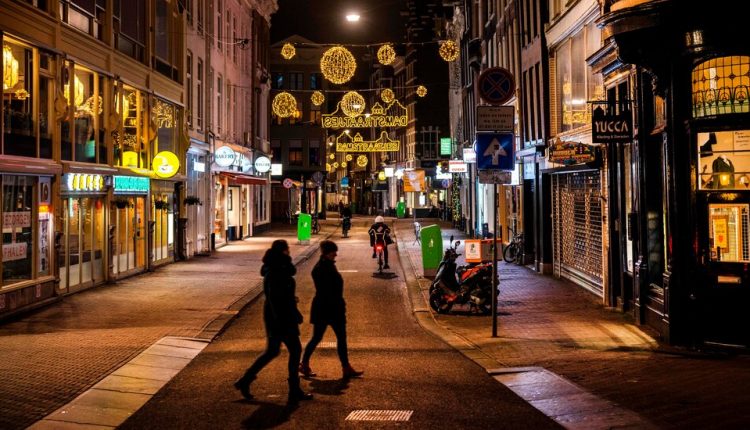 The Netherlands will ban many flights and impose a nationwide curfew.
The Netherlands will ban flights from the UK, South Africa and almost all countries in South America starting January 23, and introduce a nationwide curfew to stop the spread of the UK's first-time coronavirus variant, Prime Minister Mark Rutte said on Wednesday.
"These are dark weeks – we have to overcome this time," said Health Minister Hugo de Jonge during a press conference.
The curfew, which was imposed in the Netherlands for the first time since the Second World War, requires parliamentary approval in a vote scheduled for Thursday. It would last from 8:30 p.m. to 4:30 a.m. each evening through February 10th.
The country is already on lockdown with restaurants, gyms and pools, entertainment venues and most shops closed and most personal schooling ceased.
Under the new rules, the number of guests who can be entertained at home will be reduced to one, and travelers to the Netherlands traveling to the Netherlands by plane and boat will need a quick coronavirus in the hours before boarding Perform the test and show a negative Result of a PCR test performed within the last 72 hours. These new measures come despite the fact that cases have been slowly falling.
The country will also postpone the second dose of Pfizer vaccinations from three to six weeks after a decision was made to reduce the number of vaccinations held, de Jonge announced. "That way we can protect more people sooner. This is also important because of the spread of the British mutation," he said.
Health experts in the Netherlands fear that without these new measures, the more transferable variant will dominate the country by March.
The Dutch Outbreak Management Team, the group of experts advising the government on its measures to prevent the virus from spreading, warned on Wednesday that a third wave of the virus was inevitable due to the spread of mutations.
Since March, the Netherlands have repeatedly tried to contain the spread of the coronavirus, exposing what many describe as systemic governance issues in the country.