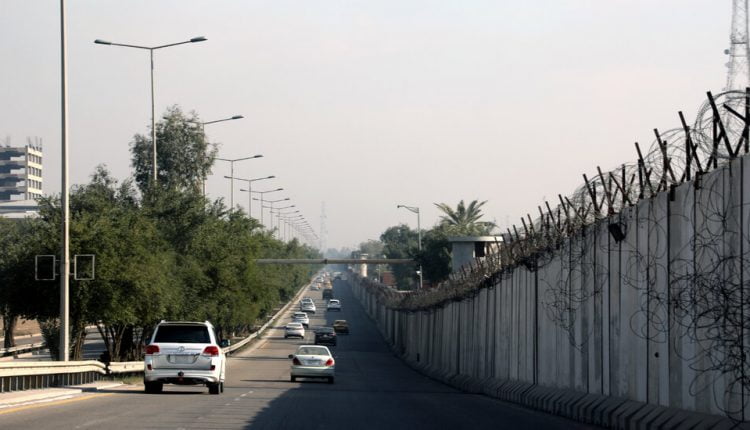 Trump Warns Iran of Retaliation After Assaults on U.S. Embassy in Baghdad
WASHINGTON – President Trump warned Iran Wednesday that he would hold him accountable "if an American is killed in missile strikes in Iraq," which the Trump administration and military officials accuse Tehran of.
In a Twitter post that came after meeting senior officials at the White House, Trump said Iran was behind rocket attacks on the American embassy in Baghdad on Sunday. "Some friendly health advice to Iran," Trump tweeted. "If an American is killed, I will hold Iran accountable. Think about it."
His post was followed by a statement from the United States Central Command calling the attacks on Sunday the largest in a decade. "The December 20, 2020, missile attack on the green zone in Iraq was almost certainly carried out by an Iran-backed rogue militia group," Captain Bill Urban, a spokesman for Central Command, said in the statement. He added that the 21 rocket attack "was clearly NOT intended to avoid casualties".
The attack killed at least one Iraqi civilian and damaged the embassy grounds. This adds to the growing tensions between the United States and Iran in the waning days of Mr Trump's presidency. Last month, the president was prevented from striking Iran after his aides warned that doing so could lead to a major conflict in his final weeks in office.
In these discussions, Mr Trump raised the idea of ​​attacking Iran to force it not to expand its nuclear program any further. Such an attack would be a major blow to President-elect Joseph R. Biden Jr., who seeks to revive the 2015 Iranian nuclear deal, the Obama administration's foreign policy achievement from which Mr Trump withdrew in 2018. A strike on the eve of a new administration could poison relations with Tehran so much that it would be impossible to revive the agreement.
A strike in retaliation for missile strikes in Iraq could also damage future relations, though most likely not as much as a strike against an Iranian nuclear facility, a Defense Department official said. But the official, who spoke on condition of anonymity because the White House meeting was private, said the decision that came from that meeting on Wednesday was to adhere to strict verbal warnings for the time being.
Since Mr Trump sacked Mark T. Esper as his Secretary of Defense last month, the Department of Defense and other national security officials have privately voiced concerns that the president might launch clandestine or overt operations against Iran and other opponents at the end of his term.
Officials say a strike could be inevitable if Americans are killed before inauguration day. Officials were particularly nervous about January 3 of the American strike that killed Major General Qassim Suleimani, commander of the elite Iranian Quds force of the Islamic Revolutionary Guard Corps, and the Iraqi leader of an Iran-backed militia. They have not yet avenged the deaths that Iranian leaders regularly insist on.
In Iraq, missile strikes, which the United States has long claimed to be linked to Iran, are a staple staple. But Pentagon officials fear that a surge in such attacks could give Mr. Trump a reason to retaliate. "The United States will hold Iran accountable for the deaths of all Americans resulting from the work of Iranian-backed militias," the Central Command said.
For the past two weeks, Central Command has flown B-52 bombers in the region, dispatched an additional squadron of fighter jets to Saudi Arabia, held the Nimitz aircraft carrier in the region and announced that it would be a Tomahawk submarine. All of these measures, say military officials, are in the name of deterrence.
Eric Schmitt contributed to the reporting.