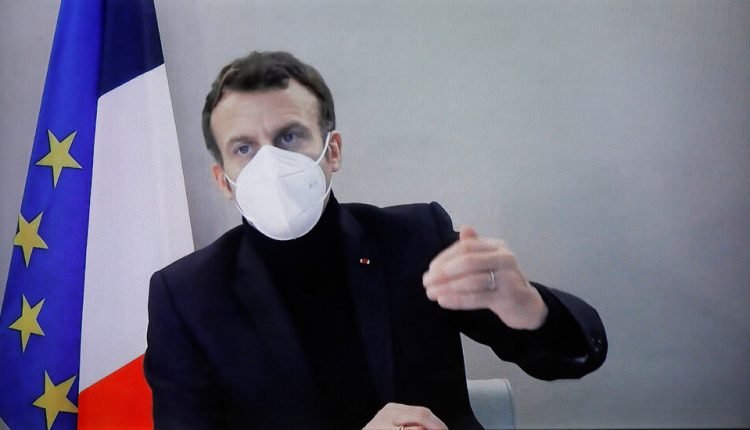 Your Friday Briefing – The New York Instances
(Would you like to receive this briefing by email? Here is the registration.)
Good Morning.
We cover President Emmanuel MacronThe positive test for the coronavirus, President Vladimir Putin's answer to the question about Aleksei Navalny's poisoning and the intricacies of acid green chartreuse.
European heads of state and government are quarantined after meeting Macron
After French President Emmanuel Macron tested positive for the coronavirus, other European leaders, including the Prime Ministers of Spain and Portugal with whom he recently met, have started self-quarantine.
At 42, Mr. Macron is not one of the most vulnerable to a serious bout of Covid-19, although how he contracted the virus is a mystery. He took his dangers seriously, unlike more carefree world leaders who were previously infected – including President Trump, President Jair Bolsonaro of Brazil and Prime Minister Boris Johnson of the UK.
Europe's vaccine launch: The 27 countries of the European Union are preparing for a major vaccination campaign. Vaccinations will start on December 27th, 28th and 29th.
Here are the latest updates and maps of the pandemic.
In other developments:
King Carl XVI. Gustaf of Sweden said the country had failed in its response to the pandemic that killed nearly 8,000 people, underscoring Sweden's outlier status in the Nordic region for its loose lockdown measures.

Russian President Vladimir Putin said his government was considering giving people one dose of their main coronavirus vaccine at a time, instead of two, to allow for a faster dose.

Even if the US begins its vaccination program and seeks approval for a second vaccine, it will face more than 245,000 new coronavirus cases and more than 3,600 deaths as of Wednesday.

Vice President Mike Pence and his wife Karen Pence receive the Pfizer BioNTech coronavirus vaccine today.

The sudden lockdown of 3,000 public housing residents, many of whom were immigrants, in Melbourne, Australia in July was in violation of human rights law. This was the result of an investigation.
He admitted that Russian intelligence agents had been tracking Mr. Navalny's movements, but insisted the US was behind the uproar over the poisoning.
Hacking allegations: Mr Putin did not respond directly to a question about a huge, sophisticated cyberattack attributed to Russian agents who broke into the systems of private U.S. corporations and the networks of several U.S. agencies, including the State Department and parts of the Pentagon.
Opinion: The extent of the national security breach is difficult to exaggerate, writes Thomas Bossert, President Trump's former homeland security adviser. It will take years to know for sure which networks the Russians control and which they are currently occupying.
Connected: A court in Switzerland halved Russia's four-year ban on global sport for doping athletes, but the country's teams will not be able to compete in the next two Olympics – the Tokyo Games next summer and the Beijing 2022 Winter Games.
Boko Haram takes responsibility for the mass kidnapping
The leader of the Islamist militant group Boko Haram took responsibility for a raid this week in which armed men took more than 300 boys from their boarding school in northwestern Nigeria.
The parents held a vigil in the school for six days. Then, late Thursday night, the best possible news: the state governor announced that all kidnapped boys had been released and would be reunited with their parents the next day after gloomy government negotiations with their kidnappers.
Context: The armed men's attack on Kankara city was a torturous replay of the group's 2014 kidnapping of 276 school girls in Chibok. Hundreds of girls were still unreported years later.
If you have 12 minutes, it's worth it
An elixir from another time
Only two Carthusian monks, one of whom is pictured above, know the full recipe for Chartreuse, this pungent, light, deeply herbal liqueur with its characteristic acid-green hue. Even during the pandemic, they stuck to their medieval motto: "The cross is stable while the world is turning."
This would never be a normal year for the drink or the monks themselves. But it is hardly the first time that the Carthusians have reinvented themselves, even if they cling to a way of life that has barely changed in almost a thousand years.
The following also happens
Jeffrey Epstein: Jean-Luc Brunel, a former modeling agent and employee of the financier, was arrested this week at an airport near Paris as part of an investigation into allegations of rape and sexual assault, including against minors, of Mr Epstein.
Euthanasia: Spanish lawmakers on Thursday voted for a law that decriminalizes euthanasia and medical suicide, making it likely for Spain to join a handful of other countries where terminally ill patients can legally get help to end their lives.
Terrorism: Four men who were involved in a foiled terrorist attack on a train to Paris in 2015 were convicted of attempted murder, complicity and criminal terrorist organization. They were sentenced to between seven years and life in prison.
Sexual Assault Legislation: Denmark on Thursday tightened its rape law by making sex without express consent a criminal offense. The law previously required evidence of violence, threat or evidence that the victim was unable to fend off the attack.
Call center fraud: New Delhi police say they arrested over 50 people in connection with a two-year call center fraud that resulted in more than $ 14 million being paid by over 4,500 Americans.
Snapshot: Above, New York's East Village late Wednesday as the city experienced its biggest snowfall in years. From the mid-Atlantic to the northeast, you can expect more snow and cold.
Lived life: Composer and pianist Harold Budd, who has worked with art-pop artists such as Brian Eno and Cocteau Twins and is known for the supernatural spaciousness and melancholy calm of his music, died this month at the age of 84 from the effects of Covid-19 .
What we read: This very manageable jump into the deep fryer from the joyful summer magazine of Radio New Zealand, which asks: Where does the country's beloved piece of potato come from? And why do kiwis so often get an extra one for free?
Now a break from the news
Cook: Serve these soy butter-made scallops with withered vegetables and sesame seeds on a fluffy mound of steamed white rice.
Clock: Most of us have spent so much time binge watching this year. A few selected episodes cut through the mess: Ours TV critics selected the best TV episodes of 2020.
Play: From The Sims 4 to Call of Duty, these were the video games that got the Times journalists through the year. (The list can also serve as a gift for all of the players in your life.)
It is Friday! Pour yourself a stiff drink or whatever and discover what to read, cook, see and do while staying safe at home in our collection of home ideas.
And now for the background story about …
The year in the climate
2020 was a year of crisis: a pandemic, economic turbulence, social upheaval. And climate change. Our climate team documented the shifts from science to human cost. Here are some of the big stories of this year.
Ice: The polar ice melted, temperatures rose, and a record number of storms formed and landed in the United States – most in a year. The Arctic continued to shift towards a new climate in 2020 as the effects of near-record warming increased and the ice and snow cover shrank.
Inequality: The effects of climate change are not felt equally around the world. The people who are least responsible for climate change are most affected by its consequences. In July, floods in Bangladesh left a quarter of the country under water. Almost everywhere, heat waves are more frequent and persistent than 70 years ago. If you are poor and marginalized, you are likely much more prone to extreme heat.
The pandemic: In many ways, the coronavirus pandemic reflected the threat posed by climate change. It was global in nature, hit the vulnerable hardest, and required collective action to avert the worst. But it was moving faster. The virus has also cut emissions, but not in the way everyone would have liked.
A Gmail outage resulted in some of you not getting your morning briefing every day this week. I'm sorry and I hope it doesn't happen again. You can make up for any expenses that you did not receive here.
And thank you again for starting your day with The Times. Until next week.
– Natasha
Many Thanks
To Theodore Kim and Jahaan Singh for the break from the news. You can reach Natasha and the team at [email protected]
PS
• We hear "The Daily". Our latest episode is about the US government's antitrust lawsuit against Facebook.
• Here's our mini crossword puzzle and a clue: port cities (five letters). You can find all of our puzzles here.
• Matina Stevis-Gridneff, a Brussels correspondent for The Times, discussed migration across continents in the Media Tribe podcast.