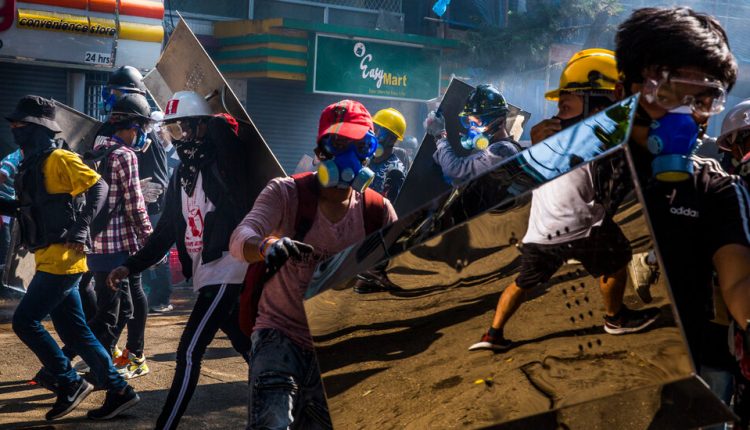 Your Friday Briefing – The New York Occasions
A rampage in Myanmar
At least eight people died and 20 others were wounded Thursday when police officers fired indiscriminately at a group of unarmed civilians in Myaing, a small town in the center of the country.
"They shot people like birds," said U Myint Zaw Win, a witness.
The murder came after weeks of protests in which the military, which has persecuted the country's citizens for decades, attacked peaceful demonstrators, often without warning.
More than 70 people have been killed by security forces in Myanmar since the army carried out a coup on February 1 that ousted a civilian leadership and returned the country to the nightmare of full military rule. On Thursday, Amnesty International released a report revealing security forces using battlefield weapons on protesters.
Development: On Thursday, a military spokesman accused Daw Aung San Suu Kyi, the civilian displaced by the coup, of illegally receiving 25 pounds of gold and about $ 600,000. This allegation and other obscure violations could result in years of imprisonment.
AstraZeneca Vaccine Concerns
Denmark has temporarily suspended vaccination of residents with the AstraZeneca vaccine after concerns about an association with an increased risk of blood clots. Out of more than 142,000 Danish residents who received the Covid-19 vaccine, only a few have reported serious cases of blood clots. One patient died.
"It is currently not possible to determine whether there is a connection," wrote the Danish Health Minister Magnus Heunicke on Twitter. "We acted early, it needs to be investigated thoroughly." The European Medicines Agency said there is currently no evidence that the vaccine "caused these conditions".
Austria suspended a certain batch of the vaccine when one patient died after blood clots formed and another was hospitalized with a similar condition. Estonia, Latvia, Lithuania and Luxembourg have also suspended the batch. Norway and Iceland have suspended the drug altogether, and Italy has suspended a separate batch, Reuters reported.
Here are the latest updates and maps of the pandemic.
In other developments:
The European Union Medicines Agency approved Johnson & Johnson's vaccine on Thursday. The move comes amid growing frustration with a sluggish vaccination campaign.

Amid swirling misinformation, Ukraine is struggling to find enough residents willing to receive the vaccine. The country's vaccine delay rate is among the worst in Europe, even among doctors and nurses.

Coronavirus cases in Germany are increasing, more than half of them can be traced back to variant B.1.1.7, which was first discovered in Great Britain. "We are seeing clear signs: the third wave has already started in Germany," said the leading health official.
New rules for elections in Hong Kong
China on Thursday approved a drastic revision of Hong Kong's electoral law that is likely to deter many pro-democracy politicians from voting.
Beijing plans to add 300 more seats to the electoral committee that selects Hong Kong's local leaders and members of its legislature. The move, which builds on a comprehensive national security law passed last year after months of protests, could allow more seats to reach allies pro Beijing and give them the right to veto candidates.
Prime Minister Li Keqiang said the measures are necessary to ensure that "patriots" rule the territory. Pro-democracy activists warned that the changes to the electoral law would kill the territory's restricted voting rights and wipe out the already limited democracy that Hong Kong enjoyed after its return to Chinese sovereignty in 1997.
If you have 6 minutes, it's worth it
Egypt's rebellion over curly hair
For decades, Egyptian women diligently straightened their locks to conform to a Western ideal of beauty. Men cut theirs short and suppressed their natural texture because it was viewed as sluggish and impure. Above, the owner of the G-Curls salon in Cairo, Egypt.
In recent years, however, curls have resurfaced across the country, a visible reminder of the subtle changes in society that many young Egyptians attribute to the 2011 revolution. While the government has restricted freedom of expression, young Egyptians continue to reject some of the conservative norms of the past, even if only for what they look like.
The following also happens
Coupang IPO: South Korea's response to Amazon debuted on Wall Street Thursday with an IPO that grossed $ 4.6 billion and valued the company at more than $ 102 billion, the second largest for an Asian company in the year after that of the Alibaba Group 2014.
Royals: Prince William called the royals "very much not a racist family" in his first public comments after his brother, Prince Harry, and sister-in-law Meghan said in an interview that a family member raised concerns about their child's skin tone.
Climate: A global plan to protect 30 percent of the planet's land and water by 2030, known as 30×30, is backed by dozen of countries. But indigenous communities who have preserved biodiversity in their land by not gaining too much will not choose the agreement despite the experience that might lead the way.
George Floyd: Derek Chauvin, the policeman who held his knee to George Floyd's neck on a street corner in Minneapolis as he gasped for breath, is now charged with third degree murder. He had previously agreed to plead guilty to the charges.
Archeology: A silver diadem buried 3,700 years ago and found in a Spanish excavation shows that women held significant power in prehistoric Europe.
Snapshot: Above the view from the Takata Matsubara Tsunami Reconstruction Memorial Park in the Japanese village of Kesen. All but two of 550 houses were destroyed in the earthquake and tsunami 10 years ago, but 15 residents refused to leave the village. For the past decade, Times photographer Hiroko Masuike has visited Kesen twice a year to document her reconstruction mission.
What we read: This book review in The New Republic explores how tourism (and our collective disdain for tourists) has shaped our politics, climate, and personalities.
Now a break from the news
Cook: Swallows, a starchy West African delicacy made from yam, cassava, cocoyam or plantain flour, are a labor of love and a satisfying accompaniment to vegetable soups and steamed meat.
See: In 1995, Matthew Bourne boldly re-introduced the ballet "Swan Lake" with a herd of wild men. A performance is available for streaming.
Do: Essential oils can destroy your skin. Here's what's safe and what's best to avoid.
Get ready for the weekend. At Home offers a comprehensive collection of ideas on what to read, cook, see, and do while staying safe at home.
And now for the background story about …
Enthusiasm for NFTs
A JPG file of Mike Winkelmann, the digital artist known as Beeple, was sold for a fee by Christie's on Thursday for $ 69.3 million in an online auction. The price was a new high for a work of art that only exists digitally.
Last month someone bought an animated GIF of a flying cat for over $ 500,000. So what's the point of owning them?
It may not make sense for everyone – and it contains elements of a financial bubble. It's mainly about very expensive bragging rights and the potential to sell the works on for more money.
These rights are known as NFTs, short for "non-fungible tokens". "It seems crazy to do this for something purely digital that can be easily copied and shared on the Internet," said Erin Griffith, a Times tech reporter who wrote about the trend. "But the popularity of NFTs shows that people are willing to pay for special, rare collectibles."
Technology has made it easier for artists, musicians, and sports franchises to make money from digital goods. The NBA recently launched a series of NFTs, Top Shot, which turn highlight clips into trading cards. In music, Kings of Leon's latest album is an NFT.
That's it for this briefing. We are redesigning this newsletter and will publish our new briefing on Tuesday. Stay tuned.
– Amelia and Whet
Thank you
Sanam Yar wrote the backstory. You can reach the team at [email protected].
PS
• We listen to "The Daily". Our latest episode contrasts Meghan's explosive interview with Princess Diana's BBC sit-down from 25 years ago.
• Here is our mini crossword puzzle and a hint: "____ is friendship put to music": Jackson Pollock (four letters). You can find all of our puzzles here.
• Michael Paulson, our theater reporter, was excited to return to New York City from performing live on this WNYC radio interview.