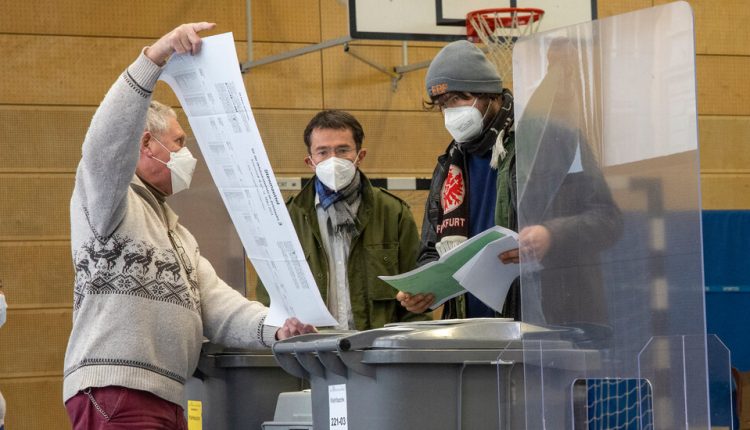 Your Monday Briefing – The New York Instances
(Would you like to receive this briefing by email? Here is the registration.)
Good Morning.
We cover the beginning of a pivot Election year in Germany, on Lockdown in Italy and an outcry in Britain against gender-based violence.
A decisive election year in Germany
Voters in Germany cast ballots in two regional races on Sunday, kicking off an election year that could change the course of Europe's largest economy.
Germany is laying the foundation for major political change without Chancellor Angela Merkel. After 16 years in power, Ms. Merkel will resign when a new government is sworn in after the parliamentary elections in September.
The results of the races on Sunday in the federal states of Baden-Württemberg and Rhineland-Palatinate could show how voters feel about the two leading parties – the Conservatives and the Greens – and help to focus the competition for Ms. Merkel's replacement.
German media: Julian Reichelt, editor-in-chief of Bild, Europe's largest newspaper and an influential force in German politics and society, spoke out during an investigation into the allegations of half a dozen female employees that he abused his position of authority and created a hostile work environment.
Italy is preparing for a widespread lockdown
Three quarters of the Italian population are under strict lockdown today to combat an increase in coronavirus infections by the government. The spread of a contagious variant, first identified in the UK, coupled with a slow introduction of vaccines, led to a 15 percent increase in cases in Italy last week.
The northern regions, as well as Lazio and Marche in central Italy, and Campania and Puglia in the south, will discourage schools and bar-dwellers from leaving their homes except for work, health or certain other necessities. Supermarkets, pharmacies and some other shops will remain open, but restaurants will remain closed.
Due to late shipments from pharmaceutical companies and logistical problems in some regions, fewer than two million people in the country have been fully vaccinated.
Official remarks: "I am aware that today's measures will have an impact on children's education, on the economy, but also on the psychological state of all of us," said Prime Minister Mario Draghi on Friday. "But they are necessary to avoid deterioration, which inevitably requires even stricter measures."
Here are the latest updates and maps of the pandemic.
In other developments:
A national outcry against gender-based violence
Thousands of people gathered in south London on Saturday for a vigil in honor of Sarah Everard, the 33-year-old marketing director, whose murder sparked a national reckoning of violence against women in the UK.
As darkness fell, a growing crowd sang "Shame on you!" and "How many more!" Some held tea lights or signs saying "End violence against women" and "She just went home."
Police had warned that the vigil would be illegal because of social distancing requirements. Photos from the event showed officers clashing violently with women, leading to widespread outcry and a phone call from the Mayor of London and the UK Cabinet Secretary in charge of the police to conduct an independent investigation into police tactics.
Explainers: Ms. Everard's death sparked a social movement in which women demand safety from male violence – and demand that the police, government and men share the burden of ensuring this.
If you have 5 minutes, it's worth it
An oasis in the pandemic
Taiwan, which has only had 10 Covid-19 deaths and fewer than 1,000 cases, has used its success to sell something that is in short supply: a chance to live without fear of the coronavirus. Shopping in Taipei upstairs on Friday.
The island attracts Covid migrants – mostly Taiwanese and overseas dual nationals, including some well-known personalities like Eddie Huang, the Taiwanese-American restaurateur. The influx of people helped make Taiwan one of the fastest growing economies of the past year, one of the few to ever expand.
The following also happens
Myanmar: At least 51 people were fatally shot over the weekend, but the nationwide protest movement against Myanmar's military coup a month and a half ago shows no sign of easing. Two districts in Yangon were placed under martial law following large demonstrations on Sunday.
Grammys: The first Grammy Awards since the pandemic were given by Taylor Swift, BTS, Megan Thee Stallion, and others. Here are the winners of the 63rd annual awards.
US Afghanistan: The United States has announced 1,000 more troops in Afghanistan than previously announced. The countdown complicates President Biden's consideration of a full withdrawal by May 1st.
US-Mexico border: President Biden directed the Federal Emergency Management Agency to process thousands of unaccompanied children filling up frontier detention centers. He has also asked the Mexican government to help ease the flow of migrants.
Snapshot: Above, cellist Yo-Yo Ma gave a surprise concert at a vaccination site in Massachusetts after receiving his second dose of Covid-19 vaccine. He used the required 15-minute observation time after receiving his shot to play Ave Maria and Bach's Prelude in G major.
Caligula's treasures: A mosaic made in the first century for a ceremonial ship commissioned by the Emperor Caligula was exhibited in an archaeological museum south of Rome. Lost for decades, it reappeared a few years ago as the coffee table for an antique dealer in Manhattan.
Guide to happiness: More than three million people took this course on happiness. What did you learn?
What we read: This essay by actor Riz Ahmed in The Guardian about typography as a terrorist – at airports.
Now a break from the news
The Times office is located on several floors of a building that extends from 40th to 41st Streets on Eighth Avenue near Times Square. It's usually not the quietest place on earth – what do you expect when your closest neighbor is the Port Authority Bus Terminal? – but it is not our quiet place. It has an electricity, a frisson, a sense of community, and a sense of purpose. It feels like something bigger than yourself.
I love our busy newsroom with its ergonomic desks, the glass-walled meeting rooms, the whiteboards with the weird notes, the people running up and down the stairs, the random exotic furniture that nobody knows how to use, the layout that growls your sense of direction when you are trying to find a colleague from another department.
I miss all of this. Most of the time I miss the people I work with. I've seen them as disembodied squares on my screen for so long that I've forgotten what it is like to be with them in real life. You are smart, thoughtful, disrespectful, kind, difficult, brilliant, subversive, surprising. I miss our unexpected conversations in the elevators.
I miss having lunch in the cafeteria. I miss the boost that comes when you work side by side with people you love and respect. I miss the office.
I hope we will all be back soon.
That's it for this briefing. Tomorrow we will bring out our redesigned morning newsletter. We hope you enjoy our new look!
– Natasha
Thank you
To Melissa Clark for the recipe. You can reach the team at [email protected].
PS
• We listen to "The Daily". Our latest installment is part 2 of Odessa, the series about a Texas high school trying to bring football back during the pandemic.
• Here's our mini crossword puzzle and a hint: "Wow, that's neat!" (Five letters). You can find all of our puzzles here.
• Elizabeth Kennedy, longtime editor and reporter for The Associated Press, becomes the new editor of the Times White House.