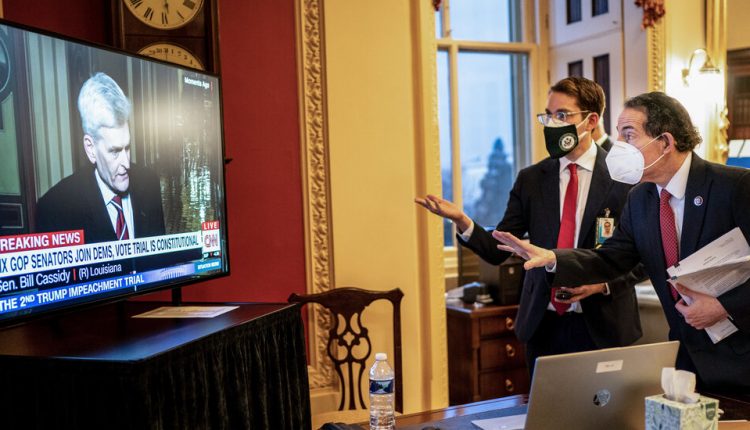 Your Monday Briefing – The New York Instances
(Would you like to receive this briefing by email? Here is the registration.)
Good Morning.
It's the beginning of a new week. We report the latest from former Impeachment proceedings against President Donald Trump, on Mental health pandemic among young people and a love story for geriatric lemurs.
The fallout from Trump's acquittal
Seven Republican senators voted with Democrats on Saturday to condemn former President Donald Trump – the most bipartisan reprimand ever issued in impeachment. The number of votes of 57 to 43, however, missed 10 percent of the two-thirds majority that was necessary for the Senate to exclude him from his future office. Here's how each senator voted and gained key insights from day 5 of the process.
Europe's "Mental Health Pandemic"
With coronavirus restrictions in European countries dragged into spring or longer, health professionals fear the deteriorating mental health of young people, whom they say are among the most severely shortened of a world with one Sense of the future belong to those concerned.
Lastly, for vaccines, young people have borne much of the burden of sacrifice, largely to protect the more vulnerable elderly. Hospital stays for young Italians who injured themselves or attempted suicide increased by 30 percent in the second wave of the virus, while a French survey of 30,000 people found that young people had the lowest levels of mental wellbeing.
"I've never had so many suicidal thoughts," said Philaé Lachaux, a 22-year-old business student. "The pandemic feels like a big stop in our lives. One that gets us so deep that I wonder, 'What's the point?' "
Here are the latest updates and maps of the pandemic.
In other developments:
Myanmar's military is trying to quell protests
Armored vehicles and trucks loaded with soldiers moved into cities across the country on Sunday evening.
Security forces fired rubber bullets, water cannons and tear gas at a crowd. Troops surrounded the homes of government officials who had dared to join the campaign against the February 1 coup that ousted Daw Aung San Suu Kyi, the country's civilian leader.
The military intelligence unit issued a statement explaining the sudden build-up, "Security forces will conduct security day and night to allow the public to sleep peacefully in the community."
A warning: Ambassadors from several Western countries, including the United States, issued a joint statement calling on the military "not to use violence against demonstrators and civilians who are protesting the overthrow of their legitimate government".
"We support the people in Myanmar in their pursuit of democracy, freedom, peace and prosperity," the statement said. "The world is watching."
If you have 8 minutes, it's worth it
A taste for change in the Middle East
A decade ago, after a fruit seller set himself on fire in a poor Tunisian city when a police officer beat him and confiscated his scales, frustrations crystallized throughout the region about his death. Protesters exiled Tunisia's autocrat, Zine el-Abidine Ben Ali, and demonstrations broke out in Egypt, Libya, Yemen, Bahrain and Syria.
While these Arab Spring uprisings largely failed, they gave people an appetite for change and the possibility of democracy. "The younger generations saw what happened," said Tarek el-Menshawy, a mechanic in Cairo. "It's like a shark when you smell blood. Freedom is like that. We smelled it once so we'll keep trying. "
The following also happens
Harry and Meghan: The couple are expecting a second child, their spokesman said on Sunday, good news after a year of breaking up with the British royal family, starting a new life in California and miscarriage.
WTO: The World Trade Organization stands ready to appoint Ngozi Okonjo-Iweala, a Nigerian economist, as director general, making her the first woman and first African in the profession.
China oppression: The Utsuls, a community of around 10,000 Muslims on the holiday island of Hainan, are one of the most recent targets of the Chinese Communist Party's campaign against foreign influences and religions.
Ebola: A new outbreak of the deadly virus in Guinea has killed three people. The country was the starting point for a 2014 epidemic that killed more than 11,000 people.
Earthquake in Japan: In the northeastern Japanese city of Nihonmatsu, more than 100 people were injured and nearly a million households were left without power after a powerful earthquake late Saturday that led to a landslide.
Snapshot: Above are Laul Zerabruk, center, members of his family and a neighbor, Ethiopian refugees from the Tigray region, who are warmly welcomed in the sleepy Sudanese town of Hamdayet. "Sudan is like our second mother country," he said. "They did everything they can."
Lemur love: At a lemur center in North Carolina, geriatric lemurs are paired with platonic companions, sometimes a different species of lemur. "Our goal is that no lemurs live alone," said the Head Keeper. "It's completely unnatural and not good for your wellbeing."
What we see: These nature videos by @ gourmetbiologist's Instagram feed. "The conservationist and nature photographer Sean Graesser offers viewers the most amazing close-ups of fantastic birds from his field work," says Andrea Kannapell, editor of the briefings. "Breathtaking."
Now a break from the news
Did you learn anything from this trip that you did not know before?
From day one, the dates we saw were new and never seen outside of China. Who were the vendors at the Huanan Fish Market? Where do they get their supply chains from? And how were the contacts in the first cases? How real were the first cases? What other clusters were there?
If you asked for more, the Chinese scientists went out and a few days later they did the analysis and we have new information. It was extremely useful.
Now what can you say about the market and what have you seen?
The market closed on December 31st or January 1st, and China CDC sent a team of scientists to find out what was going on. It was a very extensive study that wiped every surface of this place. We knew early on that 500 samples were being collected and there were many positives, and in that sample there were some animal carcasses or meat. But there wasn't really much public information about what had been done. So we got all of this information. And that was a real eye opener for me.
In the end, they had actually done over 900 swabs, a lot of work.
Do you have a particular animal that you currently suspect as an intermediate link stronger than others?
It's too high in the air. We don't know if civets were for sale. We know they get infected very easily. We don't know what the situation is with the mink farms in China or the other fur farms like raccoon dogs, although they are usually bred in a different part of China. That too needs to be followed up.
That's it for this briefing. I'll see you tomorrow then.
– Natasha
Thank you
To Theodore Kim and Jahaan Singh for the break from the news. You can reach the team at [email protected]
PS
• We hear "The Daily". Our last episode deals with the debate in France on the relationship between government and religion.
• Here's our mini crossword puzzle and a clue: Preschool Basics (four letters). You can find all of our puzzles here.
• Our National Reporting Desk has a new management team. Read about the new dates here.