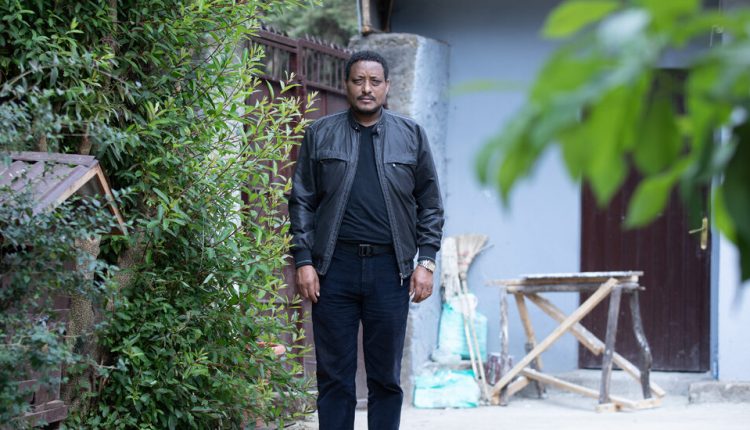 As Warfare Goes On in Ethiopia, Ethnic Harassment Is on the Rise
ADDIS ABABA, Ethiopia – On a bright day in mid-November, about a dozen police officers with machine guns stormed into the home of Lisanewerk Desta, a theologian who heads the library and museum division of the Ethiopian Orthodox Church at work.
The men who didn't have an arrest warrant poured dried goods from his kitchen onto the floor, emptied his clothes drawers, and even peeked into his clay coffee pot, seemingly looking for something to incriminate him. They only confiscated one item, he said: his Ethiopian identity card, which shows that he belongs to the Tigray ethnic group.
"I am a Church scholar, I have nothing to fear," said Mr. Lisanewerk, who shared photos and videos his daughter had secretly recorded of the attack in an interview at his home. "But now I'm under suspicion."
Tigrayans belong to one of eight major ethnic groups in Ethiopia and have been the dominant force in the country's politics for nearly three decades. However, the lives of many Tigrayans began to change in early November after Ethiopia's Prime Minister Abiy Ahmed launched a military operation in the northern region of Tigray, the leaders of which opposed Mr Abiy's efforts to centralize power in the federal government.
Almost 50,000 Tigrayans have fled the country in what the United Nations has called the worst refugee exodus Ethiopia has seen in more than two decades.
Since then, many ethnic Tigrayans living in the capital and other parts of Ethiopia have said they have been treated like criminal suspects and subjected to various forms of discrimination, harassment and ill-treatment by government officials.
They report having been detained without charge, placed under house arrest and banned from traveling abroad. Tigrayans say they closed their shops, searched homes and extorted money from security officials.
Several Tigrayans living outside Ethiopia said they had not heard from family members who were suddenly taken to police stations and prisons in weeks. Some Tigrayan members of the Ethiopian Armed Forces are being held in detention centers across the country, according to their families.
The reports of ethnic profiling by Tigrayans, who make up about 6 percent of Ethiopia's 110 million inhabitants, are alarming for the delicate mix of people and power that make up Ethiopia. The country is a troubled confederation of 10 ethnically identified states, including Tigray, where fighting continues despite the national government declaring victory.
The steps taken by the United Nations Office for the Prevention of Genocide have raised concern that cases of ethnic profiling are "a dangerous development that increases the risk of genocide, war crimes, ethnic cleansing and crimes against humanity".
The Ethiopian Attorney General Gedion Timothewos admitted last month that there had been "isolated cases" in which law enforcement authorities were "out of line". However, he said the government takes the issue of ethnic profiling very seriously and would set up a special hotline for the public to report their complaints.
"We are doing everything in our power to ensure that there are no arbitrary or discriminatory measures," he said, adding, "This is something that the government has denounced."
While the fighting has so far been limited to the Tigray region in the north, Tigrayan civilians are feeling the spillover effects in other parts of the country.
The 35-year-old manager of an accounting firm, who feared retaliation by the government asked to be identified only with his first name Sharon, which he also uses as a last name like many Ethiopians – Last month his home in the Ethiopian capital Addis Ababa was ransacked by plain clothes security officers who tore open his mattress and couch and smashed his washing machine.
"The problem here now is if you have Tigray blood you are being discriminated against," said Sharon, who has mixed ethnic Tigray and Amhara heritage. "This kind of fight won't end."
Mr. Sharon tried to help his sister when her house was also searched. He went missing a few days later and, according to his family and close friends, has not been heard since then.
For nearly three decades, the Tigrayans were at the center of power in Ethiopia after waging the guerrilla war that toppled the Marxist regime that ruled the country from the mid-1970s to 1991.
After the anti-government protests brought Mr. Abiy to power in 2018, leaders of the Tigrayan ethnic group were arrested and expelled from key positions. This opened a huge rift between the national government and the Tigray region, which is ruled by the Tigray People's Liberation Front. the party that previously exercised national power.
While the government suspects ethnic Tigrayans across Ethiopia support the liberation front, many respondents said they were not party members. Others said they were past or current members, but still they did not make them subversives to the government.
"I was a member for 10 years, but I am no longer directly involved," said Mr Lisanewerk.
The recent conflict has exacerbated the growing political divide in Africa's second largest nation between Ethiopians like Abiy who advocate centralization and those who support ethnic self-rule, said Yohannes Gedamu, an Ethiopian political science lecturer at Georgia Gwinnett College. in Lawrenceville, Ga.
The ethnocentric nature of Ethiopian politics makes it "difficult to conduct law enforcement and criminal investigations without considering the ethnic element," he said. "It is sad."
In Addis Ababa, a government-sponsored condominium project sent a letter seen by the New York Times suspending 10 Tigrayans, including drivers and surveyors.
Tigrayans security firms have been suspended in the capital, and diplomats in three embassies have confirmed they have had to look for new security firms as a result.
The purge is also taking place in state-owned companies such as Ethio Telecom, the country's largest internet and telephone provider. In the days after the conflict began in November, officials arrived at an Ethio Telecom office in Addis Ababa and arrested a maintenance manager and a senior director, both of Tigrayan descent, according to a staff member who spoke out for fear of anonymity reprisals.
The company's chief executive officer did not respond to requests for comment.
The authorities have also targeted journalists. Since the beginning of the conflict, Bekalu Alamrew, a reporter with Awlo Media Center, a subsidiary of Tigrayans, has been detained for over two weeks without a formal charge.
One of the charges the police made against him was in contact with the Liberation Front, according to Muthoki Mumo, the representative of sub-Saharan Africa for the Committee to Protect Journalists. This is "a strange claim," said Ms. Mumo, "as journalists need to communicate with different political actors in order to get their jobs done." (Mr. Bekalu has since been released.)
Authorities also recently arrested other journalists (most of the Tigrayans, but also those who only covered Tigrayan issues). You have designated a senior analyst with the International Crisis Group, a political organization based in Brussels.
The mistreatment of Tigrayans in Ethiopia now worries their overseas families.
Mahlet Gebremedhin, 26, who lives in Baltimore, said a cousin who owns a mattress company in Addis Ababa was arrested on November 19 and has not been heard since. Authorities told another family member that their company accounts are being investigated to see if they support the Tigray People's Liberation Front.
The conflict also affects ethnic Tigrayans who want to leave Ethiopia. Civil aviation authorities have begun urging Ethiopian passengers leaving the country to provide not only their passports, but also their ethnic identity cards, according to a letter from the Times Ethiopian Human Rights Commission.
Daniel Bekele, who heads the Ethiopian Commission on Human Rights, said in an interview that the commission was "alarmed by the increasing number of complaints from people who have been prevented from traveling for medical treatment or studies, including on work missions."
After raising the issue with the government, Mr Bekele said authorities had stopped verifying travelers' ethnic identities – although other Tigrayans continued to report otherwise.
Even the national airline's CEO, Ethiopian Airlines, an ethnic Tigrayan, was not allowed to leave the country earlier this month, according to an airline pilot and foreign diplomat who spoke on condition of anonymity because of the sensitivity of The Reason. The pilot said the CEO, Tewolde GebreMariam, was prevented from boarding a flight to Paris on Nov. 8, as his close ties with senior TPLF members, Mr Tewolde, could not be reached for comment himself.
Henok Sirak, an airline spokesman, declined to comment.
There are also reports of Tigrayans being freed from Ethiopia's armed forces.
Yared, who only gave his first name for fear of reprisals, said his father, a communications operator for the German armed forces, traveled north with his unit to the Tigray border on November 2. However, on November 9th, he texted that his phone had been confiscated and that he was being detained. He has not heard from his father since.
Mr Lisanewerk, the theologian, said his recent experiences had dampened his confidence in his own country. He said his father fought for his country against the military regime overthrown in 1991, but today his own compatriots would treat his people as a foreign entity.
"To tell the truth, I am not an Ethiopian," he said. "I'm Tigrayan now."
Simon Marks reported from Addis Ababa, Ethiopia, and Abdi Latif Dahir from Nairobi, Kenya.