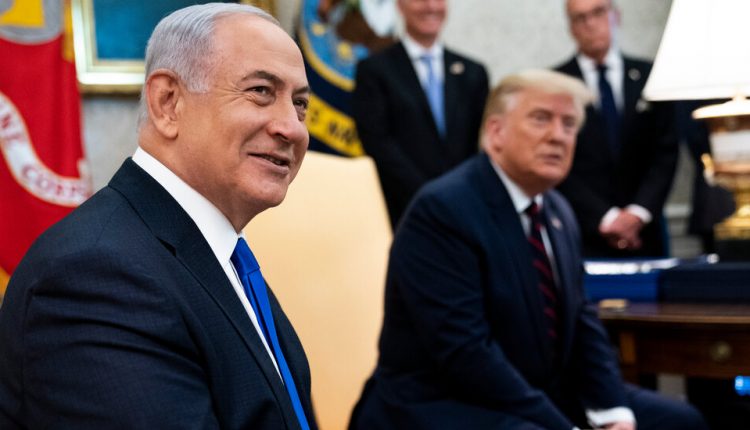 Basking in New Ties to Arab States, Netanyahu Says Extra Are Coming
Israeli Prime Minister Benjamin Netanyahu on Tuesday predicted that "soon, very soon" more Arab and Muslim nations would establish diplomatic relations with his country after agreements with the United Arab Emirates and Bahrain were signed earlier this month.
Speaking to the United Nations General Assembly, Netanyahu accused the Lebanese Shiite militant group Hezbollah of manufacturing and storing explosive weapons near the Beirut airport in the Lebanese capital. There was no evidence that the disaster caused by an abandoned supply of ammonium nitrate involved weapons.
The Israeli leader made his speech on video because the General Assembly was being held practically that year, but he was still using the theatrical devices he had used in previous speeches to the world body. He pointed to an annotated map of Beirut and highlighted the gun dangers that Hezbollah and its main supporter, Iran, posed – not only to Israel but also to the Lebanese.
"I tell the Lebanese people, Israel means you do no harm," said Netanyahu. "But Iran does. Iran and Hezbollah have deliberately put you and your families at great risk. "
Lebanon has maintained its longstanding opposition to normalization of relations with Israel, and tensions between the two have regularly increased along the border, in part due to Hezbollah arms caches and missile attacks on Israel. Israel has invaded Lebanon several times, most recently in 2006, to uproot its enemies.
Mr Netanyahu barely mentioned the coronavirus pandemic, which has hit Israel hard. Rather, he focused on what he described as optimistic developments in the Middle East, "a region not exactly known for producing good news."
He praised President Trump for breaking what the Israeli leader called "failed strategies of the past" in seeking a solution to the Israeli-Palestinian conflict. Mr Netanyahu directly linked Mr Trump's involvement with the decisions of the United Arab Emirates and Bahrain to establish diplomatic relations with Israel – the first Arab countries in more than 25 years.
These decisions outraged the Palestinian leadership, who viewed them as a betrayal of Arab solidarity by pressuring the Israelis for the lack of meaningful negotiations for a Palestinian state in Israeli-occupied countries.
"These new agreements will bring blessings of peace to our peoples and the tremendous benefits that come with more trade, more investment, more trade, transportation, tourism and increased cooperation in so many other areas," said Netanyahu.
"I have no doubt either," he said, "that soon, very soon, more Arab and Muslim countries will join the Circle of Peace."
It has been speculated that Sudan could establish diplomatic relations with Israel. President Trump has said Saudi Arabia, which has tremendous influence over the UAE and Bahrain and has reportedly approved their decisions, could follow suit. But Saudi Arabia's monarch, King Salman, gave no indication of such a move in his own speech to the General Assembly last week.