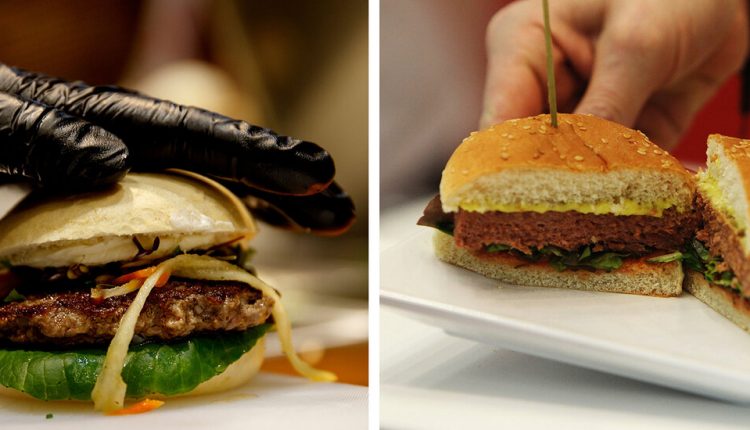 E.U. Debates Whether or not a Veggie Burger Is Actually a Burger
LONDON – When is a burger not a burger? If it does not contain meat, according to a controversial amendment that the European Parliament is due to vote on on Friday, it is part of a series of measures that would prohibit products without meat or dairy products from using such terms in their labeling.
According to the proposal, vegetable alternative products could not be labeled with terms such as "steak", "sausage", "escallop" or "burger". Another proposal would extend a ban on descriptions such as "yoghurt style" or "imitation cream" for substitutes for non-dairy products.
The proposed change is a small part of a larger package of agricultural measures – one that has either received more attention from its proponents at meat and ranching groups, who say they would rather focus on helping farmers work sustainably, or environmentalists given as perhaps desired and food manufacturers who oppose it, for whom it is a distraction from climate policy.
Jasmijn de Boo, vice president of ProVeg International, a meat reduction group, said the proposal was not in the interests of consumers or manufacturers and noted that buyers were not confused by the labels on store shelves.
"Why turn something into a 'vegetarian slice' or 'tube' instead of a sausage?" She said. "It is ridiculous."
Proponents of the change say that labeling plant-based products with meat terms could mislead consumers and open the door to other confusing labels.
"We are simply asking that the work of millions of European farmers and workers in the livestock sector is recognized and respected," said Jean-Pierre Fleury, chairman of Copa-Cogeca, Europe's largest agricultural lobby group, in a statement earlier this month. He described the use of meat-like names for plant-based products as "cultural kidnapping".
It's not the first debate about plant-based foods as the sector has exploded in recent years.
Labels for plant-based milk alternatives such as "soy milk" or "tofu butter" are already illegal in the block after the milk producers won a decision supported by the European Court of Justice in 2017.
In 2018, France banned the use of meat terms to describe vegetarian products. In dozens of US states, vegetarian food advocates have argued with farmers and lobbyists over laws making it illegal to label plant-based products as meat.
Parliament's vote is likely to be close and, even if the proposal is adopted, Member States will have to negotiate on legislation before the law comes into force.
To make matters even more complicated, since the first amendment was introduced, several parties in Parliament have tabled proposals with various reservations, which must also be voted on. Manufacturers such as Beyond Meat, Unilever and Ikea as well as the European Medical Association have resisted the changes, stating that terms like "veggie burger" or "milk alternative" help consumers understand the taste and texture of a product. They called the proposed changes in an open letter "disproportionate and not in line with the current climate".
Many said approving the change would violate a target set by the European Parliament earlier this month to cut CO2 emissions by 60 percent by 2030.
And buyers seem to like the names. In a survey conducted by the European Consumer Organization in 2020, around 42 percent of respondents said that "meaty" names should be allowed for plant-based products, provided the products are clearly labeled as vegetarian or vegan. Only 25 percent thought such names should be banned.
A Copa-Cogeca spokesman said the organization doesn't believe that consumers can't tell the difference between meat and plant-based products and that farmers are not against plant-based alternatives. The differentiation of markets, he added – similar to butter and margarine – was one of a number of initiatives that would support farmers already trying to adapt to a world more focused on global sustainability.
Some said the proposal would provide more fodder for critics of the European Union's penchant for over-regulation. Alexander Stubb, a former Prime Minister of Finland, argued that the bloc should only legislate "when the free movement of goods, services, money and people is obstructed".
He described the amendment as "exaggerated", which would only reinforce the arguments of those campaigning for the UK to leave the union: "This is one of those symbolically sad cases – a bit like the cucumber curve legislation."