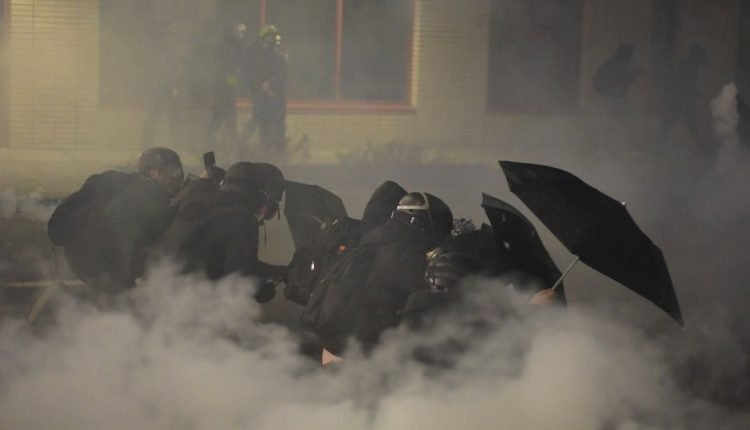 Eight Arrested In Portland After Group Vandalizes ICE Constructing, DNC HQ
While the president's inauguration went smoothly on Wednesday, protesters in Portland destroyed the state's Democratic headquarters, resulting in eight arrests.
Sgt. Kevin Allen, spokesman for the Portland Police Bureau, said in a video that at least four protests were organized for Inauguration Day, two of which were peaceful but the others resulted in property damage and arrests.
In the early afternoon, more than 150 people gathered at Portland's Revolution Hall and marched to the Democratic Headquarters of Oregon State. While the crowd was still in the Revolutionary Hall, officers on bicycles met the group, who approached the officers and even took one of the bicycles.
Police retrieved the bike and the group continued to Democratic Headquarters, where Allen said the group "smashed the windows and destroyed the building."
The crowd also began throwing stones and surrounding Portland police officers. At least eight people were arrested in the incident on a variety of charges, including criminal offense, possession of a destructive device, and civil unrest.
The Oregon Democratic Party said in a statement that no one was in the building at the time of the incident, but they are still upset about what happened.
"This is not the first time our building has been destroyed in the past year. None of the previous incidents has stopped us from our important job of voting Democrats up and down and it will be no different."
A second group of more than 120 people protested in front of an ICE (Immigration and Customs Enforcement) building in the city on Wednesday around 9 p.m. with pepper balls, fireworks, stones and protective equipment such as signs.
According to Allen, many members of the group were wearing helmets and gas masks and began graffiti the building within minutes of showing up. Federal law enforcement officers began using "crowd control ammunition".
According to CNN, reporters who were on the scene believed law enforcement officials used pepperballs, tear gas, and stun grenades to control the group.
Portland has been the site of numerous protests related to the Black Lives Matter movement. In July, federal agents clashed with more than 2,000 protesters and had to withdraw. The city's residents also established an autonomous zone in Portland.