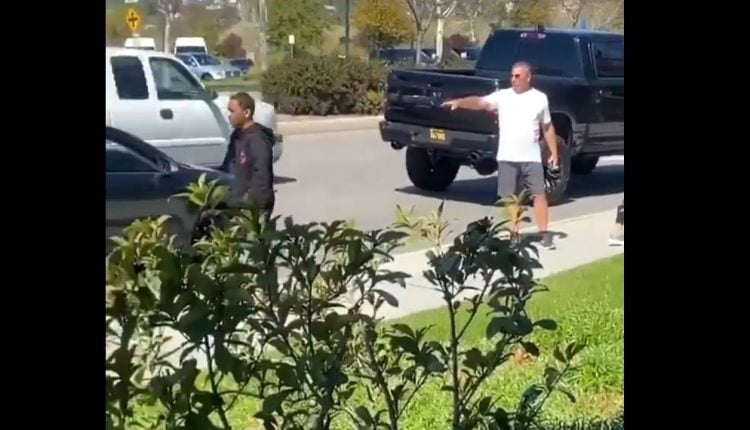 Former LAPD Detective on Video Calling Black Man the N-Phrase, Investigation Launched
The LAPD has opened an investigation after a confrontation between a black man and a white former detective from the Los Angeles Police Department was videotaped. The former detective can be heard using racist nicknames for the man.
According to Newsweek, during a confrontation in Valencia, California, following a traffic accident, a video of former LAPD homicide detective John Motto yelling at a black man and making racist comments was posted on social media. Based on Motto's actions, the LAPD is reviewing 370 cases he has been involved in to determine whether he has used racial prejudice in his duties.
Incident in Valencia this weekend in which a man used racial slur after a car accident. pic.twitter.com/ddHcYIWp8Q
– What's up SCV (@whatsupscv) March 16, 2021
A statement was posted on the official Twitter account of the LAPD.
The department became aware that a video of a retired LAPD detective was posted on social media. The person in the video uses a racist bow while engaging in an argument.
– LAPD Headquarters (@LAPDHQ) March 17, 2021
The person is not a current member of the LAPD and retired as a detective assigned to the Operations Central Bureau Homicide in May 2020. An internal investigation has been initiated to ensure that there is no current connection between the department and this incident.
– LAPD Headquarters (@LAPDHQ) March 17, 2021
What is seen in the video does not reflect the thousands of hard working and dedicated men and women in the Los Angeles Police Department.
– LAPD Headquarters (@LAPDHQ) March 17, 2021
The Los Angeles Attorney's Office has announced that it will be investigating 370 cases being handled by the retired LAPD detective. The department has agreed to fully cooperate with the process.
– LAPD Headquarters (@LAPDHQ) March 17, 2021
Los Angeles District Attorney George Gascon also tweeted this response:

The video in question is disturbing and features a former homicide detective who shows racist tendencies. @LADAOffice is taking action immediately and has identified several cases where this person has witnessed. In such cases, we are in the process of notifying defense lawyers. https://t.co/ksQhGuo1t4
– George Gascón (@GeorgeGascon) March 17, 2021