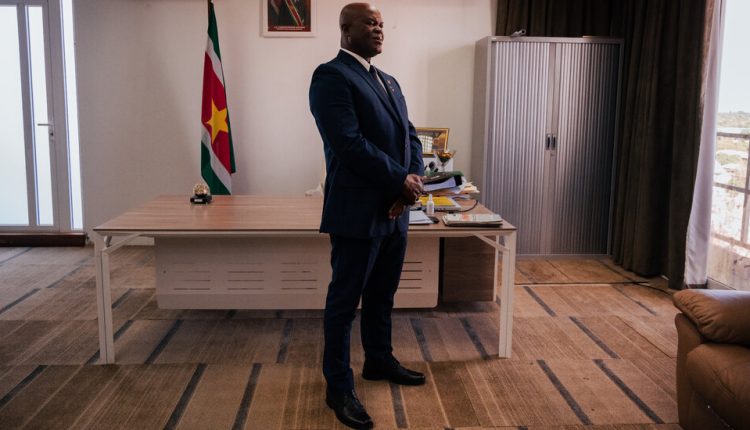 Guerrilla Chief, Drug Baron, Gold Magnate … and Now Social Reformer?
MOENGOTAPOE, Suriname – A cavalry of black sport utility vehicles stopped in a small village in a clearing in the jungle in a remote corner of South America. A tall, stout man with thick gold chains hanging over a tight shirt emerged from the largest car to a chorus of cheers.
The man, Ronnie Brunswijk, the child of subsistence farmers, left the village of Moengotapoe in eastern Suriname 50 years ago in search of a better life. He now returned as one of Suriname's richest, most powerful and beloved men to power his long-neglected community, made up of the descendants of people who had escaped slavery known as Maroons.
Last year, Mr Brunswijk became the first maroon to reach the post of Vice President of this small South American nation between the Atlantic and the Amazon rainforest. On the way he'd been an elite paratrooper, soccer player, wanted bank robber, guerrilla leader, gold baron, and father of at least 50 children.
His mother has said he has so many offspring that strangers sometimes ask to hug her and claim to be her grandchildren.
Mr Brunswijk has been convicted of drug trafficking in Europe but has helped bring democracy to his homeland. His generosity has earned him the nickname Robin Hood and devotion to devotees, but many Surinams have questioned the source of his wealth and political motives.
In many ways, Mr. Brunswijk embodies the contradictions in Suriname's small island society, where the lines between heroes and villains are in flux, where history immediately becomes myth and people have learned that it pays not to ask too many questions to maintain social peace.
"I give everything I have to the people," said 59-year-old Brunswijk in an interview in his office in a former colonial office overlooking Suriname's capital Paramaribo last month. "Even as a child, I wanted to help others. I now have a chance to help the whole country. "
In a magnificent suit and tie, Mr Brunswijk projects the aura of an imposing statesman who leads his impoverished nation to oil wealth from newly discovered offshore deposits and improves the life of the marginalized maroon minority in Suriname.
It's a blatant makeover for a man who showered followers with money from a helicopter and whose mug shot was featured on wanted posters across the country during the years of Suriname's military dictatorship, which officially ended in 1988.
His unlikely life story is in many ways the story of Suriname's tumultuous journey through economic crisis and political violence since it emerged from Dutch colonial rule in 1975.
"Mr. Brunswijk has his story. We could look at his history and see that as an obstacle," said Suriname President Chan Santokhi, a former police officer who tracked down Mr. Brunswijk as a refugee in the 1980s before telling him last year for one "We look forward to a brighter future because we are two leaders who have been tasked to lead this nation together," he said in an interview.
Mr Brunswijk was born into a family of 10 surviving children in one of the poorest regions of Suriname. The family lived mainly on rice, cassava, and bananas, which they could lure from the thin, sandy soil. The occasional meat came from the wild animals that Mr. Brunswijk and his brothers chased with machetes.
"Life has not been great," said Agnes Brunswijk, the vice president's mother, in an interview outside her home near Moengotapoe. "We had to fight."
She said the family's size and scarce resources taught Mr. Brunswijk from a young age to share, a quality that would become his trademark. He was a "mischievous" boy, she said, who fought with neighboring children, but also cut firewood for the elderly.
Mr Brunswijk's life changed when a Roman Catholic priest selected him as the only one of his siblings to attend boarding school in a nearby town at the age of 10.
"I didn't see any electricity until I went to boarding school," recalls Mr Brunswijk.
Further studies eventually brought Mr Brunswijk to Paramaribo, where he said in 1980 that he had been drafted into Suriname's emerging national army by Desiré Bouterse, the military dictator who recently seized power with a promise to eradicate the corruption of post-colonial rulers.
Mr Brunswijk became one of his first 12 paratroopers in Suriname and was sent to Cuba for military training before being selected as a bodyguard by Mr Bouterse.
The two men got close, but Mr Brunswijk said their relationship worsened when the dictator began assassinating political opponents and cracking down on the independently thinking auburn communities.
"Maroon people don't like being pressured," said Brunswijk. One day I said, 'This is wrong.' I had enough."
The split that followed has shaped the history of Suriname ever since.
Mr Brunswijk left the military in 1984, fled and started building his enduring Robin Hood myth. He was convicted of bank robbery and armed theft and was known to Maroon villagers for giving out generous handouts.
Mr Brunswijk has denied the commission of the crimes, stating that the convictions were part of Mr Bouterse's efforts to discredit a rival. Without giving details, he said his gifts came from the money he had made in a gold mine.
He was eventually captured but managed to escape and fled to the Netherlands, where he joined the political exiles in Suriname in planning the overthrow of Mr Bouterse.
He returned to Suriname in 1986 and sparked an armed uprising that commanded a force that had grown to 1,200 men in a six-year civil war. What he lacked in military experience and strategic vision he made up for with sheer willpower, war veterans have said.
"He had a strong spirit in him," said Adam Petrus, a former rebel commander, in an interview. "He didn't have to pay people. They came to him, they obeyed him. "
The colorful troop managed to bring the government to a standstill and helped Suriname's return to democracy. However, the political compromise came at the expense of hundreds of deaths and the destruction of Suriname's economy, from which the young nation never fully recovered.
The war also marked the start of allegations that Mr Brunswijk was involved in the drug trade when both sides turned to cocaine to finance the conflict, Dutch historians said.
In 1999 a Dutch court convicted Mr Brunswijk in absentia for running a cocaine smuggling ring. A similar conviction followed in France a year later, but he has steadfastly denied any involvement in the drug trade.
He said his fortune came instead from lumber and gold mining concessions he received after the war. His first project was a sawmill, which he built with a corporate grant from the Dutch government.
He used the money to go into politics, to win the small but decisive share of the vote in maroon and to become the kingmaker in the parliamentary electoral system of Suriname. He was re-elected to parliament last year and formed a coalition government with Mr Santokhi, the president.
As a politician, Mr. Brunswijk continued to help the Surinamese in need, paying medical bills, funerals and homes, and earning the devotion of the auburn communities.
The help ranges from extravagant to poignant. He's bought new cars for the entire squad of a local soccer team that he owns. But he also helped many refugees to return to their villages after the war.
Its critics say the handouts merely make voters dependent on Mr Brunswijk, without showing any real path to self-improvement. But his supporters say the charity is a lifeline in a country with no real social protection, and petitioners from all over Suriname flock to his office every day.
Mr Brunswijk now hopes to use his high office to build a real social safety net in Suriname and provide basic infrastructure to the remote communities that have been ignored by the country's rulers for centuries.
"This is a historic moment when the village of my birth can finally have constant electricity," said a visibly moved Mr Brunswijk after he switched on a power station in Moengotapoe in December to make the residents sing joyfully. "I've always wanted to make it happen, and now that I'm Vice President I can finally do it."
Ank Kuipers reported from Paramaribo, Suriname.