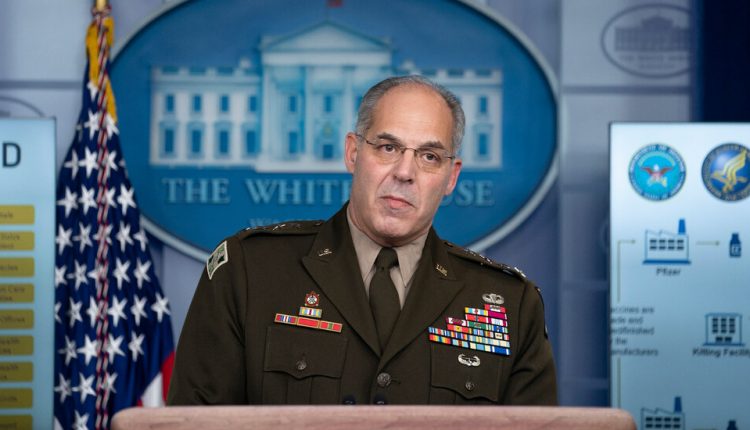 Head of U.S. Vaccine Distribution Apologies to States for Shortfalls
Gen. Gustave F. Perna, head of Operation Warp Speed, the Trump administration's multiagency effort to bring coronavirus vaccines to Americans, repeatedly apologized Saturday morning for confusion over the delivery of vaccines to states.
He attributed some of the problems to the federal government's misjudgment of how many doses of the vaccine Pfizer-BioNTech could ship. The discrepancies disrupted vaccination schedules and caused consternation in at least 14 states.
General Perna is responsible for the logistics for the distribution of the coronavirus vaccines to the states. He assumed full and sole responsibility for the delays and confusion in introducing the vaccine, as well as for the discrepancies between the number of expected and expected dosages received.
"It was my fault," he said. "It was a planning mistake and I am responsible."
"I would like to take personal responsibility for the miscommunication," General Perna said at a press conference. He said the number of vaccines available was lower than original projections.
"I had to lower the allocations to reach the releasable doses that were presented to me," said General Perna. "So to the governors," he said, "please accept my personal apology if this interfered with your decision-making."
He added that he did not "exactly" understand the requirements for the release of each dose batch. He cited the Food and Drug Administration's involvement several times, but wasn't sure how this would have delayed deliveries.
The FDA only requires a certificate that includes the results of quality control tests for each batch of vaccine at least 48 hours prior to distribution, and does not require that the certificates be verified prior to shipment. This allows the FDA to track the shipment of the batches. The requirement is included in the emergency approval documents sent to Pfizer by the FDA.
Covid19 vaccinations>
Answers to your vaccine questions
With a coronavirus vaccine spreading out of the US, here are answers to some questions you may be wondering about:
If I live in the US, when can I get the vaccine? While the exact order of vaccine recipients may vary from state to state, most doctors and residents of long-term care facilities will come first. If you want to understand how this decision is made, this article will help.
When can I get back to normal life after the vaccination? Life will not return to normal until society as a whole receives enough protection against the coronavirus. Once countries have approved a vaccine, they can only vaccinate a few percent of their citizens in the first few months. The unvaccinated majority remain susceptible to infection. A growing number of coronavirus vaccines show robust protection against disease. However, it is also possible for people to spread the virus without knowing they are infected because they have mild or no symptoms. Scientists don't yet know whether the vaccines will also block the transmission of the coronavirus. Even vaccinated people have to wear masks for the time being, avoid the crowds indoors and so on. Once enough people are vaccinated, it becomes very difficult for the coronavirus to find people at risk to become infected. Depending on how quickly we as a society achieve this goal, life could approach a normal state in autumn 2021.
Do I still have to wear a mask after the vaccination? Yeah, but not forever. Here's why. The coronavirus vaccines are injected deep into the muscles and stimulate the immune system to produce antibodies. This seems to be sufficient protection to prevent the vaccinated person from getting sick. However, it is unclear whether it is possible for the virus to bloom in the nose – and sneeze or exhale to infect others – even if antibodies have been mobilized elsewhere in the body to prevent the vaccinated person from getting sick . The vaccine clinical trials were designed to determine whether people who were vaccinated are protected from disease – not to find out whether they can still spread the coronavirus. Based on studies of flu vaccines and even patients infected with Covid-19, researchers have reason to hope that people who are vaccinated will not spread the virus, but more research is needed. In the meantime, everyone – including those who have been vaccinated – must imagine themselves as possible silent shakers and continue to wear a mask. Read more here.
Will it hurt What are the side effects? The vaccine against Pfizer and BioNTech, like other typical vaccines, is delivered as a shot in the arm. The injection in your arm feels no different than any other vaccine, but the rate of short-lived side effects seems to be higher than with the flu shot. Tens of thousands of people have already received the vaccines, and none of them have reported serious health problems. The side effects, which can be similar to symptoms of Covid-19, last about a day and are more likely to occur after the second dose. Early reports from vaccine trials suggest that some people may need to take a day off because they feel lousy after receiving the second dose. In the Pfizer study, around half developed fatigue. Other side effects occurred in at least 25 to 33 percent of patients, sometimes more, including headache, chills, and muscle pain. While these experiences are not pleasant, they are a good sign that your own immune system is having a strong response to the vaccine that provides lasting immunity.
Will mRNA vaccines change my genes? No. Moderna and Pfizer vaccines use a genetic molecule to boost the immune system. This molecule, known as mRNA, is eventually destroyed by the body. The mRNA is packaged in an oily bubble that can fuse with a cell, allowing the molecule to slide inside. The cell uses the mRNA to make proteins from the coronavirus that can stimulate the immune system. At any given point in time, each of our cells can contain hundreds of thousands of mRNA molecules that they produce to make their own proteins. As soon as these proteins are made, our cells use special enzymes to break down the mRNA. The mRNA molecules that our cells make can only survive for a few minutes. The mRNA in vaccines is engineered to withstand the cell's enzymes a little longer, so the cells can make extra viral proteins and trigger a stronger immune response. However, the mRNA can hold for a few days at most before it is destroyed.
Officials in Oregon, Iowa, Washington, Massachusetts, Wisconsin, Vermont, Minnesota, Nevada, Connecticut, California, Michigan, Idaho, Virginia and New Jersey said they were unprepared on Wednesday when they learned the vaccine would be delivered next week would contain fewer doses than the first week.
Governors and state health officials spoke in alarm this week about how few vaccines they received compared to what was promised.
"It's annoying and frustrating," Washington Governor Jay Inslee wrote on Twitter on Thursday. "We need accurate, predictable numbers to plan and ensure success on site."
Dr. Mark Levine, commissioner for the Vermont Department of Health, said in a briefing Friday, "All of my colleagues in the area report a 25 to 35 percent decrease in their allocation for the next week."
"When we walked in, I learned that 975 doses out of an expected 5,850 doses would not come when we expected," he said. "What is annoying everyone across the country is that there is no communication besides the number, so no understanding of what this really means."
On Saturday, General Perna noted that boxes of the Moderna vaccine, which the Food and Drug Administration approved for emergency use on Friday, were being packed and loaded and that truck loads would begin on Sunday.
He said the government was on track to distribute about 20 million doses of vaccine nationwide by the end of December and that the distribution of those doses would "push into the first week of January."
"There's no problem with the process," he said. "There is no problem with the Pfizer vaccine. There is no problem with the Moderna vaccine. "
"It was a planning mistake and I am responsible," he added.
He was also confident that "we will have the flexibility to correct ourselves and do things right so that next time things go well."