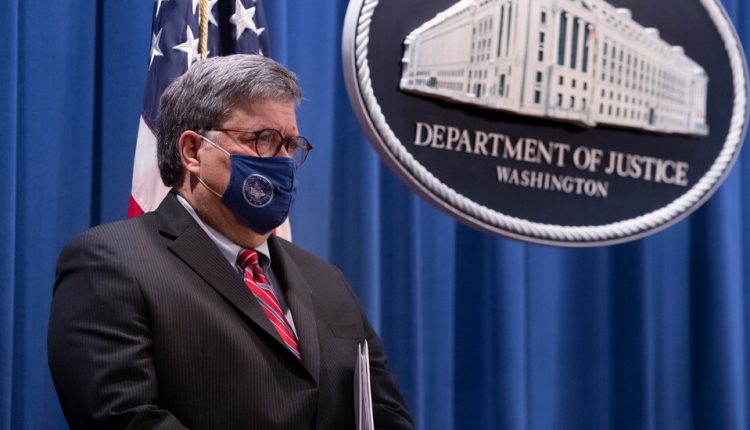 Lockerbie Bombing of 1988: US Unseals Prices In opposition to New Suspect
WASHINGTON – Attorney General William P. Barr on Monday announced criminal charges against a former Libyan intelligence official charged with building the explosive device used in the 1988 bombing of Pan Am Flight 103, one of the deadliest terrorist attacks in United States history. was used in part because of a confession he made in Libya almost a decade ago.
The announcement books Mr. Barrs two business trips as attorney general, first under President George Bush and now under President Trump. At his first press conference as Acting Attorney General under Bush in 1991, he announced charges against two suspects in the plane explosion over Lockerbie, Scotland. On Monday, the 32nd anniversary of the attack, Barr exposed charges against a third person, a shadow bomb expert named Abu Agila Mohammad Mas'ud.
The Justice Department charged Mr. Mas'ud with two criminal charges, including the destruction of a plane resulting in death, according to court documents unsealed on Monday. He is in the middle of a 10 year sentence in a Libyan prison for unrelated crimes.
"Don't let there be a mistake," said Mr. Barr. "No time or distance will prevent the United States and its partners in Scotland from doing justice on this matter."
Mr Mas'ud's name had come up during the investigation into the bombing of the flight, which killed 270 passengers, including 190 Americans. But officials investigating what happened could not confirm his identity or track him down after the attack, Barr said. Mr. Mas'ud appeared to have played a role in the explosion, but his precise involvement remained murky. However, the department said Colonel Muammar el-Qaddafi, the Libyan leader at the time, personally thanked Mr. Mas'ud for conducting the fatal operation and described it as a total success.
Following the collapse of Colonel el-Qaddafi's government, Mr Mas'ud confessed to the bombing in 2012 when he was interviewed by a Libyan law enforcement officer. Investigators eventually found out about his detention and his confession, Barr said, describing the development as a "breakthrough".
The attorney general, who resigned on Wednesday, said he was confident the Libyans would extradite Mr Mas'ud to the United States and called the prospects "very good".
"Mas'ud is in the care of the current Libyan government and we have no reason to believe that this government is interested in joining this heinous act of terrorism," Barr said. "We are optimistic that they will bring him to justice."
Extradition would allow Mr Mas'ud to stand trial, but defense attorneys expressed doubts whether a confession obtained in prison in war-torn Libya would be admissible as evidence.
Mr. Mas'ud was the third suspect to be charged in the Pan Am 103 case. The other two, Abdel Basset Ali al-Megrahi and Al-Amin Khalifa Fhimah, were charged in 1991, but American efforts to bring them to justice were stalled when Libya refused to extradite them to the United States or Britain for trial .
The Libyan government eventually agreed to try her under Scottish law in the Netherlands, where Mr Fhimah was acquitted and Mr al-Megrahi was convicted and sentenced to life imprisonment in 2001.
Scottish officials granted a compassionate release to Mr. al-Megrahi in 2009 for suffering from cancer, a decision that upset the victims' families and the United States government, including President Barack Obama. Mr. al-Megrahi died in 2012; His family appealed his conviction posthumously in Scotland. The request is still pending.
Current and former American and Libyan officials said Mr Mas'ud was born in Tunisia in 1951 and at some point moved to Tripoli, Libya, and became a citizen. He worked for the Libyan secret service from 1973 to 2011, building bombs and rising to the rank of colonel according to court records. After the fall of Colonel el-Qaddafi in 2011, Mr. Mas'ud was arrested and detained in Misurata, Libya, before being transferred to Al-Hadba prison in Tripoli.
Along with 38 other defendants, including one of Colonel el-Gaddafi's sons and other former Libyan officials, Mr. Mas'ud was on trial on criminal charges related to the Gaddafi government's efforts to suppress the Libyan revolution.
The FBI said it first received a copy of Mas'ud's confession from the Libyan law enforcement officer around 2017 and obtained additional information. The FBI interviewed the Libyan law enforcement officer earlier this year and learned that he adopted Mr. Mas'ud's confession in September 2012.
Court documents said the officer questioned Mr. Mas'ud to determine whether he had "committed crimes against Libya and the Libyan people during the 2011 revolution" to keep Colonel el-Qaddafi in power.
Michael R. Sherwin, the acting United States attorney for the District of Columbia, described the evidence as "extremely convincing" and referred to travel reports concerning Mr. Mas'ud, Mr. al-Megrahi and Mr. Fhimah.
In particular, the men had traveled to Malta prior to the attack, where investigators found the bomb had been placed in a portable cassette recorder that had been put on board an aircraft and transferred twice before reaching Flight 103. On the day of the bombing, the complaint said: Mr al-Megrahi and Mr Mas'ud were traveling on the same flight from Malta to Tripoli.
Mr Mas'ud said in his confession that he went to Malta with the suitcase that contained the bomb and later set the timer so that it exploded exactly 11 hours later. According to the confession, Mr. Mas'ud worked with Mr. al-Megrahi and Mr. Fhimah to "carry out the conspiracy".
"He stated that he had hidden the detonator and the timer in a technical way that would make it difficult to be discovered by placing them close to the metal parts of the suitcase," the confession said. Mr. Mas'ud said, "He used approximately 1.5 kilograms of plastic Semtex, and added that plastic explosives are not shown on the airport baggage scanner."
The circumstances surrounding Mr. Mas'ud's confession in Libya prison were not clear. The court documents do not provide any further details about the Libyan law enforcement officer or who he worked for, but he said he was ready to testify at a trial.
If Mr Mas'ud were ever brought to Washington, defense lawyers would almost certainly be trying to challenge the confession, arguing that it could have been coerced or tainted.
A 2017 United Nations report mentioning Mr Mas'ud raises worrying questions about the treatment of former Libyan officials held in various prisons and tried after Colonel el-Qaddafi was overthrown.
"Many of the accused have been in prolonged detention without contact with the outside world, without access to their families or lawyers, and often in isolation, including in unofficial detention centers, on charges of torture and other ill-treatment," the report said.
The alleged role of Mr Mas'ud in the Lockerbie bombing was re-investigated in 2015 in a three-part documentary about Frontline on PBS. The series was written and produced by Ken Dornstein, whose brother was killed in the attack. As part of his investigation, Mr. Dornstein learned that Mr. Mas'ud was being held in a Libyan prison and even received pictures of him.
In an email, Mr. Dornstein questioned the breakthrough Mr. Barr had discussed. "With all the talk about an ongoing investigation over the past few decades, I've found surprisingly little new detail in the indictment outside of the alleged confession," he said.
Mr. Dornstein had also checked documents and interviews that linked Mr. Mas'ud to the 1986 bomb attack on La Belle discotheque in West Berlin, in which two American soldiers were killed. According to his confession, Mr. Mas'ud also admitted building the explosives used in that attack when questioned in 2012.