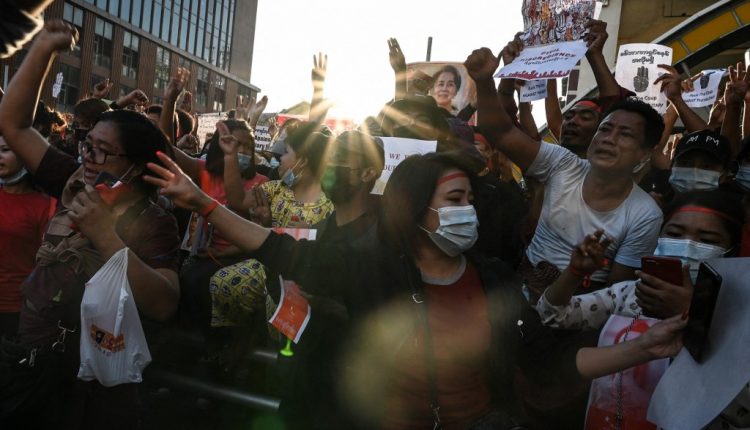 Myanmar protesters defy coup chief's ban and proceed rallies | Protests Information
Protesters in Myanmar have started to gather for the fourth time in the country's largest city, Yangon. They oppose a ban on gatherings of five or more people and the threat of the coup leader Colonel General Minh Aung Laing to take "measures" against large rallies.
In the San Chaung community, dozens of teachers marched on the main street waving a defiant three-finger salute, a gesture borrowed from pro-democracy movements across Asia.
"We are teachers, we want justice"! "Free Daw Aung San Suu Kyi!" they yelled as they marched down the main street, where passing cars honked their horns in support.
"Down with the military dictatorship!"
Aung San Suu Kyi, the civilian leader and founder of the ruling National League for Democracy (NLD), was arrested along with dozens of members of her government when the generals took power last week.
This photo was yesterday firefighters of the state fire department #WhatsHappeningInMyanmar # Coup9Feb pic.twitter.com/PoHxhBkfHg
– Soe zeya tun (@soezeya) February 9, 2021
A video posted on social media also showed hundreds of people gathering on a highway near Yangon. Some of them at some point occupied the street and slowed down traffic.
Early Tuesday morning, authorities temporarily closed several bridges connecting the country's largest city with three outskirts. However, the bridges were later reopened to traffic as people furiously protested the closure.
Martial law, curfew
Everywhere in the city another group gathered in front of the headquarters of the NLD party of Aung San Suu Kyi.
In red – the colors of the NLD – the protesters carried Aung San Suu Kyi's portraits and sang that the military should free them.
Despite a tarnished reputation in the West for tackling the Rohingya crisis, the woman known as "The Lady" remains a hugely popular figure in her own country, as her party received more than 80 percent of the vote in the November election.
On Monday, Myanmar's new militaries in Yangon and Mandalay, Myanmar's second largest city, imposed martial law and a curfew to suppress growing protests against the coup.
Major General Min Aung Hlaing, the coup leader, also appeared on TV reiterating the unsubstantiated claim that there were irregularities in the November elections.
Thousands of people across Myanmar took to the streets for a third day of mass protests on Monday calling for military Free State Councilor Aung San Suu Kyi and Myanmar President Win Myint [Lynn Bo Bo/EPA]A one-year state of emergency is currently in place in the country, and motorized processions have been banned in addition to the curfew and ban on mass gatherings.
The military warned of action against demonstrators, saying there had been violations of the law and threats of violence by groups "using the apology of democracy and human rights".
Many of the protesters wore hard hats and running shoes and, according to local reporters, appeared better prepared for the risk of violence.
For the first time since the coup, authorities fired water cannons at demonstrators on Monday. There were reports that they were being used again on Tuesday.
"Security forces have a moral and legal obligation to oppose any illegal orders to use excessive force against peaceful protests in Myanmar," wrote Tom Andrews, UN special rapporteur on the human rights situation in Myanmar, on Twitter. "All members of the chain of command can be held responsible for crimes against humanity. "Following orders" is not a defense. "
The 10-member Association of Southeast Asian Nations (ASEAN), which Myanmar joined in 1997, is also growing under pressure to use leverage to ensure the military does not engage in violence. Thousands of people died in the military response at previous demonstrations in 1988 and 2007.
"As peaceful demonstrations increase, the risk of violence is real. We all know what the Myanmar Army is capable of: mass atrocities, civilian killing, enforced disappearances, torture and arbitrary arrests, among others, "said Tom Villarin, board member of the ASEAN Parliamentarians for Human Rights (APHR).
International pressure
The United Nations Human Rights Council will hold a special session on Friday to discuss Myanmar with human rights groups calling for action against the military, including selected sanctions against senior generals and their families.
On Tuesday, New Zealand Prime Minister Jacinda Ardern announced that her government would end all high-level political and military contacts with Myanmar and that its military leaders would be banned from traveling. Ardern told a press conference that New Zealand will ensure that its aid program does not include projects carried out by the military government or that benefit the generals.
Foreign Minister Nanaia Mahuta said in a separate statement that New Zealand does not recognize the legitimacy of the military-led government and called on the army to immediately release all detained political leaders and restore civil rule.
Myanmar was under military rule for decades after a coup in 1962 that led to international isolation and economic decline.
A slow transition to democracy began a decade ago when the NLD gained a foothold in parliament by-elections in 2012 and won a landslide in the first full elections in 2015. In the November poll, it increased its share of the vote to the detriment of the military representatives.
However, the constitution ensures that the military retains significant power, with control of key ministries and a quarter of the seats in parliament.