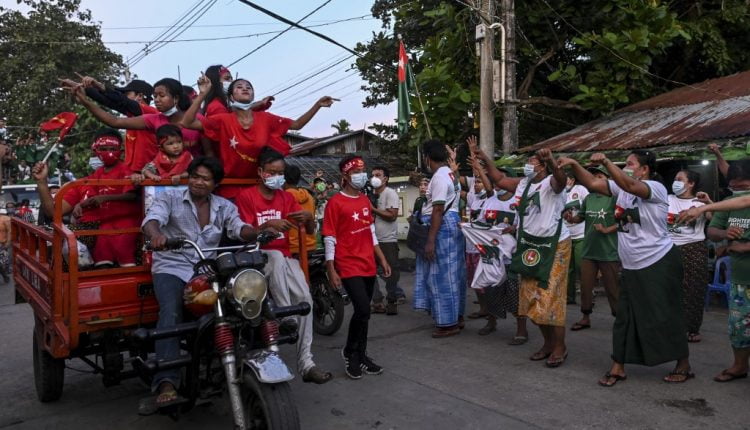 Myanmar 'undermining lifeblood of democracy' earlier than polls | Myanmar
In 2015, the National League for Democracy won Myanmar's first democratic election in decades in a landslide, catapulted Nobel Peace Prize winner Aung San Suu Kyi into de facto head of state and ushered in a new era of anticipated democratic reforms.
Heady optimism collapsed in 2017 when around 700,000 Rohingya Muslims were driven from the country in a brutal campaign of arson, rape and murder, which has since been referred to as genocide. For some, Aung San Suu Kyi shockingly refused to condemn the atrocities and even defended the Myanmar military.
But even in 2015 there were already signs of religious tension in the predominantly Buddhist country.
Aung San Suu Kyi's NLD controversially refused to select a single Muslim candidate for this election, handing over staunch party members who had previously served as political prisoners for their role in the fight for democracy.
Two of these boisterous Muslims are now fighting for this year's elections, which is a small step towards progress, even if the Rohingya remain almost completely excluded from politics.
Sithu Maung, 33, and Win Mya Mya, 77, both non-Rohingya Muslims, are running for parliament on Sunday under the NLD, which is widely expected to lead to another victory. Both were subjected to anti-Muslim abuse during the heated campaign.
Sithu Maung has been targeted by the main opposition party, the military-led Party for Solidarity and Development of the Union. Maung Myint, a prominent USDP MP and hardline nationalist, selected Sithu Maung by name and called him "Kalar," a derogatory term for people of South Asian or Muslim heritage.
He falsely claimed that Sithu Maung was one of 42 Muslim candidates selected by the NLD, adding that the ruling party cannot "control" its Muslim members, which could cause "trouble" in parliament. Maung Myint also said the USDP did not allow its Muslim members to grow beards.
In the meantime, hundreds of monks have signed a petition calling for Win Mya Mya to be removed as a candidate. Both contestants declined to comment in detail on Al Jazeera, despite Win Mya Mya saying briefly, "I am confident that I will win. People know me very well ".
Under democratic standards
The upcoming elections in Myanmar have been widely criticized for failing to meet a variety of international democratic standards. Opposition parties have been censored by state media, websites critical of the government have been blocked, and people who boycotted the elections have been threatened with arrest.
Polls have been canceled across the state of Rakhine, disenfranchising more than a million ethnic Rakhine voters and giving the NLD an advantage in a state where it is deeply unpopular.
Just days before the election, Myanmar's Commander-in-Chief Min Aung Hlaing refused to undertake to honor the results, sparking the specter of a coup.
But no controversy has received more criticism than the expulsion of the Rohingya on grounds of citizenship, which activists describe as discriminatory, arbitrary and retroactive.
The UN Special Rapporteur on Human Rights in Myanmar Tom Andrews said Myanmar "is enforcing laws that undermine the elixir of democracy" by excluding the Rohingya.
#Myanmar: "This is not only wrong, it is dangerous", says UNSR @RapporteurUn on mVoter2020 and identifies #Rohingya as "Bengali".
What do you think @SabatucciEU? Will the EU open the app publicly?
Read the full statement: https://t.co/l01kMZ2Ggo pic.twitter.com/4bBdC8RAxH
– John Quinley III (@ john_hq3) November 3, 2020
'Very disappointed'
Rohingya activist Nay San Lwin told Al Jazeera he believed the NLD would restore Rohingya citizenship if it took power, only to be bitterly disappointed.
"Many thousands of Rohingya joined the NLD when it was founded in 1988. Four Rohingya candidates represented the NLD in the 1990 elections. But now NLD members, including Aung San Suu Kyi, pretend they don't know a single Rohingya, "he said.
One of these candidates was Kyaw Min, who successfully won a seat as an NLD candidate in the canceled 1990 elections, but was not allowed to participate in this year's election for the Minor Democracy and Human Rights Party.
"The fact is, under that law I was allowed to vote in the 1990 elections, but today they say your parents are not citizens," he said.
He said prior to the Citizenship Act of 1982, everyone in Myanmar used the national registration card, which has been retrospectively downgraded to refrain from granting citizenship, particularly to disenfranchise the Rohingya.
Aung San Suu Kyi National League for Democracy (NLD) campaign supporters in Yangon ahead of the November 8 general election [File: Sai Aung Main/AFP]"They don't want to give minorities rights or recognize the existence of Muslims in Myanmar. They want to expel all Muslims from Rakhine State, "he said, adding that he felt abandoned by the international community due to the lack of pressure on the government.
"We have no friends in the world," he said.
The Burma Human Rights Network (BHRN) released a pre-election report on hate speech and disinformation which found that most of it "alleges conspiracies between the NLD and Muslims".
"Extreme Anti-Muslim Sentiment"
Sithu Maung was a frequent target – one post falsely claiming that curricula include Arabic lessons while another referred to him as a "Muslim liar" and a "communist cowboy".
Another post attacked Kyaw Min's daughter Wai Wai Nu, making unfounded claims that she would take power from Aung San Suu Kyi if the constitution were changed. The report warns that "post-election hatred can easily be used to justify mass violence and conflict".
BHRN, the human rights watchdog, said the content was primarily driven by "nationalists and pro-military posters," which led the NLD to take explicitly anti-Muslim positions, sometimes even more extreme than the previous USDP administration.
For example, the report claims that restrictions on Muslim places of worship have become stricter under the NLD government than under the USDP. Kyaw Win, president of the BHRN, said the NLD "has never developed a better strategy to counter military propaganda" other than taking the same positions in order not to be held as pro-Muslim.
Both major political parties seem to be united in their desire to present themselves as anti-Rohingya.
Aung San Suu Kyi went to the International Court of Justice to defend the military against allegations of genocide, while the USDP chairman recently described the Rohingya as "useless people" whom he cannot accept in Myanmar.
Exclusion of the Rohingya minority
Political scientist David Mathieson said having two Muslim candidates this year was "obviously progress, just not a big improvement".
"I don't see two Muslim candidates announcing an imminent admission of the Rohingya, who are generally viewed as not belonging to Myanmar. "Myanmar" Muslims are viewed very differently as belonging, but under strict conditions of inferiority and distrust, "he said.
Mathieson said the government should "prioritize to counter the forces of religious and racial hatred and make the political system safe for Muslims," ​​but he foresees no "major improvements" for either the Rohingya or other Muslims in Myanmar.
Nay San Lwin said the NLD only included two Muslim candidates "to avoid international criticism," but does not believe that this represents significant progress for Muslims in Myanmar, particularly the Rohingya.
"I don't believe that Rohingya could one day have more political rights if the ruling party doesn't decide to stop the ongoing genocide and restore Rohingya rights. If the NLD were willing to include us in this election, all Rohingya candidates would be approved, "he said.
Nay San Lwin said that without the Rohingya representation, Myanmar's elections would "never be free and fair".
Mathieson added that not only have the Rohingya and other Muslims suffered from the government's discriminatory policies, but other ethnic groups feel "betrayed" by the NLD, which many are now "synonymous" with the military in treating minorities look at .
He said that to move forward, the NLD must stop viewing ethnic minorities as "line items on a dystopian master list of the identity hierarchy created by a racially obsessed military regime in the early 1990s."
Additional coverage from Cape Diamond