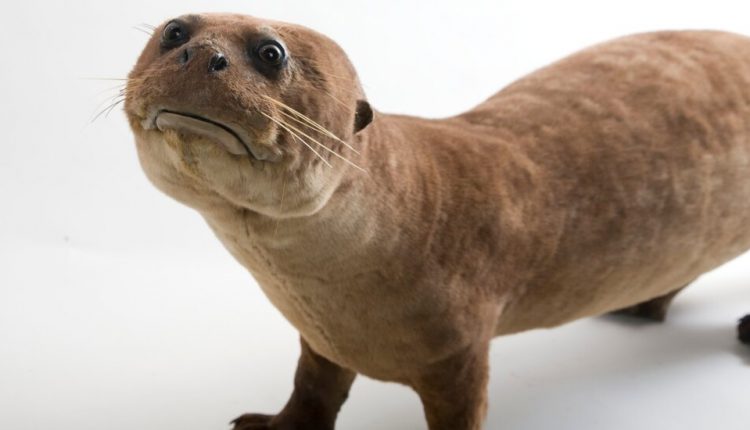 Saying Goodbye to Melbourne's Bizarre and Fantastic Taxidermy
The Australia Letter is a weekly newsletter from our Australian office. Sign up to receive it by email.
January 2021 is the end of an era. Yes, of course for the USA and all that, but also for something far less contentious: The taxidermy exhibition "Wild" in the Melbourne Museum.
I will never forget my first experiences with the taxidermy room. When we visited my siblings in Melbourne when I was still living in Los Angeles, we took my son to the museum. We were a little bit insane with jet lag and the taxidermy room was an odd wonder, a tiered, stark white room full of beasts from all over the world.
My sister pointed out one animal in particular, an otter with an expression so shaky and abandoned that I giggled uncontrollably. This, of course, was Sad Otter, who has since gained some notoriety on the internet. (You can now purchase Sad Otter plush toys from the museum's gift shop.)
It is believed that Sad Otter got his bizarre appearance because the taxidermists who worked on him may never have seen a live otter. Whatever the reason, he's not alone.
While the otter is probably the strangest specimen in the collection, it's one of many to come across with a certain macabre sloppiness. I am also very fond of flea bitten lions, crumbling bats and mangy bandicoots.
Many of these specimens are over 100 years old and it shows.
(I highly recommend browsing the collection online where you can see some amazing specimens that were not recently on display, like this alarming leopard cat.)
It is the imperfection of the collection that makes it so adorable, at least to me. Often times, these types of exhibitions in museums are so fancy it's easy to forget that these animals once lived, are now dead, and will one day crumble completely. It is their impermanence that gives them gravitas.
Their inconsistency is also one of the reasons the ad disappears. The taxidermy room will be closed on Jan. 26, in part to make way for a 67-million-year-old Triceratops skeleton, but also because public exposure leads to moth infestations and other pollution. Once the display is disassembled, the samples are frozen prior to storage to get rid of any creepy crawling animals.
I'm looking forward to the new Triceratops, which appear to be one of the most complete and well-preserved dinosaur fossils around, but I'll always miss "Wild".
Australia often tries so hard to present itself as forward-looking and modern that it fails to properly celebrate its own craziness, and the taxidermy room has been a place where that craziness has been gloriously displayed.
Now for this week's stories.
… And over to you
Last week we asked for your views on the Australian politicians who have created misinformation and conspiracy theories about the American elections and the pandemic.
"I was born in Australia in 1944. In 1978 I moved to America and lived in New York, where Donald Trump was widely considered to be the selfish self-centered person he is. It's sad that Australia (I'm still a citizen) is going in the same direction. "
– Bill Quinlan
"Yes folks, strangely enough we support freedom of expression in Australia! The freedom to say what you believe, even if I disagree with your point of view! No progress has ever been made by censoring views that are inconsistent with the so-called "mainstream" view. Check out how Galileo was treated! And Socrates! Needless to say, MSM is NOT the font of all knowledge!
History has shown that censorship is the tool of the left as seen in communist countries. It's a shame that for all of their "woke up" ideas, freedom of speech is not in the toolbox of the left! "
– Kay Kelly
"What happened here is that America is terribly tragic and downright dangerous. Our beginning fascist is baffled, but his legacy continues. Be careful Australia. You are a beautiful nation and it would be very, very sad to see you walk the same path. "
– Andrew Clark
Enjoy the Australian letter? Register here or forward to a friend.
Start your day with your local morning briefing and join our Facebook group to learn and discuss more about Australia.