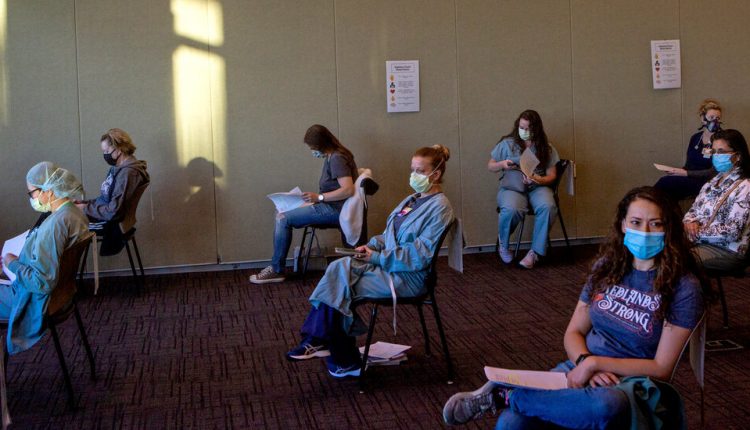 The C.D.C. advisory panel has endorsed the Moderna vaccine.
An independent group of experts advising the Centers for Disease Control and Prevention voted on Saturday to support a second coronavirus vaccine for adults aged 18 and over.
The committee's recommendation with 11 in favor and no against (with three rejections due to conflicts of interest) followed Friday's announcement that the vaccine made by Moderna had received emergency approval from the Food and Drug Administration.
The confirmation of the advisory committee is now awaiting final approval by Dr. Robert R. Redfield, director of the CDC, who is expected shortly.
The vote of the committee signals to hospitals and doctors that they can vaccinate patients with the Moderna vaccine. Around 5.9 million doses are expected to be shipped on Sunday and the first vaccinations are expected to start on Monday.
Unlike the Pfizer BioNTech vaccine, which has been approved for use in people aged 16 and over, Moderna's vaccinations are for adults only. (Moderna didn't begin its pediatric studies until December 9 and didn't expect a full data set until next year.)
In adults, Moderna's vaccine was more than 94 percent effective in preventing symptomatic cases of Covid-19. It is still unclear how well the two vaccines perform at containing coronavirus transmission.
Much of the advisory committee's deliberations focused on the severe allergic reactions reported after injections of Pfizer BioNTech vaccine, which contains ingredients similar to Moderna's recipe.
Six cases of anaphylaxis have now been documented in the US and two cases in the UK. In addition, milder allergic reactions have been reported. Experts have said that these cases shouldn't prevent a large majority of people from getting the vaccine. More than 272,000 doses of Pfizer's vaccine have already been distributed nationwide.
Half of people who received Moderna's vaccine in clinical trials reported some uncomfortable symptoms, including fatigue, headache, and pain, after their second shot, given about four weeks after the first. Some volunteers also developed a fever or rash at the injection sites.
Incidents like this seem to be far more common with Moderna's vaccine than with Pfizer, which has a lower dose of active ingredients. However, most of the side effects went away within a day of the shot.
Neither Moderna nor Pfizer have yet collected data on people who are pregnant or breastfeeding. But none of the 13 volunteers who became pregnant while participating in Moderna's clinical trials, six of which received the vaccine, reported any adverse effects.
Dr. Jacqueline Miller, Senior Vice President of Moderna, also drew attention to the representation of people of different races and ethnicities in Moderna's trials – a nod to the disproportionate impact of the pandemic on color communities.
Throughout this week's discussions, experts have repeatedly pointed out the importance of working with representatives of color communities to reaffirm the safety and effectiveness of the vaccine for people who may be skeptical of the footage.
On Sunday, CDC officials will provide further guidance on the allocation of the newly approved vaccines.