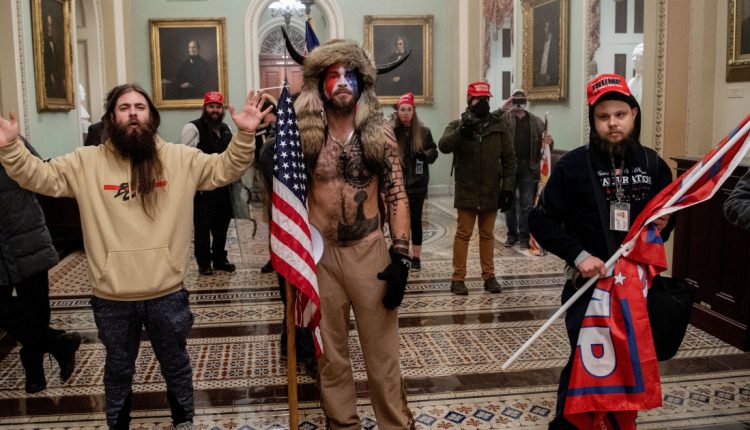 US Capitol riot: Democrats to introduce Trump impeachment article | US Elections 2020 Information
United States lawmakers urge President Donald Trump to be indicted over the recent fatal violence on Capitol Hill as federal authorities indicted more people on Saturday in connection with the pro-Trump insurgency.
U.S. Representative Ted Lieu said Saturday that 180 lawmakers had signed an impeachment article to be introduced in the House of Representatives on Monday.
On Friday, Lieu tweeted the impeachment statement accusing Trump of "engaging in high crimes and misdemeanors by intentionally inciting violence against the United States government."
Trump "has shown that he will remain a threat to national security, democracy and the constitution if he is allowed to stay in office and has acted in ways that are completely incompatible with self-government and the rule of law," it said.
Donald Trump deliberately instigated his supporters to storm the US Capitol and disrupt the peaceful change of power. He must be charged and removed. The impeachment articles we authored with @RepCicilline and @RepRaskin now have over 150 co-sponsors. pic.twitter.com/zjk6i0Wcf4
– Ted Lieu MP (@RepTedLieu) January 8, 2021
The rioters stormed the U.S. Capitol on January 6 as Congress met to confirm President-elect Joe Biden's victory. They had gathered to support Trump's repeated claims that the November presidential contest had been "stolen" from him.
The four-hour occupation of the U.S. legislature's seat shocked the country and raised questions about security preparations ahead of the well-planned and publicized event.
Five people, including a rioter shot by police who tried to enter the chamber of the house and a Capitol police officer who was hit by a fire extinguisher, died in the incident.
Trump eventually condemned the violence in a video released Thursday, vowing "those who break the law will pay". In a separate statement, however, he asserted that he "did not agree with the election result" at all.
More rioters arrested
In a statement Saturday, the Federal Bureau of Investigations (FBI) said it had arrested and charged two men whose involvement in the Capitol riot went viral and a West Virginia state lawmaker who allegedly illegally entered the building broadcast live.
The FBI said it had identified Jacob Anthony Chansley, also known as Jake Angeli of Arizona, as the man who was "seen in media coverage as he walked into the Capitol, dressed in horns, bearskin headdress, and complexion in red, white and blue, shirtless and tan pants ".
Chansley has been charged with knowingly entering or staying in a restricted building or site without legal authority, as well as for violent entry and disorderly conduct for reasons of the Capitol, the FBI said.
Chansley is a proponent of the QAnon conspiracy theory and has been a mainstay outside of the Arizona Capitol since 2019, according to the Republic of Arizona newspaper.
A pro-Trump rioter, identified by the FBI as Adam Johnson, carries the lectern for House Speaker Nancy Pelosi through the rotunda of the US Capitol [File: Win McNamee/Getty Images]The FBI also identified Adam Johnson, 36, as the man who was reportedly seen smiling as he carried the lectern for US House Speaker Nancy Pelosi through the Capitol Rotunda.
Identified as Johnson, the man wears a knitted hat with the inscriptions "Trump" and "45" and looks lively during the chaotic scene.
Johnson, a Parrish, Fla. Resident, was arrested Friday night on charges of knowingly stepping into or staying in a restricted building or compound without legitimate authority, theft of state property, and forced entry and disorderly behavior on the Capitol grounds .
In its statement, the FBI also said that Derrick Evans, a 35-year-old man recently elected to the West Virginia House of Representatives, had been arrested and charged in connection with the events.
Reuters news agency reported that Evans resigned Saturday and wrote a brief letter to West Virginia Governor Jim Justice stating, "I am resigning as a member of the West Virginia House of Representatives with immediate effect."
On Friday, the FBI announced that 13 other people who participated in the riot are bringing charges against the federal government. So far, about 40 people have been indicted in the Washington, DC Supreme Court.
Push for investigation
The uprising in the Capitol has again called on Democrats – but also some Republicans – to remove Trump from office before the end of his term, either by impeachment or by invoking the 25th Amendment.
"It is important to indict and convict this president, even if he is still in office for a few days. It will set a precedent, "tweeted Democratic Congresswoman Ilhan Omar on Saturday afternoon. "We have to make it clear that no president can lead an insurrection against the US government. What we do today will matter to the rest of this nation's history. "
The deadly violence has also led to the resignation of the Head of the Capitol Police and the House Sergeant-at-Arms – and calls for a thorough investigation into the events.
In a series of tweets on Saturday, Representative Tim Ryan, chairman of the Home Resources Subcommittee that oversees the Capitol Police Department, condemned the "epic failures" of intelligence and preparation.
At least five people were killed as a result of last week's events and our national security was at serious risk. Not only do we need to figure out how and why this was allowed to happen, we also need to make sure that it can never happen again.
– Congressman Tim Ryan (@RepTimRyan) January 9, 2021
He said the committee was working with federal agencies to identify the rioters who had committed an act of "domestic terrorism".
Ryan also promised to thoroughly investigate videos of some Capitol police officers taking selfies with rioters and allowing them to pass barricades.
"Not only do we have to figure out how and why this was allowed to happen, we also have to make sure it can never happen again," he said.