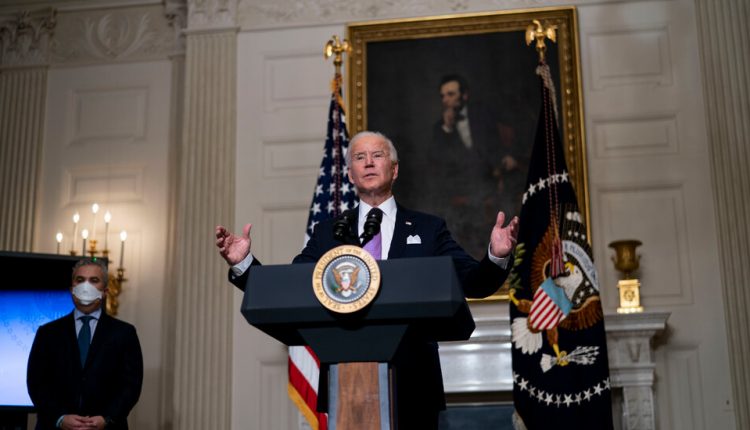 World Leaders Meet on Safety and Democracy: Stay Updates
Here's what you need to know:
Prime Minister Boris Johnson of Britain will play host to a summit meeting of the G7 leaders in June at a seaside resort in Cornwall, in what would be their first face-to-face meeting in two years.Credit…Daniel Leal-Olivas/Agence France-Presse — Getty Images
LONDON — Prime Minister Boris Johnson was to convene a video call of the leaders of the Group of 7 nations on Friday afternoon, seizing on the transition to a post-Trump world to push for greater global support and coordination to deliver coronavirus vaccines to billions of people in developing countries.
The call was part of a busy, if virtual, day of trans-Atlantic diplomacy that also featured the international debut of President Biden, who was set to deliver a foreign-policy address to the Munich Security Conference on Friday. Mr. Johnson and several other European leaders were also on the speaker lineup.
Multilateral cooperation — on the pandemic, climate change, and the Iran nuclear deal — was likely to be the watchword.
Whatever their lingering differences over Brexit or how to handle Russia and China, Mr. Johnson and other European leaders are eager to take advantage of an American president who wants to banish the "America First" policy of his predecessor, Donald J. Trump.
On the call, Mr. Johnson was expected to pledge that Britain will donate surplus supplies of vaccines to a program that will distribute doses in the developing world. Mr. Biden was to confirm that the United States will donate $4 billion to that effort over two years. Mr. Johnson was to seek pledges from the other leaders.
While Mr. Biden is clearly the star attraction, the video call was a major opportunity for Mr. Johnson, who vaulted himself into power by promising to deliver Britain's departure from the European Union, to fashion a post-Brexit identity for his country as well.
In addition to Mr. Biden, the callers included Chancellor Angela Merkel of Germany, President Emmanuel Macron of France, Prime Minister Mario Draghi of Italy, Prime Minister Justin Trudeau of Canada, and Prime Minister Yoshihide Suga of Japan.
Mr. Johnson will play host to a summit meeting of the leaders in June at a seaside resort in Cornwall, in what would be their first face-to-face meeting in two years. The United States chaired the Group of 7 last year and was scheduled to host the meeting, but it was cancelled because of the pandemic.
Even before the virus disrupted the gathering, Mr. Trump's handling of it sowed dissent at home and abroad. He antagonized other leaders by inviting President Vladimir V. Putin of Russia to attend. And he kicked up a domestic political storm by steering the summit to his Trump National Doral golf resort in Miami.
Mr. Trump backed down, moving the meeting to Camp David, before it was scrapped entirely. His aides further inflamed matters by insisting that climate change would have no place on the agenda during Mr. Trump's chairmanship.
Mr. Johnson, by contrast, was expected to make climate change a major theme in Friday's call. Britain is also playing host to the United Nations' climate change conference in Glasgow in November. It has announced ambitious emissions reduction targets that Mr. Johnson hopes will set the tone for the Glasgow conference.
President Joe Biden's speech to the Munich security forum is expected to be broad in scope, those who have seen it say.Credit…Doug Mills/The New York Times
As a senator and as vice president, Joe Biden was one of the few people in Washington who actually enjoyed summit meetings — and was eager to show up at the Munich Security Conference, the meeting of Europe's diplomatic and defense elites.
Two years ago he even showed up in Munich as a private citizen — one who was already running for president — backslapping his way through the jammed Hotel Bayerischer Hof, where the event is always held, and assuring allies that the Trump era would end, some day.
On his return on Friday, there will be no glad-handing as the event is being held virtually and Mr. Biden will be speaking by video link. But his message will be clear, according to aides. The Trump era of "America first" diplomacy is over.
For all the violence and tumult in Washington in recent months, he plans to say, autocracies will never outperform democracies, and restored alliances are the West's pathway to restored influence. He will chastise China and warn Europe about the need to push back hard on Vladimir V. Putin's Russia.
For the Europeans, dealing with Mr. Biden will be like putting on a pair of well-worn shoes — they know just what it will feel like. But Mr. Biden, some aides acknowledge, will also face more than a few doubters, who wonder whether his presidency will be just a brief alliance-friendly interregnum, and that the era of America First has not been extinguished.
His speech to the Munich security forum is expected to be broad in scope, those who have seen it say, arguing that the United States and its European allies can take on China without descending into a Cold War, and that the only way to deal with Russia is to push back hard against Mr. Putin.
He will list the treaties and multinational institutions that the United States has re-entered or re-engaged with in recent weeks, from the Paris agreement on climate change to the World Health Organization to Covax, the public-private effort to distribute vaccines around the world equitably.
And on Thursday night, just before the speech, the State Department issued its first road map for re-entering talks with Iran for the first time in four years. It marks the first time since early 2018 that Europe and the United States were on the same page on an Iran strategy.
In public this will all generate applause; European leaders are just happy, they say, to go to a meeting without fear that the United States will be hinting it is getting ready to depart from the NATO alliance.
But Europeans, Mr. Biden's aides concede, do not have the same view of China and the threat posed by its economic dominance and political influence. And the dependence of European countries on Russian energy supplies limits their enthusiasm for joining Mr. Biden in declaring that Mr. Putin will pay a price for undermining democracies.
President Biden delivering remarks on the fight to contain the pandemic at the White House last month.Credit…Doug Mills/The New York Times
An international effort to speed up the manufacture and distribution of coronavirus vaccines around the globe has gotten a boost on two fronts: White House officials said the Biden administration would make good on a U.S. promise to donate $4 billion to the campaign over the next two years and the pharmaceutical company Novavax committed to eventually sell 1.1 billion doses of its vaccine.
President Biden was to make his announcement on Friday during a virtual meeting with other leaders from the Group of 7, where he is also expected to call on other countries to step up their contributions. The $4 billion was approved last year by a Republican-led Senate when President Donald J. Trump was still in office.
Public health experts often say that unless everyone is vaccinated, it is as if no one is vaccinated. One of the officials, who spoke anonymously to preview the president's announcement, noted that the move to help with efforts abroad to diminish the impact of the pandemic was also in the interest of international security for the United States.
Countries such as India and China are already using the coronavirus vaccine as a diplomatic tool; both are giving away doses to other nations in an effort to expand their global influence. National security experts said the United States should consider doing the same.
But, an official said, the United States will not be able to share vaccines now, while the American vaccination campaign is still continuing to expand.
The international vaccine effort, known as Covax, has been led by the public-private health partnership known as Gavi, the Vaccine Alliance, as well as the Coalition for Epidemic Preparedness Innovations and the World Health Organization. It aims to distribute vaccines that have been deemed safe and effective by the W.H.O., with a special emphasis on low- and middle-income countries.
So far, the United States has pledged more than any other nation, according to the White House. Officials there said the money would be delivered in multiple tranches: an initial donation of $500 million right away, followed shortly by an additional $1.5 billion. The remaining $2 billion will delivered by the end of 2022
The Novavax sale will not come immediately; its vaccine has not yet been approved by a government regulatory authority.
Under a memorandum of understanding between Gavi and Novavax, the company agreed to provide "1.1 billion cumulative doses," though it did not specify a time frame.
Mr. Biden was not the only G-7 member urging greater contribution to the global vaccination effort. President Emmanuel Macron of France said the United States and Europe should allocate up to 5 percent of their vaccine orders to developing countries.
"We are allowing the idea to take hold that hundreds of millions of vaccines are being given in rich countries and that we are not starting in poor countries," Mr. Macron said in an interview with the Financial Times.
António Guterres, the United Nations Secretary General, also offered choice words for what he described as a "wildly uneven and unfair" distribution of vaccines. In a high-level meeting of the U.N. Security Council on Wednesday, Mr. Guterres called vaccine equity "the biggest moral test before the global community."
He called on G-7 countries to "create the momentum to mobilize the necessary financial resources" at their Friday meeting.
President Emmanuel Macron of France has spoken publicly about the importance of dialogue with Moscow.Credit…Pool photo by John Macdougall
Two weeks after President Biden's inauguration, Emmanuel Macron, his French counterpart, spoke publicly about the importance of dialogue with Moscow, saying that Russia is a part of Europe that cannot simply be shunned and that Europe must be strong enough to defend its own interests.
On Dec. 30, just weeks before the inauguration, the European Union clinched an important investment agreement with China, days after a tweet by Mr. Biden's national security adviser, Jake Sullivan, asking for "early consultations" with Europe on China and seeming to caution against a quick deal.
So even as the United States resets under new White House leadership, Europe is charting its own course on Russia and China in ways that do not necessarily align with Mr. Biden's goals, posing a challenge as the new American president sets out to rebuild a post-Trump alliance with the continent.
Speaking at the Munich Security conference two years ago, Mr. Biden lamented the damage the Trump administration had inflicted on the once-sturdy postwar relationship between Washington and Europe's major capitals. "This too shall pass," Mr. Biden said. "We will be back." He promised that the United States would again "shoulder our responsibility of leadership."
The president's remarks on Friday are sure to repeat that promise and spotlight his now-familiar call for a more unified Western front against the anti-democratic threats posed by Russia and China. In many ways, such talk is sure to be received like a warm massage by European leaders shellshocked by four years of President Donald J. Trump's mercurial and often contemptuous diplomacy.
But if by "leadership" Mr. Biden means a return to the traditional American assumption — we decide and you follow — many Europeans feel that world is gone, and that Europe must not behave like America's junior wingman in fights defined by Washington.
Demonstrated by the European Union's trade deal with China, and conciliatory talk about Moscow from leaders like Mr. Macron and Germany's likely next chancellor, Armin Laschet, Europe has its own set of interests and ideas about how to manage the United States' two main rivals, ones that will complicate Mr. Biden's diplomacy.
"Biden is signaling an incredibly hawkish approach to Russia, lumping it in with China, and defining a new global Cold War against authoritarianism," said Jeremy Shapiro, the research director at the European Council on Foreign Relations.
That makes many European leaders nervous, he said. And other regional experts said they had seen fewer signs of overt enthusiasm from the continent than Biden administration officials might have hoped for.
"There was always a cleareyed recognition that we weren't just going to be able to show up and say, 'Hey guys, we're back!'" said Andrea Kendall-Taylor, who was in line to become the National Security Council director for Russia but who did not take the job for personal reasons.
Iran's economy has been severely damaged by Trump era sanctions, and Tehran is insisting on their removal before negotiations can begin.Credit…Majid Asgaripour/Wana News Agency, via Reuters
On the eve of a virtual summit of world leaders on Friday, the United States took a major step toward restoring the Iran nuclear deal that the Trump administration abandoned, offering to join European nations in what would be the first substantial diplomacy with Tehran in more than four years, Biden administration officials said.
In a series of moves intended to make good on one of President Biden's most significant campaign promises, the administration also backed away from a Trump administration effort to restore United Nations sanctions on Iran. That effort had divided Washington from its European allies.
And at the same time, Secretary of State Antony J. Blinken told European foreign ministers in a call on Thursday morning that the United States would join them in seeking to restore the 2015 nuclear accord with Iran, which he said "was a key achievement of multilateral diplomacy."
Hours later, Enrique Mora, the European Union's deputy secretary general for political affairs, appealed to the original signers of the nuclear deal — Britain, France, Germany, Russia and China — to salvage it at "a critical moment."
"Intense talks with all participants and the US," Mr. Mora said on Twitter. "I am ready to invite them to an informal meeting to discuss the way forward."
While it was unclear whether the Iranians would agree to join discussions, three people familiar with the internal debate said it was likely Iran would accept. The officials said Iran would probably be more open to a meeting with the European Union, where the United States was a guest or observer, rather than direct formal talks with Washington as a participant.
In recent days, the Iranian foreign minister, Mohammad Javad Zarif, and President Hassan Rouhani have suggested they were open to discussing some kind of synchronized approach, in which both sides would act on a certain date. That has an appeal inside the White House, one senior American official said, noting it was how key steps for carrying out the original 2015 deal were coordinated.
But with an Iranian presidential election only four months away, it was not clear if the country's supreme leader, Ayatollah Ali Khamenei, and the nation's political and military leadership would fully support re-engagement with the United States.