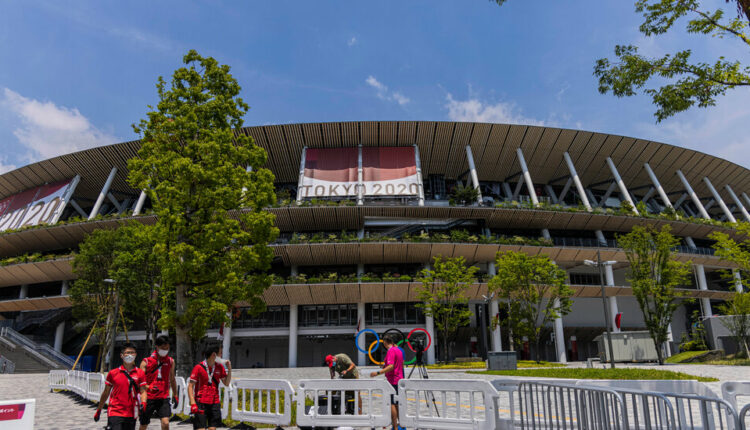 Your Friday Briefing – The New York Instances
Good Morning. We cover the Olympics, the WHO's call to further investigate the origins of the pandemic and further destruction from flooding in China.
The Olympics open amid fear and controversy
In 1964, when Japan last hosted the Games, the country was delighted with the optimism and economic development of the post-war period. This year, the Games are essentially closed to the public and many Tokyo residents are fleeing a scorching city that has spent weeks in a state of emergency.
At least 91 people with Olympic credentials tested positive, including 10 athletes, a spate of cases that raises sensitive questions about testing. Only 950 spectators will attend the opening ceremony, which will take place in a stadium built for the Olympic Games that can hold 68,000.
The tensions go beyond pandemic and heat. The day before the opening ceremony on Friday, organizers fired his creative director for a 1990s comedic act in which he made fun of the Holocaust. The previous creative director resigned in March over comments about a plus-size woman. Follow our live updates here.
Men's football: The Mexican men's soccer team, which won gold at the 2012 Olympics, defeated France 4-1. Brazil defeated Germany, 4-2. There were plenty of other football surprises: Australia defeated Argentina 2-0, Spain scored with Egypt.
WHO calls for further investigation into the origins of the pandemic
Chinese officials said they were shocked and offended by the proposal to further investigate whether the coronavirus came from a laboratory in Wuhan.
"This plan revealed a lack of respect for common sense and an arrogant attitude towards science," said Zeng Yixin, vice minister of China's National Health Commission. "There is no way we can accept such an origins plan."
The dispute reveals a growing gap over investigating the origins of the pandemic as the idea of ​​the "laboratory leak" gains credibility. Some scholars have said earlier layoffs were premature, and the US has joined other governments to urge China for more information.
Context: In March, a report released after a joint investigation by the WHO and China said it was "extremely unlikely" that the coronavirus had escaped from a laboratory.
Escalation: In the past few days, Chinese government spokesmen have reiterated claims – largely denied by scientists – that the coronavirus may have escaped from a U.S. military laboratory.
Here are the latest updates and maps of the pandemic.
For other developments:
Flooding in central China continues
On Thursday, water flooded new areas in Henan Province and more rain is forecast. The catastrophic floods have so far killed at least 33 people and displaced 250,000 more. At least eight people were missing, provincial officials said, but those numbers appeared to be tentative at best.
On Thursday, people were desperately looking for missing friends and relatives like Yan Yichen, a 12-year-old boy who went out to watch the floods. "He never came back," said his grandmother Cui Yuncai, sobbing, when she was reached by phone on Thursday.
Updated
July 22, 2021, 7:05 p.m. ET
In Zhengzhou, subway operations were halted after a flood that left trains trapped in water-filled tunnels and killed at least 12 people.
Floods in Europe: German politicians who wanted to replace Angela Merkel poured into flooded cities. But so far no one has come across as strong leaders.
THE LATEST NEWS
An Israeli-Palestinian rap battle
Uriya Rosenman, an Israeli Jew who served as an officer in an elite army unit, opens the viral video.
Basics of the Summer Olympics
"Stop complaining," he scoffs, his body tense. "You live in clans, you fire guns at weddings. Abuse your animals, steal cars, beat your own women. "
Sameh Zakout, a Palestinian citizen of Israel, spat out his answer: "I'm Palestinian and that's it, so shut up. I do not support terrorism, I am against violence, but 70 years of occupation – of course there will be resistance. "
This is how "Let's Talk Straight" begins, their collaboration that has received more than four million views on social media since May. Shouting at prejudice on both sides, Rosenman and Zakout hold a mirror of their mutual society and reveal their hypocrisy.
The conversations weren't easy. In early video chats, the men debated 1948, a triumph for the Israelis and a tragedy for the Palestinians. They talked about their families and their family trauma: both displaced, both proud. But it is necessary, they said, to overcome stereotypes and discover their common humanity.
Zakout gets the last word in the video. "We both have no other country," he says, "and this is where change begins."
The latest episode of The Daily deals with the multinational investigation into the assassination of the Haitian President.
You can reach Amelia and the team at [email protected].