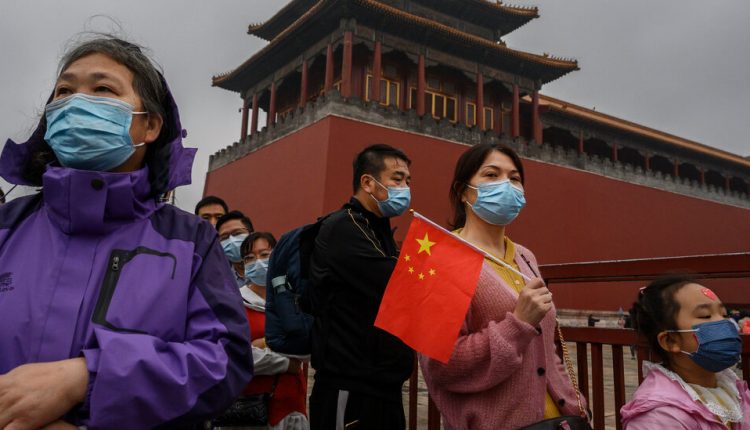 Your Friday Briefing – The New York Instances
Signs of recovery and change in China's "Golden Week"
China has begun Golden Week, more or less under control of the annual shopping and travel event around the national day celebrations on October 1st and the first major public holiday since the coronavirus outbreak broke through the country.
The weeklong holiday is a closely watched barometer of China's economic health each year, and that is even more true this year. Early signs seem to confirm two trends: the country has returned to normal far more than others around the world, and yet the effects of the pandemic are difficult to shake off.
The hotels are full and the tickets to tourist attractions are sold out. Millions of Chinese are going overseas for the most part, but this year they are mainly traveling domestically. China's official tourism research institute predicts 550 million domestic trips will be made, less than last year but a significant number. "The energy has been pent up for too long," said Lisa Li, a manager at a travel agency in Shanghai.
Here are the latest updates and maps of the pandemic.
In other developments:
Russian President Vladimir Putin has isolated himself in a virus-free bubble and has taken far more intense protective measures than many of his foreign counterparts. His government has largely declared the virus to be defeated.

Israel is imposing an even stricter lockdown to contain one of the world's worst outbreaks of the virus. As of Friday, all but key workers are required to stay home from work.

Despite an increase in cases, India is taking further steps to reopen. The country will allow movie theaters and amusement parks to open with limited capacity, and states may be able to open schools.

Italy's prime minister will try to extend the country's state of emergency until at least the end of January.
Protests in Hong Kong have been lifted
A year ago, China's national holiday was a day of protest and unrest in Hong Kong. Protesters lit fires and blocked roads. The police responded with tear gas and pepper spray. An officer shot a young protester to death with a sharp bullet.
That year police quickly silenced dissent. The low turnout of the demonstrators was stifled by thousands of police officers. The officers gathered and searched dozens of people at the same time.
The stark contrast shows how authorities have used social distancing rules, an overwhelming police presence, and a comprehensive national security law to silence pro-democracy rallies.
The scene: Some demonstrations looked like performance art. Instead of singing seas of people, people held up copies of Apple Daily, a pro-democracy newspaper, as if reading it. A teenager was playing popular protest music on a recorder at an intersection and some were singing along.
Taiwan's largest chip maker is trapped between the US and China
As China and the US battle for technical dominance, Taiwan's chipmakers are feeling the heat. You are forced to heed American technology policy, but many of your customers – and their customers' customers – are in China.
Last month, the Trump administration effectively forced chipmakers in Taiwan to stop taking orders from 5G giant Huawei. And the US told American companies last week that they would need permission to export to China's most advanced chip maker.
Taiwan Semiconductor Manufacturing Company, an industry leader, can no longer be friends with both sides in the battle for the high stakes. And China has promoted its own chip industry – and is trying to hire experts from Taiwan.
Larger image: The Trump administration's stranglehold on Huawei shows that despite China's economic advances, the US has one last word on the technologies without which the modern world could not function.
If you have 5 minutes it is worth it
What it means to cancel Rio Carnival
Wars, disease and political unrest have never stopped Rio de Janeiro from hosting its famous Carnival – but the pandemic did. It is unclear when and how restrained the carnival will be next year.
For the residents of Rio, the loss is financial, personal, and even political. Our reporters and a photographer explored the mood of the city. "Carnival is a purification of the soul," said Nicilda da Silva, a samba dancer above.
The following also happens
Aleksei Navalny: In an interview with Der Spiegel, the Russian opposition leader said that the use of a military-grade nerve agent was evidence that President Vladimir Putin was behind his poisoning.
New Zealand: Prime Minister Jacinda Ardern said in a debate that she had used cannabis and most New Zealanders shrugged. However, she didn't say she supports the legalization of marijuana, which people will vote on in a referendum with the national elections on October 17th.
Tokyo Stock Exchange: The operator of the exchange said it plans to resume trading on Friday after investors were unable to place orders and close on Thursday due to a technical problem. The episode could shake investor confidence.
Snapshot: Above, Beadnose the Bear in Katmai National Park and Preserve. Every fall, the park in southern Alaska celebrates its 2,200 brown bears with Fat Bear Week (which Beadnose won in 2018). The online competition brings ease and sensitization for the nature reserve. You can vote for your choice of the bigger of two bears each day through October 6th.
What we read: This Atlantic article on the career costs of our new offices. "This thoughtful piece got to the heart of why working endlessly from home makes a feeling so drift," writes Natasha Frost on the briefing team.
Now a break from the news
Cook: The spicy, salty-sweet noodles combine well-seasoned aubergines and creamy ricotta into a hearty vegetarian meal.
Yours: Whenever you go to a restaurant, be sure to check this list of warning signs and situations to avoid it.
Read: We've compiled a list of 17 new books to watch out for in October. New biographies shed light on Malcolm X, Sylvia Plath, and the Beatles, and there are new fictions from Tana French, Martin Amis, Sayaka Murata, and others.
We'll help you find fun ways to be safe at home with our collection of ideas to read, cook, watch and do.
And now for the background story about …
A clash in the Caucasus
Our Moscow correspondent Andrew E. Kramer has been reporting on the simmering conflict between Armenia and Azerbaijan for years. We relied on his current and previous coverage and other Times articles to explain the dispute.
The fighting in Nagorno-Karabakh, an Armenian separatist enclave in a remote mountainous area of ​​Azerbaijan, threatens to attract two major powers in the region, Russia and Turkey.
For a long time, ethnic tensions predominantly divided Christian Armenia and, above all, Muslim Azerbaijan, both of which are former Soviet republics. In 1921, Stalin linked the Armenian-dominated Karabakh with its hostile Azerbaijani neighbor and used the ethnic conflict to consolidate overall control from Moscow, which is now needed to maintain peace.
In 1988, the governing body of the enclave asked President Mikhail Gorbachev to unite it with Armenia. Instead, he sent Soviet troops to attempt to evict the ethnic Armenian population, and Azerbaijani forces circled the enclave with a punitive military siege.
Then, from 1992 onwards, ethnic Armenian troops went on the offensive, creating a land corridor into Armenia and pushing outward to occupy almost a fifth of Azerbaijan. Open war broke out when the Soviet Union collapsed and the clashes claimed 20,000 lives. A ceasefire was declared in 1994, but there was no final agreement and border skirmishes have broken out regularly since then.
The fighting that started last weekend has two reasons. First, it's much bigger than previous collisions. Dozens of people were killed when both sides launched rocket attacks. Second, Turkey openly supports Azerbaijan, a Muslim and Turkish-speaking country.
Turkish President Recep Tayyip Erdogan declared his full support for the Azerbaijanis and criticized Armenia for ignoring efforts to negotiate a resolution. He also called for Armenia to withdraw from the territories it occupied 30 years ago.
Armenia has a mutual defense treaty with Russia but has not yet asked for it to be activated.
That's it for this briefing. Until next time.
– Melina and Dani
Thank you very much
To Theodore Kim and Jahaan Singh for the break from the news and Andrea Kannapell, the Briefing Editor, for the backstory. You can reach the team at [email protected].
PS
• We listen to "The Daily". Our latest installment is a guide to voting by post in the US presidential election.
• Here's our mini crossword puzzle and a clue: Sommelier's Expertise (four letters). You can find all of our puzzles here.
• Journalists have received awards for excellence in religious reporting from the Religion News Association several times.