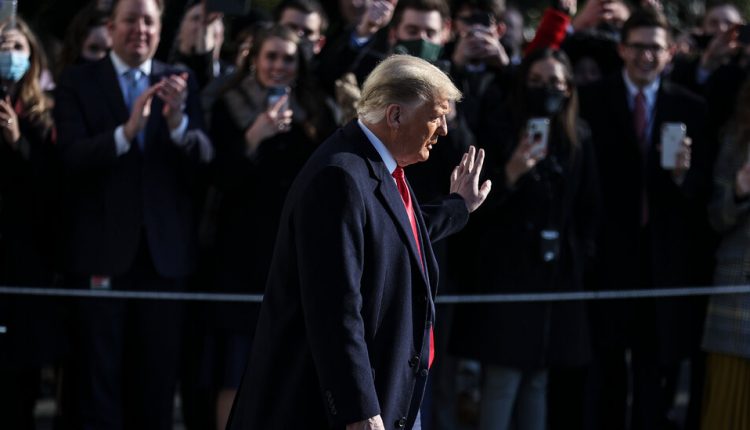 Your Wednesday Briefing – The New York Occasions
The last day of the Trump presidency
President Trump, in a 20-minute video released Tuesday, delivered a defiant and apologetic farewell speech to the nation declaring that he "accepted the tough struggles" and swore that "the movement we started have just started ".
In one of his final acts, Trump pardoned Stephen K. Bannon, former White House chief strategist who was accused of defrauding political donors. Mr. Bannon was still on trial, which made his pardon particularly unusual.
As soon as Mr Trump leaves office, he will be faced with a financial minefield, the details of which were revealed in an investigation by the New York Times last September. Many of his problems were exacerbated by his turbulent, divisive presidency.
Global consequences: Mr. Trump's imprint on the world will linger. With his "America First" rhetoric, he has persuaded other nations to put themselves first.
The EU has ambitious vaccination targets
After a sluggish start to vaccination efforts across the continent, the European Union executive said Tuesday that the bloc's 27 member states should aim to vaccinate at least 80 percent of health care workers and citizens over the age of 80 to 70 percent of their total population by March for summer.
"We are racing against time, but not against each other," said Stella Kyriakides, EU health commissioner. "And we all ride together as a team."
Connected: Hoping to save borderless travel around the block, the commission also opened a debate on so-called vaccination certificates, which could make travel easier for people who have been shot.
Here are the latest updates and maps of the pandemic.
In other developments:
According to the New York Times, more than 400,000 people have died from the coronavirus in the United States. That's the equivalent of wiping out a city the size of Oakland, California.

While the German authorities are preparing stricter lockdown measures, some German states are planning guarded quarantine centers for the few who repeatedly violate the quarantine rules.
The US accuses China of genocide
The US State Department said Tuesday that the Chinese government is committing genocide and crimes against humanity through the repression of Uyghurs and other predominantly Muslim minority groups in western China's Xinjiang region.
The move is expected to be the Trump administration's last action against China on the last full day of administration. Citing the use of forced sterilization, birth control and family segregation to destroy Uighur identity, officials hoped the move would spur other countries to blame China.
What it means: The statement could prompt President-elect Joe Biden to impose sanctions on China. The result complements a long list of tension points between the US and China, but also gives leverage to the elected president.
Connected: A proposed amendment to a trade deal between Britain and China would give the British Supreme Courts the power to determine whether genocide is taking place in Xinjiang, The Guardian reported.
If you have 12 minutes, it's worth it
The call of the void
Even before the pandemic, American culture felt numbness as an antidote to the overload of digital capitalism – sensory deprivation "float tanks", noise-canceling headphones, the expensive nothing of open-plan start-up offices.
Along with so much desperation, the mass quarantine was a definitive fulfillment of the pursuit of nothing, especially for the privileged classes who could adapt to it with relative ease. But is it really an escape – or some other trap?
The following also happens
Italian politics: The Italian government survived a near collapse on Tuesday when Prime Minister Giuseppe Conte narrowly won a vote of confidence in parliament and temporarily fought off an unexpected attack by a key rival, former Prime Minister Matteo Renzi.
Aleksei Navalny: A team led by the Russian opposition leader released a comprehensive investigation on Tuesday describing a secret billion-dollar palace built for President Vladimir Putin on the Black Sea. On Monday, Mr Navalny was jailed for 30 days before a court ruling that could put him behind bars for years.
Thai monarchy: A former official who posted audio clips on social media deemed critical of Thailand's monarchy has been sentenced to 43 years in prison by a criminal court in Bangkok. It was the longest sentence to date for violating Thailand's strict Law of Majesty, making it a crime to defame high-ranking members of the royal family.
Arab Spring Anniversary: Ten years after the uprising in Tunisia, the country has become a democracy whose right to freedom of expression is rare in the Arab world. With youth unemployment still high and corruption widespread, some Tunisians are wondering whether the revolution was worth it.
Snapshot: Above, the funeral of a flight attendant who died when the Sriwijaya Air Flight 182 crashed after taking off from Jakarta. As the authorities round up what happened, uncertainty has added to the grief of the victims' 62 families. The funerals have begun, including for those whose remains have not been found.
Poetic justice: At today's ceremony in Washington, Amanda Gorman, 22, the youngest inaugural poet in US history, will read a work she completed after the Capitol uprising two weeks ago.
Cricket: The Indians celebrate a remarkable win over Australia in what has been described as one of the greatest triumphs in Indian cricket history. "Nothing comes close – it beats everything," said the team's head coach.
"Non-animal origin": For the first time in France, the Michelin Guide has awarded a star to a fully vegan restaurant. ONA on the Atlantic coast near Bordeaux was also one of 33 restaurants that received green stars for their sustainable approaches.
What we read: This ProPublica report gathers information from more than 500 videos of the Washington Capitol attack and provides an overview of what it looked like from inside the mob.
Now a break from the news
Cook: These red curry lentils with sweet potatoes are cooked with an aromatic blend of Thai spices and then cooked in coconut milk until they fall apart tenderly.
Read: Octavia Butler spent her life turning speculative fiction into a home for black expression. Here we start with your books.
Pull out the plug: With some thoughtful folding and a little tape, you can make your own hand maze game out of the newspaper.
Take care of oneself. At Home offers a comprehensive collection of ideas on what to read, cook, see, and do while staying safe at home.
And now for the background story about …
Photograph Trump
Over the past four years, Doug Mills, a Times photographer, has captured tens of thousands of pictures of President Trump. Today, as Mr Trump ends his tumultuous presidency, Mr Mills reflected on his non-stop job, which has been relentless for four years.
To what extent have the last four years been more challenging for you than in previous administrations?
It was the most dearly memorable year for everyone in the White House press corps. President Trump was the most unpredictable commander in chief in my 38 years as rapporteur on the White House. He drove one message cycle after another every day, and I was there for most of them.
How was your personal interaction with him?
President Trump knows me by name and has pointed it out to me several times. During a G7 summit in Canada, he told French President Emmanuel Macron and German Chancellor Angela Merkel that I was one of the best photographers in the world but that I work for the New York Times.
As I was discussing President Trump's dinner with the Queen of England at Buckingham Palace, he drew my attention to the Queen and said, "This is Doug Mills of the New York Times." I was shocked and just looked at the queen and said, "Your Majesty," and the photo operation was over.
Of all the recordings you've made, is there one that you're particularly proud of?
I have some memorable photos. Mr. Trump, house spokeswoman Nancy Pelosi and "the gossip". Mr. Trump with a lightning bolt. A shot of Mr. Trump walking from the White House to St. John's Church after the protesters were removed from Lafayette Park.
How would you summarize the last four years for you as a photographer?
It's been a great four years of presidential photography – incredibly exhausting, but very rewarding. I enjoyed every minute.
That's it for this briefing. I wish you a good Wednesday.
– Natasha
Many Thanks
Theodore Kim and Jahaan Singh took the break from the news. You can reach the team at [email protected]
PS
• We hear "The Daily". Our final episode is about how Republicans view the attack on the US Capitol.
• Here is our mini crossword puzzle and a clue: snake that can weigh up to 60 pounds. (three letters). You can find all of our puzzles here.
• The Times website was launched 25 years ago this week. "With its entry on the Web," said an article at the time, "the Times hopes to become a primary information provider in the computer age."
• The Times announced "The Ezra Klein Show," a new podcast about key ideas from the New York Times Opinion.