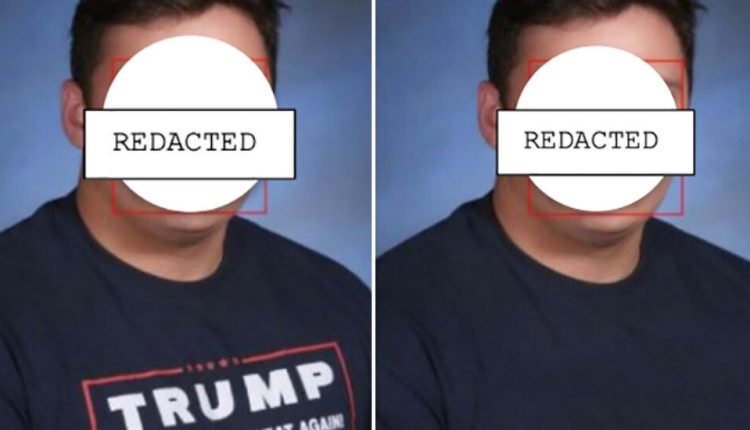 $325,000 Settlement for Instructor Over Trump References Eliminated From Yearbook
For years, Susan Parsons said she had been directed by administrators to remove "controversial" material from the yearbook for Wall Township, NJ high school
Ms. Parsons, a teacher and yearbook advisor, said in court records that she was required to erase a feminist bumper sticker on a student's laptop, Photoshop clothing on shirtless students from a photo, and remove questionable hand movements while on a school trip to Bermuda.
But it wasn't until 2017 that a particular issue got Ms. Parsons and the district into a national firestorm over freedom of expression and political opinion.
Ms. Parsons was suspended after removing a reference to Donald J. Trump on a student's shirt, which drew widespread news media attention and death threats, according to a lawsuit she filed against the school district.
Ms. Parsons said she had been instructed by the director's secretary to remove Mr. Trump's name and "Make America Great Again" slogan. Ms. Parsons was then publicly scapegoated and silenced by the district, the lawsuit said.
On Tuesday, the county council approved a $ 325,000 settlement to resolve their claims. About $ 204,000 will be paid to Ms. Parsons and the remainder will cover her legal fees and expenses, according to the settlement that says the district's insurers will pay the costs.
"We are delighted that Susan was able to achieve the justice she deserves," said her lawyer Christopher J. Eibeler on Saturday. Under the agreement previously reported by NJ.com, the district denied any wrongdoing.
The district and its attorney did not respond to requests for comment on Saturday. Cheryl Dyer, who was the superintendent at the time the photo was changed, said she had retired from the district and could no longer speak for it.
In her lawsuit, Ms. Parsons said it was unethical to heavily edit yearbook photos and complained to the administration that the "yearbook should reflect reality".
In December 2016, she was told to remove the reference to Mr. Trump on the student's shirt after going to the administration office to pick up drafts of the yearbook pages.
Ms Parsons said she agreed to change the photo but was confronted by the student after the yearbooks were handed out in June 2017. "Why did you remove the word Trump from my shirt?" Asked the student. She told him to speak to the headmaster.
Later that day, one of the student's parents emailed Ms. Parsons saying that the student's picture was "edited without his / our permission."
"I would like to understand who made this decision," said the email according to the lawsuit. "We thought the shirt he was wearing was appropriate."
Two other students then complained that a Trump logo and a quote attributed to Mr. Trump had been removed from the yearbook.
Ms. Parsons said in her suit that the logo was cut out by a photo seller and that a student who was working on the yearbook accidentally left off the quote. Even so, outrage has already exploded in Wall, a community of around 25,000 people near the Jersey Shore that voted for Mr. Trump in 2016 and 2020.
Ms. Parsons said the school authorities had launched a public campaign to protect themselves from responsibility by creating a "false narrative" blaming them for the changes.
For example, Ms. Dyer sent a letter to her parents on June 9, 2017, in which, according to court records, she falsely stated that "the high school administration had no knowledge of political censorship and does not condone our students."
On June 12, 2017, the student, whose logo had been removed, appeared on one of Mr. Trump's favorite programs, Fox & Friends, and said, "Those or persons who did this should be held accountable, as this is a violation of mine and other people's initial customization rights. "
That same day, Ms. Parsons said, she was invited to a meeting with Ms. Dyer and suspended. Days later, Mr. Trump made more aware of the issue and deciphered the "yearbook censorship" at high school in a Facebook post.
Susan ParsonsRecognition…via Susan Parsons
Ms. Dyer said at the time that the changes in the yearbook were "Censorship and the Possible Violation of First Adjustment Rights."
"This claim is taken very seriously and a thorough investigation into what happened is being vigorously pursued," she said in a 2017 statement. The students' dress code did not prevent students from expressing their political views or becoming a political figure support said she said.
Ms. Parsons told the New York Post: "We have never taken action against any political party." This prompted Ms. Dyer to email Ms. Parsons's union representative to remind her that she did not have permission to speak to the newspaper.
Ms. Parsons said the superintendent cited a district media policy that was like a "gag order" preventing her from defending herself.
Ms. Parsons said she was told to "white" a sticker on the back of a student's computer that reads, "Feminism is the radical notion that women are people."Recognition…New Jersey Supreme Court
Ms. Parsons, who said on court records she voted for Mr. Trump in 2016, said she was soon inundated with hate mail and harassing phone messages referring to her as a Nazi, communist, anti-American and "traitorous liberal." "
She said she was afraid to use her name when ordering takeaway food and that the drivers might try to beat her if she goes on bike tours.
When she returned to school in September 2017, she was "disrespected and ridiculed" by students and others who accused her of removing Trump references from the yearbook.
She sued the district in May 2019 and retired in February 2020.