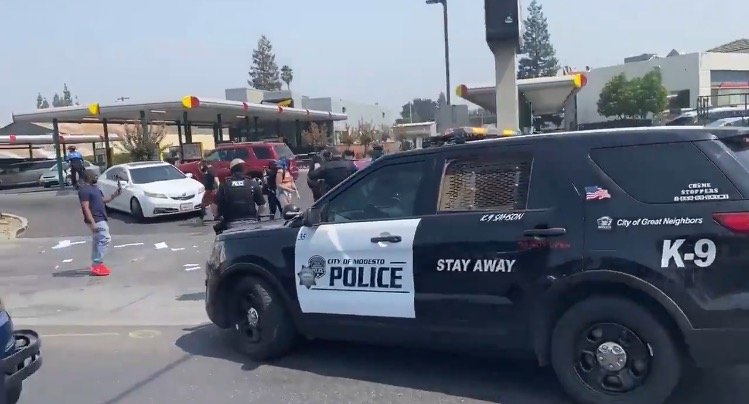 "F*ck Antifa!" – Police Intervene as Antifa Goons Get Their Butts Kicked in Modesto, CA (VIDEO)
Modesto, California – Police intervened when a group of Antifa in the Black Block were hit in the ass by a group of Conservatives.
Antifa thugs were pretty beaten by conservatives when police broke up the fight.
Conservatives held a "straight proud" event in Modesto on Saturday when Antifa and other left-wing protesters showed up to cause trouble.
Pro-family and pro-life protesters stood in front of Planned Parenthood holding signs against abortion.
TRENDING: Exclusive: Hundreds of patriots in Wentzville, MO with 9 hour notice honoring LCpl. Jared Schmitz killed in bomb attack in Kabul (VIDEO)
About an hour into the event, a brawl broke out between the Antifa and Conservatives.
VIDEO (voice warning):
Breaking: A group of #Antifa were rescued by police after being beaten and forced to retreat during a violent left-right protest in Modesto, California. pic.twitter.com/nZZ9gLkfru
– Andy Ngô (@MrAndyNgo) August 28, 2021
Here is the complete livestream of the event: