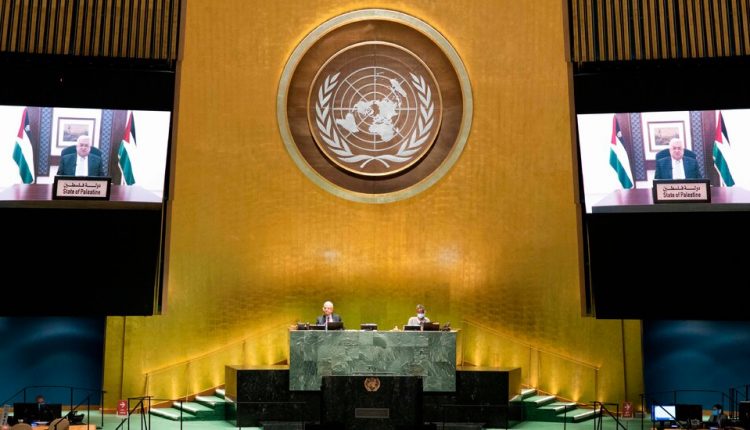 Choices Dwindling, Palestinian Chief Requires U.N. Peace Convention
Tired of repeating his people's longstanding complaints against Israel, the Palestinian leader called for an international conference "with the participation of all parties concerned" in early 2021 in his address to the United Nations General Assembly on Friday.
The request from the leader, President Mahmoud Abbas of the Palestinian Authority, seemed to reflect recognition that the ground had shifted significantly in Israel's favor over the past year, marginalizing the Palestinians in a struggle that is almost as old at the United Nations threatened himself.
"As I was preparing this statement, I wondered what I could tell you about the ongoing tragedy and suffering of my people after everything I said in previous statements," said Abbas. The recorded speech was sent from his office in Ramallah, Israel-occupied West Bank, to the annual gathering that was held practically this year because of the coronavirus pandemic.
Mr Abbas spoke against the backdrop of changes that could redefine the dynamism of power in the Middle East, particularly the recent diplomatic relations agreements between Israel and the United Arab Emirates and Bahrain. The two Gulf states are the first Arab governments to recognize Israel in more than 25 years.
These agreements were brokered by the Trump administration, which has strongly favored Israel in its Middle East policy and seeks to portray itself as a groundbreaking peacemaker in one of the world's most volatile regions.
Mr Abbas and his staff have denounced these agreements and accused the United Arab Emirates and Bahrain of betraying Arab solidarity and undermining Palestinian aspirations for statehood. Mr Abbas has also mocked the Trump administration's peace proposal that would give Israel parts of the occupied West Bank, leaving the Palestinians with disjointed territory and the possibility of a state with limited sovereignty.
Mr Abbas reiterated his criticism in the General Assembly speech, claiming that "the only way" to an Israeli-Palestinian peace agreement requires Israel's withdrawal from occupied countries, an independent Palestine along Israel's pre-1967 borders and East Jerusalem as the capital.
Against this background, Abbas called on Secretary General António Guterres to make preparations "to convene an international conference early next year with full authority and with the participation of all parties concerned in order to initiate a real peace process based on international law. "
It was not immediately clear whether such a conference would actually take place. Among the many variables is uncertainty about whether President Trump will be re-elected in November. His democratic opponent, Joseph R. Biden Jr., is also a strong supporter of Israel, but has long supported a two-state solution to the conflict and criticized Israel's settlements in occupied territory.