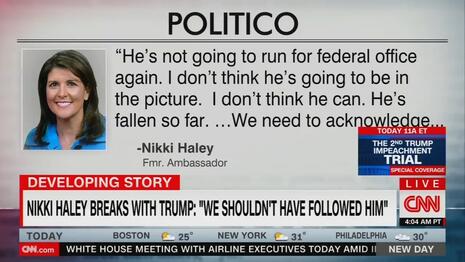 CNN's Berman: No 'Profile in Braveness' for Nikki Haley's Trump Critique, She's a 'Weathervane'
It is known that the liberal media suddenly lauds a formerly maligned Republican who turns against the party leaders. So you could have expected CNN's John Berman to pile Hosannas on Trump's former UN Ambassador Nikki Haley this morning.
After all, Politico published an article today in which Haley – also the former Republican governor of South Carolina and a potential 2024 presidential candidate – sharply criticized Trump.
She accused him, among other things, of "abandoning us" and "following a path he shouldn't have". Instead, Berman touted it as "a potentially important story" and said "some notable things" but ultimately it wasn't a "Courage-Moment Profile".
BERMAN: Let me just read some of Nikki Haley's quotes [emphasis added]: "He won't run for federal office again. I don't think he's going to be in the picture, she said matter-of-factly. I don't think he can. He's fallen too far." And that's the kicker. "We have to acknowledge he let us down. He went a way that he shouldn't have. And we shouldn't have followed him. And we shouldn't have listened to him. We can't let this ever happen again. "
Now, I don't think this is interesting as a profile in Courage Moment, Ross Garber, I think it's interesting in a –If anything, Nikki Haley is a weathervane. I mean, it turns with the political winds to some extent they do. And She sees the political wind blowing against the former President of the United States.
So there may be a verdict in the US Senate, but Nikki Haley is giving something else here. And maybe that's what the property managers, the folks trying to keep a historical record here could have been doing all along.
Why wasn't Berman ready to show Haley a sudden respect when her criticism of President Trump was certainly music to his liberal ears? Instead, he mimicked Alberta that "everything Haley says is scrutinized by those who have come to question its authenticity."
Reporters can always question the authenticity of politicians striving to become president. But Tim Alberta started at National Review. So does he have core beliefs? John Berman works for CNN, which now all sounds like an editorial echo of Chef Jeff Zucker.
Perhaps Berman is just trying to undermine someone CNN sees as a potential GOP challenger for President Biden in 2024 – or shall we say Harris?
CNN's Berman, who claimed Nikki Haley didn't deserve a bold profile for criticizing President Trump, has been sponsored in part by Sleep Number, Clear Choice, Liberty Mutual, Chewy and Sandals.