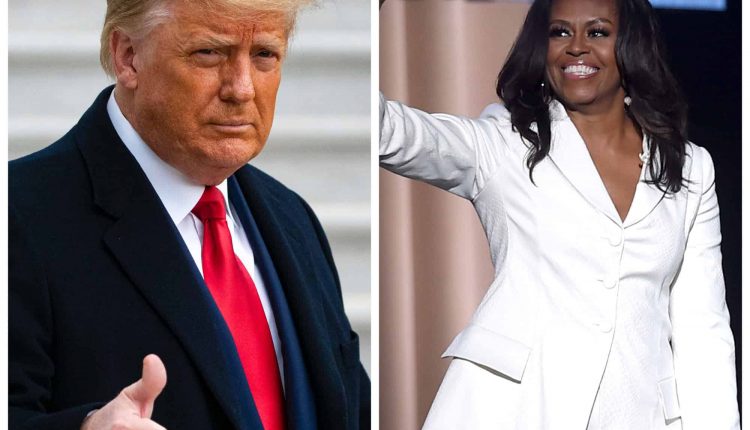 Gallup's Annual Ballot Names Donald Trump And Michelle Obama As Most Admired Man And Lady In America 
What a way to end 2020. Donald Trump ended former President Barack Obama's twelve-year term and was named America's Most Admired Woman for the third year in a row, according to a Gallup poll, while Michelle Obama was named Most Admired Woman for the third year in a row.
Gallup released the results of its annual poll earlier this morning, revealing that Barack is now linked to former President Dwight Eisenhower for the man most often described as the most admired man. Other prominent men on this year's list included President-elect Joe Biden, the country's foremost infectious disease expert, Dr. Anthony Fauci, Elon Musk and LeBron James.
For women, Michelle Obama remains the most admired woman in the country, followed by elected Vice President Kamala Harris.
According to Newsweek, Gallup asked a total of 1,018 adults which living man they admire most. Donald Trump received 18 percent of the vote, followed by Barack's 15 percent.
It's not uncommon for the current president to be named the most admired man in the nation, but despite Trump's current standing, the Gallup poll found his approval rating dropped to a grim 39 percent over the same period.
"Past, present, and future White House residents, whether presidents or first ladies, played a prominent role when Gallup asked Americans to identify the man and woman they most admire," the analysis said of polls from Gallup. "As such, Barack Obama, Donald Trump and Joe Biden are likely to remain strong contenders for the most admired men's title for years to come."
The approval rating for Biden's transition is 65 percent over the same period, despite being below Trump on the admiration scale.
Given that the poll gives only a small glimpse of what Americans think, it would be interesting to see if the numbers change with a larger pool.
It will also be interesting to see who makes the list for 2021. We'll keep you up to date.
Would you like tea right in your inbox? Hit us at 917-722-8057 or Click here to take part!