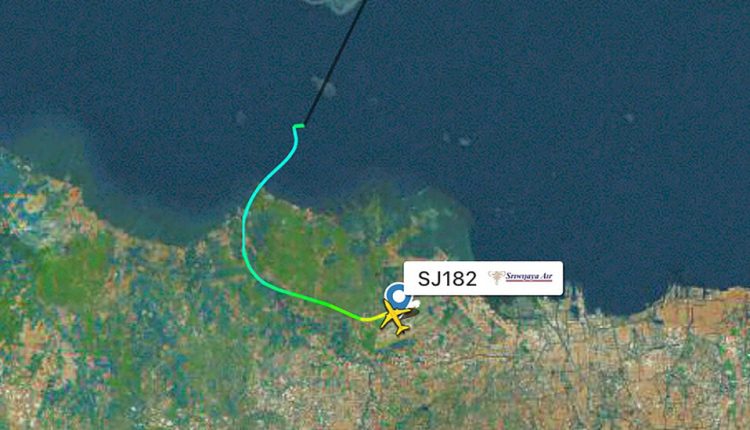 Indonesia Loses Contact With Airplane Over Java Sea
BANGKOK – The Indonesian Ministry of Transport said Saturday that it lost contact with a passenger plane after it took off from the capital Jakarta and flew over the Java Sea.
The ministry said the last contact with the plane, Sriwijaya Air Flight 182, was made at 2:40 p.m. local time. The Boeing 737-524 was destined for the city of Pontianak on the island of Borneo. There were 62 people on board, according to an official from Sriwijaya Air, an Indonesian airline based in Jakarta.
Four minutes after take-off in heavy rain, the 26-year-old aircraft lost more than 10,000 feet of altitude in less than 60 seconds, according to Flightradar24, the flight tracking service.
The aviation sector in Indonesia, a developing country with thousands of islands, has long been plagued by problems faced with poor security data and the rapid growth of low-cost airlines.
In 2018, Lion Air Flight 610 crashed into the Java Sea with 189 people on board after the Boeing-designed anti-crystallization system of the 737 Max Jetliner malfunctioned. Another 737 Max crashed in Ethiopia in March 2019 after a similar faulty activation of the antistall system, which resulted in the worldwide grounding of the entire Max fleet for almost two years.
Regarding Saturday's flight, Sriwijaya Air said in a preliminary statement that "management is still communicating and investigating this matter and will make an official statement immediately after receiving the actual information."
The country's Aviation Safety Commission said it was on alert and the Minister of Transport had gone to Jakarta International Airport. Patrol boats sailed into waters northwest of Jakarta, where the plane was last seen, the Indonesian national search and rescue agency said.
"Whenever we hear this kind of news, we get ready," said Ony Suryo Wibowo, an investigator with the Indonesian National Road Safety Committee, on Saturday. "We collect all the information we can get."