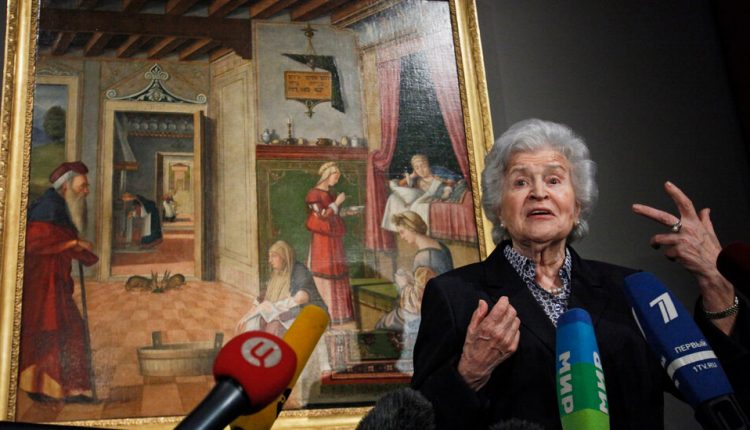 Irina Antonova, Grande Dame of Russian Museum World, Dies at 98
MOSCOW – Irina A. Antonova, a commanding art historian who ran the State Pushkin Museum of Fine Arts in Moscow for more than half a century, used it to bring outside culture to isolated Soviet citizens and make them a major cultural institution on Tuesday City. She was 98 years old.
The cause was heart failure complicated by coronavirus infection, the museum said.
Ms. Antonova steered the museum through the isolated and rigid cultural policy of the Soviet Union until after the fall of communism. In recent years, she has expanded it to adjoining buildings – sometimes annoyed with her tenants – to host mushroom exhibitions.
Ms. Antonova used her inexhaustible energy early on to establish connections with the world's leading museums. In 1974 she brought Leonardo da Vinci's Mona Lisa from the Louvre in Paris. Hundreds of thousands of people lined up to see it, the only lines the Soviet government was proud of at the time. Many knew that with the country's borders closed, it might be the only opportunity to see this famous work in your lifetime.
She opened the world to the Soviet people with exhibitions of 100 paintings from the Metropolitan Museum of Art in New York and the treasures of Tutankhamun.
The Pushkin Museum also showed abstract and avant-garde works by Russian and international artists on Ms. Antonova's watch. That was in a country where an unofficial art exhibition was once closed with the help of a bulldozer and whose then leader Nikita S. Khrushchev, when visiting an exhibition of new Soviet art in 1962, called a summary, generally unimaginable pictures were made with a "donkey's tail" and even his grandson could do better.
In 1981 the museum hosted "Moscow-Paris, 1900-1930", a groundbreaking exhibition in which works by French artists such as Matisse and Picasso were mixed with highlights of the Russian avant-garde of the time, including works by Chagall, Malevich and Kandinsky. The exhibition showed how well Russian artists fit in with Western European trends and how they have sometimes helped shape them.
Thanks to her Bolshevik father, Ms. Antonova had the family tree that made it easier for her to negotiate with Soviet cultural bureaucrats. With her charm and wit, she managed to turn what was still largely a collection of plaster casts of famous statues into a comprehensive museum worthy of a great capital.
"We were allowed to do things that were never allowed in other places," said Ms. Antonova in a documentary on the museum's 100th anniversary. "It was very easy to ban. They didn't even have to do much while we were allowed to do something else. "
After the collapse of the Soviets, she continued her search for a rapprochement between Russia and the outside world, including exhibitions of works by Joseph Beuys and Alberto Giacometti.
She also discovered art treasures that were confiscated by the Soviet Army in Germany during World War II and hidden in the museum's depository. However, critics accused them of moving slowly and not acknowledging their existence. But Ms. Antonova argued that it would have been impossible to act during the Soviet era.
In a message of condolence after her death, President Vladimir V. Putin of Russia said that Ms. Antonova deserves professional and public recognition for having served with inspiration as a "committed expert, enthusiast and educator" of Russian culture.
Irina Aleksandrovna was born in Moscow on March 20, 1922. Her father, Aleksandr A. Antonov, was an electrician and ran a research institute. Her mother, Ida M. Heifits, worked in a printing company.
Irina moved to Germany with her family in 1929 when her father was sent to work at the Soviet embassy. She lived there for four years, learned German and got to know European culture.
During the war, she trained as a nurse and took care of Soviet pilots, many of whom were seriously injured, in Moscow hospitals.
She graduated from Moscow State University and was sent to work at the Pushkin Museum shortly before the end of the war. The museum was founded in 1912 by wealthy merchants; When she arrived there was no heating in the building and its glass roof had collapsed during the bombing.
Olga L. Sviblova, a friend and director of the Multimedia Art Museum in Moscow, said in an interview that Ms. Antonova "brought a deep conviction to the museum that culture and art have no borders: temporarily, geographically, nationally".
"She defended these beliefs under Stalin, Khrushchev, Brezhnev, Gorbachev and during the 30 years she lived and worked in the new Russia," added Ms. Sviblova.
In 1961, Ms. Antonova became the first woman to be appointed director of the museum, a position she held until 2013 when she was appointed president and gave up day-to-day administration to focus on strategic development. Her entire tenure in various roles was 75 years.
During the Soviet era, Ms. Antonova was fortunate enough to be able to travel, but she said that sometimes when she left a culturally rich Italian city she cried because she knew it could be her last time.
Together with the celebrated Soviet pianist Sviatoslav Richter, Ms. Antonova held a series of concerts every December in the spacious halls of the museum. The concerts, known as December evenings, are still among the most popular performances in Moscow.
Her husband, the art historian Yevsey I. Rotenberg, died in 2011. She is survived by her son Boris.
She was replaced by Marina D. Loshak as museum director. She said: "Without Irina Antonova, the Pushkin Museum is hard to imagine."