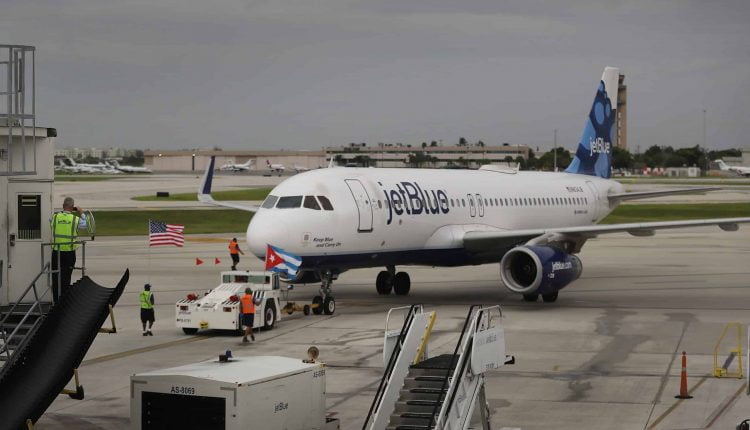 JetBlue Eliminates Entry To Overhead Bins For Primary Fare Passengers
Bargain travelers, this is for you. JetBlue is shaking the table with its new ticket benefits and restrictions.
The airline is cutting prices on many basic economy tickets to compete with low-cost airlines like Spirit and Frontier, USA Today.
But you know there is a catch to a lower tariff! Travelers who purchase JetBlue's 'Blue Basic' tickets now will no longer be allowed to bring a traditional carry-on bag from July 20th.
You are only allowed to bring a small bag that fits under the seat in front of you and any other bags you bring must be checked for a fee.
JetBlue might shake it up, but they're technically late in trend.
United Airlines has a similar restriction on its Basic Economy tickets, while Spirit, Frontier, and Allegiant passengers must pay a fee to bring a full-size carry-on bag on board.
American and Delta do not have these restrictions, and Southwest Airlines does not have simple economy tickets.
The reason for switching to JetBlue, as explained by its executives, is because the airline wants to adjust its restrictions to those of the low-cost airlines and free up space as part of a bold new promise that guarantees higher guarantees – paying for passenger seats for their carry-on bags .
Starting July 20th, JetBlue will guarantee passengers purchasing non-basic economy tickets for flights within the US to have one carry-on bag in the overhead bins
When the airline runs out of space and needs to check a passenger's baggage at the gate, the airline adds that it issues $ 25 travel credit for one year.
Concerns about having enough room for carry-on baggage are reportedly a major stressor for travelers, and that apparently was a real problem for JetBlue. The airline's planes can only hold around 60% of passengers' carry-on bags if everyone brings a roller bag.
"We're excited to offer this … unique carry-on guarantee in the United States," said Dave Clark, JetBlue's vice president of sales and revenue management. "We think that's what makes our (Standard Economy) Blue Fare really strong."
Would you like updates directly in your text inbox? Hit us at 917-722-8057 or Click here to take part!