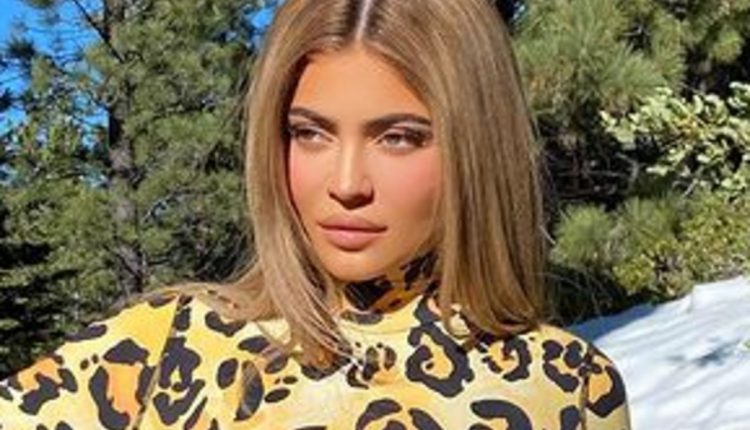 Kylie Jenner Flaunts Her Curves In Snow Leopard Catsuit
Kylie Jenner shows off her curves in a snow leopard catsuit and the look of the stunning 23 year old is gorgeous. Kylie took her family on vacation to Lake Tahoe, where the sisters enjoyed time in the sun and snow. Big sister Kim was spotted in a skimpy leather bikini while Kylie showed off her voluptuous figure in a skin-tight catsuit courtesy of Moncler x Richard Quinn.
Kylie has one of the most popular Instagram accounts worldwide and currently has 202 million followers. The photos she shared received a lot of likes and comments. First, Kylie uploaded a slideshow containing six photos of the mother of a child in the outfit, who received more than seven million likes and over 24.8 thousand comments.
Kylie Jenner wears vintage Jean Paul Gaultier Fight Against Racism »
A second photo that Kylie Jenner shared where she wore the Moncler x Richard Quinn Genius 8 Leopard Print Lacquered Coat has received over 4.4 million likes and more than 23.3 thousand comments.
The catsuit is gloved and Kylie was covered from her neck to the snow leopard print. Genius 8's leopard-print lacquered coat costs around $ 2,200.
Khloe Kardashian & Kylie Jenner look like twins; They joke about having "so many babies" in a new lip kit video »
Jesus Guerrero styled Kylie's hair and Ariel Tejada did Kylie's make-up. It looked immaculate when it stood outside in the snow. In a photo you can see below, Kylie Jenner was wearing the matching coat with her catsuit and pulling the hood over her head.
Source: Kylie Jenner / Instagram
Kylie shared another photo where she stood aside and gave her followers a full view of her silhouette. Kylie has one of the most famous hourglass figures in Hollywood, and fans have been amazed by her looks. Kylie has been sporting various hair colors lately, including red, but for her snow leopard look, she went for a medium, ash blonde color.
Tristan Thompson's ex, Jordan Craig, is reportedly "disappointed" that Khloe Kardashian is getting more attention than his own son »
Source: Kylie Jenner / Instagram
Kylie also posted a photo showing the back view of her hair and outfit.
Source: Kylie Jenner / Instagram
What do you think of Kylie Jenner's snow leopard catsuit and coat? Are you a fan of Moncler? Do you like the Moncler x Richard Quinn garment that Kylie Jenner wore in Lake Tahoe?
Charisse Van Horn is a freelance writer based out of Tampa Bay. She enjoys writing about celebrities, entertainment, and fashion. Any reproduction of this article outside of Celebrity Insider will be legally prosecuted by the author.
advertising

Post Views:
0