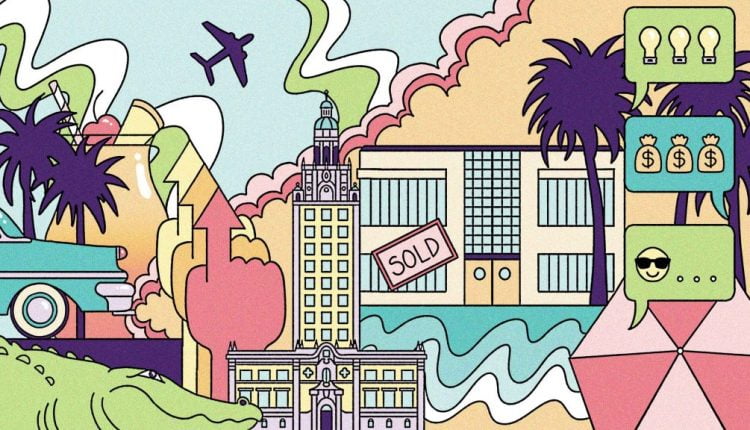 Miami's Tech Startup Scene Will get Hotter
A passionate conversation about the Miami startup scene began on Twitter last month after a Bay Area venture capitalist tweeted, "What if we move Silicon Valley to Miami?" And the Mayor of Miami, Francis Suarez, replied, "How can I help?"
Miami Boosters have long made Magic City the next tech startup hub. Now, a year after the beginning of the Covid-19 era, their playing field has grown in appeal given the widespread adoption of remote working and the newfound appreciation for outdoor living spaces. Of course, the tax-friendly climate – Florida has no personal income taxes – and mild winter weather have long drawn newcomers, as have its enviable position as the gateway to Latin America and glittering nightlife. Now a number of high profile comers are creating new excitement about Miami's startup ecosystem. Here's what startup leaders are talking about:
New moves
Notable recent moves to Miami include Blackstone Group and Goldman Sachs, both of whom opened offices there, as well as investor Keith Rabois, General Partner at Founders Fund who held senior positions at PayPal, LinkedIn and Square, and Jonathan Oringer. Shutterstock founder and chairman of the board. "Let's face it, closeness creates familiarity," said Leigh-Ann Buchanan, president and director of Venture Café Miami, a nonprofit that connects innovators. Trust, access, and relationships with high-growth startups can follow from there, she says.
A year ago, the biggest challenge facing startups in Miami was convincing engineers and developers to move there. Not anymore: Local startups welcome remote workers more than ever – and remote workers love them back. Fort Lauderdale-based Boatsetter, a boat rental marketplace, recently doubled its workforce when it left his office, freeing up funds according to Jaclyn Baumgarten, CEO and co-founder.
During the pandemic era, applicants were more open than ever to moving to Miami, says Andrew Parker, CEO of Papa, a Miami startup that brings together older adults and families with helpers. Papa recently signed a lease for a nontraditional office in up-and-coming Brickell, designed for collaboration, not the daily commute, that has a "mini New York" feel where people can go to work. Because of the pandemic, "It's a lot smaller than it otherwise would have been," says Parker. Maxeme Tuchman, CEO and co-founder of Caribu, a video sharing platform for playtime events, says she has always hired remotely but sees the city as more attractive than ever. "A. A lot of people have seen what it is like to be locked in a cold place," said Tuchman, who lived in San Francisco. When winter hit the rest of the country, the calls came, says Buchanan. "I got pings from my friends in Chicago, in the Bay Area, asking where a good place to rent is," she says.
South Florida has been hailed as a growing tech economy from time to time in the past, says Adam Garfield, CEO and co-founder of SpeedETab, a provider of delivery and marketing services to restaurants, but the place had no solid base yet to support. "Does it have legs behind it now? I think it absolutely does," he says. The Miami-Fort Lauderdale-Pompano Beach area was ranked 16th in the US for the volume and value of venture capital businesses according to PitchBook, a Seattle-based financial data and software company. By early December, 135 stores and $ 1 billion had been invested. Bruno Lulinski, investment director at Miami Angels, sees "exponential growth" for the Miami startup ecosystem in 2021, especially for local businesses. And soon in downtown Miami's: the Flagler district, a revitalized district that attracts startups, art and culture from billionaire Moishe Mana from tech hub developer Mana Tech.
However, local guides also try to tone down any hype. "It's really important that we be careful about blurring the line between venture capitalists moving to South Florida and actual dollars investing in local startups," said Maria Dominguez, location director of CIC Miami, one cooperating laboratory and business area. Success, she says, depends on the commitment of the newcomers to Miami and its diverse population. Businesses that make Miami their home will benefit from the diverse consumer and talent markets. According to a 2018 census, more than half of the city's residents were born outside of the United States. "Miami looks like most cities will be in the next five to ten years," says Buchanan. "If you're building a business for the future, America's future lies in Miami."
Prominent stakeholders in the community are taking steps to shape the texture of the future tech scene. In January, they released a manifesto promoting the inclusion of the tech startup ecosystem. At a recent town hall meeting, Michelle Abbs, executive director of Mana Tech, declined the "New Bay Area" premise. "We're not replicating anything else," she said. "We're building something completely new and aspiring."