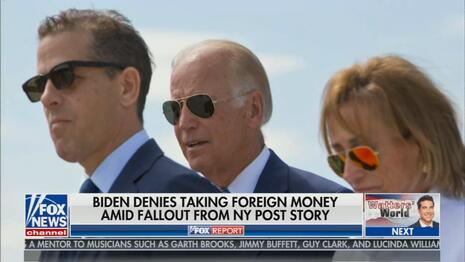 NYT Cheers 'Return of the Media Gatekeepers' to Squash Hunter Biden Tales
New York Times media columnist Ben Smith, who was published online on Sunday night for Monday's print edition, toasted the Wall Street Journal's news section for having sunk his long rumored story of Hunter Biden's business relationships "The Return of the Media Gatekeeper."
And so older types of media have regained control to keep us, the uncivilized and illiterate peons outside of the media and political elite, from doing what they don't want us to know. As we've seen from numerous NewsBusters studies by our Geoff Dickens, the broadcast networks have been more than happy to accomplish this mission.
Smith's condescending and self-aggrandizing stance was considered the only legitimate one in the media "Control" of what determines not only whether something is true or not, but whether we should be given the privilege of knowing it at all.
This, of course, came from the same person who posted the Steele dossier and his claim about golden showers, which led to years of giggles and outrage against President Trump years before he took office.
The first part of Smith's column set out what Joe Simonson of the Washington Examiner had called one "Open secret" followed by the subsequent and sudden step by Rudy Giuliani to take the hard drive of Jäger's laptop to the New York Post.
While the opinion page was doing its due diligence (and pointing out the consequences of indulging Hunter and Joe Biden), the journal's news page seemed to have gotten cold feet when it witnessed the authoritarian, censorship-obsessed mob (click "Expand"). ::
In early October, even the White House people believed that President Trump's re-election campaign needed a desperate rescue mission. So three men allied with the President gathered at a house in McLean, Virginia to start one.
The host was Arthur Schwartz, a New York public relations man who was close to President Trump's eldest son Donald Jr. The guests included a White House attorney, Eric Herschmann, and a former White House assistant attorney, Stefan Passantino at the meeting.
(….)
The three had placed their hopes for the president's re-election on a fourth guest, a Wall Street Journal direct-shooting reporter at the White House named Michael Bender. There they delivered the goods to him: an email cache with information about Hunter Biden's business activities and, via the speakerphone, a former Hunter Biden business partner named Tony Bobulinski. Mr Bobulinski was ready to note in The Journal with an explosive claim: Joe Biden, the former Vice President, was aware of and benefited from his son's activities. The Trump team left believing The Journal would inflate the matter, and their excitement was conveyed to the President.
(….)
While the Trump team waited in eager anticipation for a journal exposé, the newspaper conducted its due diligence: Mr. Bender and Mr. Beckett turned the story over to a respected China correspondent, James Areddy, and a Capitol Hill reporter who followed was the Hunter Biden story, Andrew Duehren. Mr. Areddy interviewed Mr. Bobulinski. They started to write an article.
Then it got messy. Without warning his fictional allies, Rudy Giuliani, former New York City Mayor and now President Trump's attorney, took to the stage with the tabloid version of the McLean crew's carefully crafted plot. Mr. Giuliani submitted a cache of documents of questionable origins to the New York Post, a sister publication of the journal in Rupert Murdoch's News Corp., but they contained some of the same emails. Mr Giuliani had worked with former Trump aide Steve Bannon, who also started directing some of the emails to preferred right-wing outlets. Mr Giuliani's intricate claim that the emails were from a laptop that Hunter Biden had abandoned and his refusal to have some reporters examine the laptop left the story behind – as did the Post's coverage which claimed But couldn't prove Joe Biden had been involved in his son's activities.
While the Trump team was clearly nervous, the editors in the Journal's Washington office grappled with a key question: could the documents or Mr. Bobulinski prove that Joe Biden was involved in his son's lobbying? Or was this another story of the younger Mr. Biden being the name of his family – a perfectly good subject, but not a new one or one that desperately needed to be revealed before the election.
Smith then explained to Tony Bobulinski "I'm tired of waiting" on October 21 and decided to appear in public the next day, hours before the presidential debate.
According to Smith, The Journal took an exit "publish[ing] a short point " that was "Only the stub" What the journal had worked on and insisted on, despite the coverage on the opinion page, was nowhere to be seen.
Smith then turned to his celebration, just like in the Trump era "The goalkeepers appear to have returned after a long absence" and "A couple of disoriented decades" to overcome again a dominance of what the public knows (and thus what to think).
In fact, Smith complained that her iron fist should be even stronger (click "Expand"):
[T]The old gatekeepers like The Journal can still control the agenda. It turns out that there is a huge difference between WikiLeaks and the mainstream media coverage of WikiLeaks, a difference between a Trump tweet and an article about it, even between an opinion piece in the Wall Street Journal suggesting that Joe Biden was did bad things, and a news article that did not reach this conclusion.
Perhaps the most influential media document in the past four years is a table from a co-director of the Berkman Klein Center for Internet and Society at Harvard, Yochai Benkler. The study showed that a dense new right media sphere had emerged – and that mainstream news "revolved around the agenda that set the right media sphere".
(….)
The media's control over information is of course not as complete as it used to be. The folks who own printing machines and transmission towers can't stop you from reading leaked emails or unproven theories about Joe Biden's knowledge of his son's business. However, Mr. Benkler's research showed that the elite outlets' ability to set the agenda persisted despite social media.
Of course we should have known. Many of our readers who screamed headlines on Twitter did so. And Mr. Trump knew it all along – one way to read his endless assaults on establishment media is through obsession, a form of love. This week you can hear howls of betrayal from people who have been saying for years that the ancient media was both completely biased and completely irrelevant.
There is something amusing – even a little flattering – in such serious protests by a right-wing movement based on efforts to discredit the independent media. And this confirmation of control over information has been requested by many journalists in recent years.
It was only in paragraph 34 that Smith reminded readers of his previous job as editor-in-chief of BuzzFeed and published the Steele dossier (including his story about golden showers). "Partly on the grounds that gatekeepers looked at and influenced it, but kept it away from their audience. "
But what was true? They didn't know, but they shared it anyway. But when it comes to Hunter Biden we have already been told by Smith's comrades that we should assume that it is a disinformation campaign overseas, whether it is or not.
Smith concluded:
I would rather put my trust [Wall Street Journal editor in chief Matt] Murray and cautious professional journalists like him as the product managers and leaders of the social platforms. And I hope the Americans are relieved that the gatekeepers are asserting themselves again, and also pay attention to who gets that power and how central it is, and look for new voices to correct and challenge them.
If you have been promoting all claims against Brett Kavanaugh and the Russian Crusade of Collusion for years, you have the press, which stands out as the institution that makes America what it has been for 244 years, instead of its people (or the Constitution).
And for those who dare to criticize the press from the outside, we are somehow putting their lives in danger and / or want to destroy the idea of ​​a free press altogether.
So much for the inclusion of the First Amendment in all of its clauses.