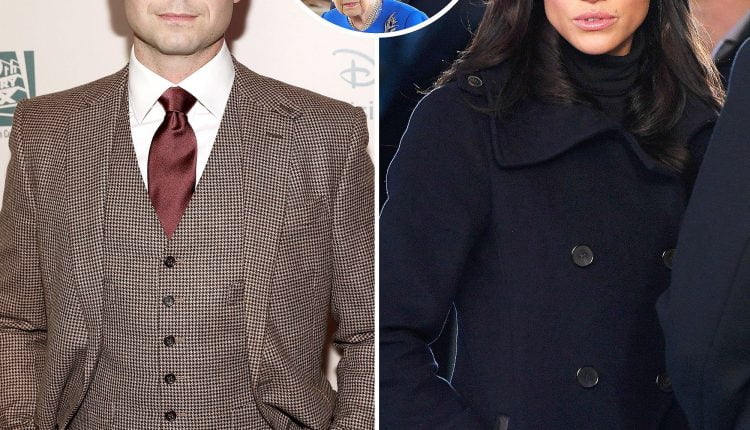 Patrick J. Adams Slams The 'Poisonous' And 'Archaic' Royal Household Amid Claims Meghan Markle Bullied Staffers At The Palace!
The Suits Star used social media to defend himself Meghan Markle amid reports that she bullied her royal aides! Not only that, Patrick J. Adams did not hesitate to refer to the royal family as "poisonous" and "archaic" among other things!
This comes a few days after reports that Meghan evicted two royal aides from their Kensington Palace residence and that she also moved others to tears with her cruel behavior!
RELATED: Meghan Markle Shows Her Shoulders And Breaks Royal Protocol On Her First Trooping The Color!
Some fans also questioned the timing of these allegations, as they came out less than a week before Meghan and Harry's interview with Oprah Winfrey, in which they are expected to tell all about their experiences as royals and why they left it behind.
As for Patrick, he tweeted earlier today that Meghan Markle and I worked together on suits for most of an entire decade. From day one she was such an enthusiastic, kind, giving, cooperative, joyful and supportive member of our television family. And she remained that person and colleague as fame, prestige and power came about. '
In another post he added: "She has always been a powerful woman with such a deep sense of morality and a strict work ethic, and she was never afraid to speak up, to be heard and to herself and those close to her heart lie to defend. Like the rest of the world, I have seen them navigate in amazement over the past few years. '
RELATED: Melania Trump is reportedly seeking fashion inspiration from Kate Middleton and Meghan Markle
After all, Meghan did her best for him to find a place in a "family dynamic that can be described as complicated at best and archaic and toxic at worst".
The actor slammed the "disgusting" "endless racist, slanderous, click-baiting vitriol" directed against his former co-star by the UK media and around the world.
And the actor hadn't finished hauling the royal family, partially saying, "It's OBSCENE that the royal family, the newest member of which is currently growing in her, is promoting allegations of 'bullying' against a woman who is basically was forced to flee the UK. " protect their family and their own mental health. Find someone to admonish, verbally abuse, and torment. My friend Meghan is coming out of your league. '
advertising
Ouch! He definitely wasn't holding anything back!