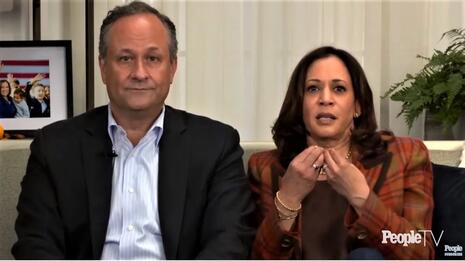 PEOPLE Asks Kamala About Jerks Who 'Mockingly Mispronounce' Her First Identify
People magazine decidedly avoided covering the Trumps at all, but in late August they devoted two bubbly pages to Joe Biden and Kamala Harris. Now that election day is almost here, people posted another bubbly interview with Harris and her husband Douglas Emhoff (who is mostly sitting quietly).
The headline was "RACE TO MAKE HISTORY: The vice-presidential candidate and her husband set out to fight in the middle of the pandemic, breaking the glass ceiling three times: to elect America's first black Indian-American woman as Veep. "
There's a video on YouTube too so it's fascinating to see how people edit the questions and answers. There is no disclosure to the reader that it has been "cleaned up". But it should be guessed. It is strange when Fox News names are thrown in. Take this question from the magazine's political reporter, Sandra Sobieraj Westfall:
Senator Harris, what does it tell you if someone like Georgia's Senator David Perdue or Tucker Carlson mockingly mispronounces your name?
Unless the video shows that Westfall never mentioned Tucker Carlson:
WESTFALL: One of the things I heard out there, and Some of my BIPOC colleagues noticed it and took it upI want to ask you about is this persistent and perhaps willful inability to pronounce your first name. [Kamala bursts out laughing] We heard that last from Governor Perdue. How important is it to you that people know how to say it correctly, and what does it tell you when they're so dismissive, you know, oh, and mockingly mispronounce it and say, "Oh whatever" ? What does that tell you as a woman and as a woman of color?
HARRIS: I mean, listen, I think the name your parents give you, whoever you are – that is, your gender, or your race, or your background, or the language your grandmother speaks – a very special thing is. I mean we watched, we know a lot of cultures have naming ceremonies. It's a gift, it's an incredible family gift, the family gives the child a name. And that's how I get there, not through myself, but for everyone, right? That said, if you understand how a name is given, you should respect the names that are given to people, and use those names with respect as we speak them.
We don't know who threw Tucker Carlson in there, but they DO NOT want Tucker to taunt on Wednesday night. He played a video of Harris, who recently called himself "Camel-a", then feigned indignation: "That was racism and sexism combined in a repulsive cup of hatred with Reese peanut butter!" Classic.
Then there is this question in the magazine:
Your father was from Jamaica and your mother was from India. What is your experience of racism in Berkeley, California?
Harris did not bring up any racist incidents from his own experience, but spoke of her Indian mother being "treated like a second class citizen … I've seen that all along".
And … there was this scary question:
Doug, when you hear about a militia plan to kidnap Michigan's governor, do you worry about your wife's safety?
That was fascinating because Westfall actually mentioned Trump in their video question, and that was cut out. Trump's name, like Voldemort, is in the bubble of People magazine.
She asked: "Doug, when you see the conspiracy against Governor Whitmer being broken up and you hear Trump tell the white supremacists, the Proud Boys, to 'stand by' whatever comes to your mind, like me a somewhat protective one white husband of a woman of color? Are you concerned about their safety? "
Emhoff dismissed the whole concern as a "distraction" from their campaign messages.