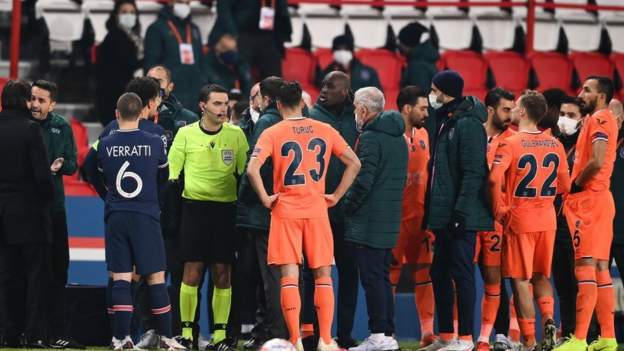 PSG v Istanbul Basaksehir: Each groups stroll off pitch as match deserted
Pierre Webo was sent off after a row with the fourth official
Paris St-Germain's Champions League game against Istanbul Basaksehir will resume on Wednesday after being abandoned on Tuesday. A referee is accused of using a racist term against one of the away team's backroom staff.
Istanbul claim fourth official Sebastian Coltescu used the language with his assistant coach Pierre Webo.
Former Cameroonian international Webo was shown a red card during an exchange on the contact line.
Istanbul players left in protest, PSG players followed.
The incident occurred just 14 minutes after Group H's goalless game.
The game starts on Wednesday from the 14th minute. The starting gun will be fired at 17:55 GMT.
A new group of officials will be in charge, with Dutchman Danny Makkelie being appointed referee.
Compatriot Mario Diks and Pole Marcin Boniek are the assistant referees with another Pole, Bartosch Frankowsky, who has been appointed fourth official.
PSG are already up to the last 16 after Manchester United lost to RB Leipzig.
In a statement, Uefa said: "After discussions with both clubs, Uefa decided, as an exception, to play the remaining minutes of the game tomorrow with a new team of match officers.
"A thorough investigation into the incident will be initiated immediately."
Istanbul striker Demba Ba, who was a substitute player, was seen on the contact line and asked the officer, "Why, if you mention a black man, do you have to say that black man?"
TV footage also showed PSG defender Presnel Kimpembe, who said, "Is he serious? We're going in. We're going in. That's it, we're going in."
There was about a two-hour wait before official confirmation was given that the game would not be over on Tuesday. During that time, PSG players could be seen warming up in the tunnel waiting to be resumed, but their opponents never reappeared.
PSG striker Kylian Mbappe later tweetedexternal link: "Say no to racism. Webo we are with you."
Recep Tayyip Erdogan, Turkey's president, said he believed Uefa would "take the necessary steps".
"We are unconditionally against racism and discrimination in sport and in all areas of life," he wrote on Twitter.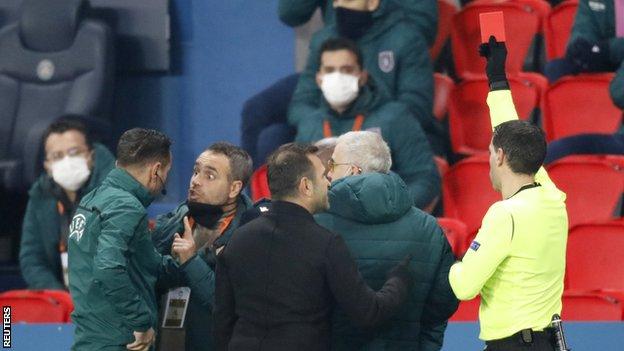 Pierre Webo was sent off after a row with the fourth official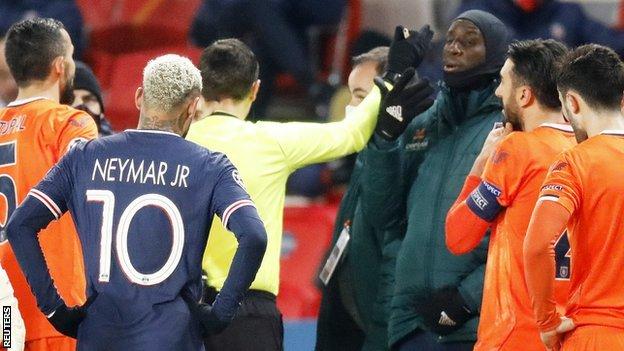 Istanbul Basaksehir's Demba Ba signaled his teammates to leave the field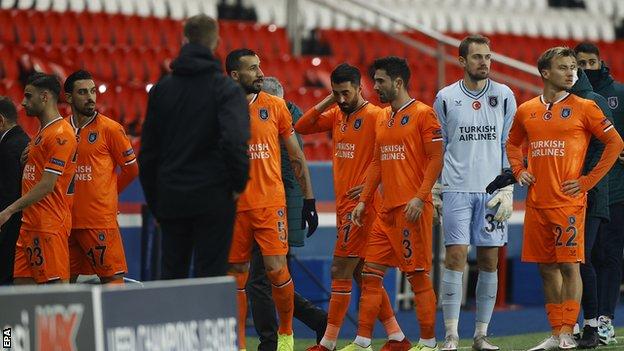 The Istanbul players left the pitch after a long break on the sideline